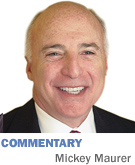 Welcome to Indiana, folks—one of a few budding caliphates in the North American hemisphere. We have a documented record of hostility to women, immigrants and gays. As we continue this slide, the immigrant issue should take care of itself. Soon the only displaced people seeking sanctuary in Indiana may be the al-Qaedaians.
The architect of much of this turmoil, Mike Pence, is busy grooming for the urgent possibility he may ascend to a higher office. He would become the most unvetted president in the history of our democracy. The new sheriff, Gov. Eric Holcomb, is known for his sense of decency. Yet he signed into law Senate Enrolled Act No. 404, which tightens abortion restrictions one more notch. We already have one of the most restrictive environments in the United States.
The American Civil Liberties Union of Indiana has filed a brief in support of Planned Parenthood of Indiana and Kentucky Inc. alleging the unconstitutionality of this act on the basis that it imposes an undue burden on unemancipated women seeking to obtain an abortion and violates due process and free speech guaranteed by the Bill of Rights. Indiana will again incur taxpayer expense in what probably will be a losing cause. The ACLU, like King Kong, has climbed the Empire State Building, hanging on with one paw while the other is swatting sputtering biplanes lofted by evil forces loudly declaring that their actions are righteous because God told them so.
But why do these bills continue to be offered up with the almost certain knowledge that they will be declared unconstitutional? The answer lies in one word: "gerrymander." Wild-eyed fanatics continue to operate from "safe seats" in gerrymandered districts. From these safe seats, elected officials face no reprisals for passing bad legislation. The root of unconstitutional anti-abortion laws, anti-gay and other discriminatory legislation in the Hoosier state is the unfair, non-competitive representation in our legislative bodies created by slick politicians intent on choosing their voters and thus ensuring fiefdoms for themselves and their cronies.
Gerrymandering is so pernicious that it produces a significant number of races in which only one candidate is on the November ballot because the opposing party knows it is futile to field a candidate. Often, the only real race is in the May primary. The need to win the general election is a moderating force absent from contests in gerrymandered districts.
Clearly, partisan gerrymanders are incompatible with democratic principles. In the last midterm election, this state had the lowest turnout in the nation, 28 percent. One could argue that not showing up at the polls represents a rational decision in a gerrymandered district.
In the economic development game, we often talk about attracting and keeping businesses. One could ask why a skilled and educated workforce would relocate to a state that doesn't have truly representative government.
Non-partisan advocacy for fair redistricting is mushrooming. In the last session, hundreds of Hoosiers were present at the Statehouse to support HB 1014, which would have established a commission to create, hold hearings on, take public comment about and recommend places to redraw General Assembly and Congressional districts. In spite of the grassroots support, neither Speaker Brian Bosma nor Holcomb opted to provide the principled leadership needed for success.
In predictable fashion, Rep. Milo Smith, R-Columbus,, chairman of the House Committee on Elections and Apportionment, ignored public will and refused to allow a vote on the bill.
The 2018 session will see another concentrated effort to enact legislation for redistricting reform. Lead us on this issue, Gov. Holcomb, and you will be lauded as a defender of democracy—a governor for the ages. If we have competitive districts, the likelihood of egregious legislation will no longer be a burden to Hoosiers. The ACLU can descend from the Empire State Building. Women in Indiana can cast off their shackles and Indiana can once again be recognized for its welcoming Hoosier values.•
__________
Maurer is a shareholder in IBJ Corp., which owns Indianapolis Business Journal.  His column appears every month. To comment on this column, send e-mail to mmaurer@ibj.com.
Please enable JavaScript to view this content.