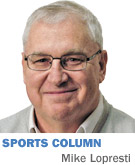 By now, you know the Pacers' first-round pick, or trade, or whatever happened. This column being due to the desk before Thursday's show, one can only go by the NBA mock drafts predictions.

With the 18th pick, Wake Forest's John Collins to Indiana … no, wait, UCLA's TJ Leaf … check that, Creighton's Justin Patton … or is it Kentucky's Bam Adebayo, or Duke's Harry Giles or Terrance Ferguson from Australia or UCLA's Ike Anigbogu? Whomever.

Just so it ends up a good choice to properly mark the occasion. What occasion? The Paul George Farewell Tour, or is he gone already? But no, what we REALLY need to celebrate is the 30th anniversary of the most knuckleheaded moment in the history of Indiana Pacers fans.

You know who you are out there. The people who on June 22, 1987—30 years to the very day of Thursday's draft—stood and booed in Market Square Arena when they heard two words. Reggie and Miller. You wanted to hear Steve and Alford, and the man who had to stand up and tell you differently—poor Donnie Walsh—nearly had to exit the stage on a serpentine path to avoid the possibility of incoming rocks, tomatoes or small arms fire.

"I had a lot of people telling me what I was going to get, so I was a little nervous going up there," Walsh said this week. "It was a bad setting. I was in an arena, and no matter who you announce, two-thirds of the crowd is going to be against it. Actually, it surprised me that there was more positive reaction than I thought there would be."

Walsh himself had no qualms. Miller is who he wanted. "I took a tape (of Miller) and gave it to Jack Ramsey and said 'Jack, I want you to look at this.' He looked at it that night and the next day came in and said, 'Absolutely, I would take this guy.' He was the only guy I talked to about him."

Need we belabor what happened next? How Miller, the unwanted new addition to the Pacers family that day, ended up spending 18 years in the same Indiana uniform, scoring 25,279 points on the way to the Hall of Fame?

"Reggie had as big of an impact on the game as some of the guys rated ahead of him like Michael Jordan," Walsh said. "He was such a great clutch shooter, when the game was close, he made those shots, he just didn't take them."

And how Alford, the choice of the vociferous masses, started three NBA games in his career, and scored 24,535 fewer points, before he found his coaching niche?

It became a defining moment in Pacers' history, just as the Peyton Manning decision did 11 years later for the Colts. Imagine how much more complicated it might have been for Bill Polian had Ryan Leaf played at Purdue.

In the end, Walsh even got some apologies.

"A few people did come up later and said 'We were mad at you that night, but you made a good call.'"

Now the Pacers are at another crossroads—because their star says he loves L.A. Life after Paul George starts now.

The Pacers newest draftee, Mr. X at this writing, will no doubt arrive with high hopes and lavish promise. They always do. Then comes the hard part.

So, happy anniversary, Donnie Walsh booers. How many of you ended up with No. 31 jerseys in your closet? As part of this festivity, here is the all-time Pacers' Could-Have-Been Team. Players who were still on the board on Indiana's turn.

To be fair, many of these Pacers' decisions were perfectly reasonable at the time, and based on need and the right fit. Hindsight is cheating. Still, it's easy to look back at these names wistfully, as testaments to the inexact science that is the draft.

• Larry Bird.

In 1978, the Pacers decided not to chance their No. 3 pick on Bird, who would not leave Indiana State early, fearing they could not get him signed before the 1979 draft. So they went with Rick Robey. Three spots later, the Boston Celtics decided to roll the dice. You know the rest.

• Chris Mullin.

It was a bummer losing the first draft lottery sweepstakes and Patrick Ewing to the New York Knicks in 1985. The consolation prize of Wayman Tisdale—an immensely popular soul who had his moments—was applauded. But it was Mullin at No. 7 who turned out the future Dream Teamer.

• Karl Malone.

See Mullin. The Mailman was delivered to Utah six spots later.

• Clyde Drexler.

The Pacers had the second spot in the 1983 draft. They took Steve Stipanovich. Upon further review …

• Sam Cassell.

He played a lot of games in the NBA, which is more than you can say for Scott Haskin, Indiana's 1993 selection from Oregon State. His career total: 55 points.

• Kobe Bryant.

OK, maybe Indiana would have had to immediately trade Bryant, had they used the No. 10 on him rather than Erick Dampier in 1996. Charlotte took Bryant No. 13 and swiftly sent him to Los Angeles. But he could have been a Pacer for 15 minutes, long enough to put on the cap.

• Steve Nash.

By the way, he went two spots after Bryant.

• Manu Ginobili.

Jonathan Bender seemed such a good choice in 1999, but his body never allowed him to live up to his No. 5 draft spot. Hidden way down there late in the second round was a guard from Argentina, who one day would own a lot of San Antonio Spurs championship rings.

• Bill Laimbeer.

He wasn't taken until the 65th pick in 1979. With the 13th, the Pacers opted for future police officer Dudley Bradley. Had they gone for Laimbeer, the Detroit Pistons would have had one fewer Bad Boy.

• Kawhi Leonard.

An asterisk for this one. Indiana took him with the 15th pick in 2011 with the agreement he was going to San Antonio that very night for George Hill. A fine player, Hill, and an Indy native son. The Pacers went local that time.

But not with Reggie Miller, and through the boos came an icon. Times being what they are, the Pacers badly need another 1987.•

__________

Lopresti is a lifelong resident of Richmond and a graduate of Ball State University. He was a columnist for USA Today and Gannett newspapers for 31 years; he covered 34 Final Fours, 30 Super Bowls, 32 World Series and 16 Olympics. His column appears weekly. He can be reached at mjl5853@aol.com.