There are lots of things to respect about BurgerFuel (6320 Guilford Ave., 317-405-8362), the New Zealand-based chain opting to make a Broad Ripple outpost its first foray into the United States.

Grass-fed beef, hormone-free chicken, organic sodas and shakes, and batch-brewed relish give an air of "better for you"—even though, come on, you're still dining on burgers, fries and shakes. Oil drums and car parts play up the cement-block garage atmosphere. Tunes are provided by the restaurant's own radio station. And, although we had to ask for an explanation, it's also cool that a meal comes with a coin that you can drop into one of three jars, each representing a local charity. Each month, the one that fills the highest gets the biggest chunk of a $500 donation. That's a nice way for an outsider company to earn points in a new community.

But such points don't make up for the fact that BurgerFuel is a crowded spot with little breathing room. On a busy day, there's a good chance your too-tight table will be in the shadow of someone waiting in line at the counter and that you'll be in proximity to a near-constant flow of staff delivering meals to tables and bussing tables as customers get water refills at the counter. Amid the hubbub, I found myself yearning for the relative calm of lunchtime at the downtown Steak n Shake.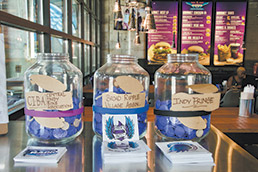 Each meal comes with a coin you can drop into one of three charity jars. The one that fills the highest in a month gets the biggest chunk of a $500 donation. (IBJ photo/Daniel Axler)
Food is served on trays along with doofers. What are doofers? Cardboard gizmos that, in theory, prevent burger juices and fixings from spilling onto your hands and plate. The device proved only mildly successful and was worthless once half the sandwich was devoured.

Of our sandwiches, the simplest proved the most satisfying. While the C N Cheese ($7.80) allowed the cheddar, truffle mascarpone and grated parmesan cheeses to work with the beef, the Bastard ($9.40)—with its cheddar, dry-cured cherrywood bacon, smashed avocado, raw grated beetroot and chia, papaya and more—rendered the beef MIA. Similarly, the chicken seemed to disappear into the Bacon Backfire ($8.20), which was more defined by its admittedly tasty bacon.

Much BurgerFuel attention has been focused on the Vege Burgers, but our taste of the V-Twin Vege ($6.90)—a mushroom, kumara (sweet potato), sunflower seed patty—was, like its beefy fellows, overcome by the toppings, here being Damson plum and pomegranate sauce, cheddar and truffle mascarpone, micro-green salad, tomato relish and aioli.

The showpiece side is Motobites ($5.90), which you might first order as a novelty—where else are you going to get a fried combo of crumbled pumpkin, carrot, chickpea and ginger? But the taste may bring you back, even at the slightly high price point.

Offering Chicken Fenders ($5.90) instead of Chicken Fingers just meant, for us, disappointment over the grilled skinless tenderloins that were still unexciting even with a hint of rosemary and garlic. Spud Fries ($2.70) are more likely to satisfy the average burger customer.

Expect to pay more than usual for drinks. You won't find fountain soda here, just Organic New Zealand Sodas ($3.20), of which I suggest avoiding the Lemony Lemonade, and fructose-free offerings from Boylan and Coke ($2.50). An almond soy dairy-free shake ($5.50) the consistency of a Wendy's Frosty went down smoothly but left little impression.

That all being said, BurgerFuel should benefit from the lack of similar burger joints in the village. It also, appropriate to the decor, benefits from having its own free adjacent parking lot.•