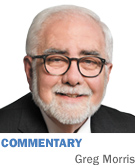 I've got health care on my mind. Is anyone really surprised the GOP Obamacare repeal bill collapsed in the Senate? I, for one, am not. Why?
I believe its fate was certain because, even though scores of Republicans won elections with a promise of repealing and replacing Obamacare, they had no plan to replace it—even though they had seven years to devise something better.
They failed even though the party controls the House, Senate and White House. It's embarrassing, but not unexpected. It's as if the whole pitch to repeal and replace was a charade. It played well. It got votes. But then the unthinkable happened: Donald Trump beat Hillary Clinton. After the shock and surprise started to fade, I'm sure it occurred to some that they would actually have to come up with a solution to fix the mess, not just criticize Democrats.
Before I continue, I know some of you might not know me well and might be thinking, "Damn, that Morris—he's just another left-wing media hack knocking Republicans." Pardon my French, but au contraire! The Obama years were the most painful, ideology-wise, in my lifetime. It's going to take decades to get out from under the damage that was done.
While the current administration's ideology might be more in my wheelhouse, that doesn't mean I'm a fan of the way Republicans are governing in the Trump era. I think one can be true to traditional Republican values without supporting the way Trump is governing. As I said during last year's campaign, "Please don't make me choose between Trump and Clinton." We were presented with a bad choice, and nothing I've seen since January has changed my opinion.
Having said that, there is this brief window of opportunity, while Republicans hold the advantage, to make some headway in reversing what I feel was a lot of bad legislation enacted over the last eight years.
The "Unaffordable" Care Act is one of those colossal pieces of bad policy. I'm sure everyone remembers this was passed without a single Republican vote. And a lot of Democrats who voted for it never read the bill. I call that ramming an ideology down everyone's throat. But you've got to give the devil his due—the Democrats banded together and got the job done while they had the numbers. Once an entitlement like that is enacted, the chances of getting rid of it are slim.
The Republicans have the numbers now, if only for two years. So far, they can't seem to get out of the way of themselves. They don't need to worry about fighting Democrats because they're too busy fighting one another. The attitude I see within the Republican Party is too many legislators saying, "It's my way or the highway." There's little collaboration.
Back to health care. While I wholeheartedly believe Obamacare should be repealed and replaced, there has to be a plan to move forward. A pure, single-payer, government-run health care plan would be the worst of all solutions. I realize this is the direction many would like to head. If that is where we end up, I will know we have officially failed as a country to find a way to continue providing the best health care in the world. It will be sad if we're all forced to depend on government-run health care. Don't believe that? How's the Veterans Administration model working? Is government functioning on any level at the moment?
And yet I'm not saying the Republican Senate plan was the proper path forward. It seemed mean-spirited and hastily put together. With seven years to come up with an alternative plan, one could reasonably expect something better. But that would take some collaboration.
What should be done? I've "progressed" on the issue. I've come to believe the government should overhaul Medicare and Medicaid and provide "basic" health care to all U.S. citizens. We just need to figure out how to pay for it without all the "soak the rich" rhetoric. If we're going to provide basic health care to everyone, we'll have to cut spending elsewhere. But I'm no single-payer convert. Those with the financial means should be able to pay to enrich their health coverage—to receive care comparable to what they get now.
Yes, I know this is simplistic, without any of the necessary details provided. But if this isn't the best plan, what is? I'd love to hear some civil dialogue on the topic.•
__________
Morris is publisher of IBJ. His column appears every other week. To comment on this column, send email to gmorris@ibj.com.
 
Please enable JavaScript to view this content.