WTTS-FM 92.3—at least in one key way—flies in the face of the business adage that you have to change or die.

For 25 years, WTTS has spun a combination of new, alternative music and deep classic cuts.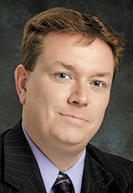 Uecker
It's one of the few stations in Indiana where listeners can hear—in the same hour—old-timer Bob Dylan, up-and-comer Imagine Dragons, superstar Adele and an unknown basement band.

"This station breaks some rules. They're the rebel of the Indianapolis market," said Scott Uecker, a University of Indianapolis communications instructor and general manager of WICR-FM 88.7. "They're not as rigidly formatted as corporate-owned stations and they take chances on artists other stations won't, and it works for them."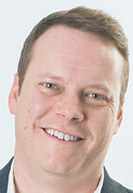 Holtz
WTTS Program Director Brad Holtz said the mix "sets us apart in the market. … We're different by design."

In contrast to its format, the independent Bloomington-based station's business plan has evolved dramatically over the years in an attempt to compete with much bigger players in the Indianapolis market. And that's been successful; the station often ranks in the top 10 in key demographics.

"If you're trying to reach the 25-to-54 market and radio is part of your strategy, WTTS is definitely going to be in your mix," said Bruce Bryant, president of locally based Promotus Advertising.

But there's at least one good reason few of WTTS' competitors have followed it into the "adult album alternative"—or Triple A—format.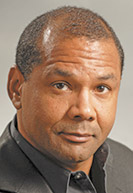 Bryant
"It's a niche. It can be a strong niche, but it's a niche. It will never be a top five station in a market," Uecker said. "And with this format, because it's different, it can take time to build an audience. It requires a lot of marketing—and that comes with a cost."

Most station operators consider spinning recognizable Top 40 and country formats a quicker path to prosperity.

"Lots of stations, especially those that are part of big, publicly traded radio conglomerates, are not interested in taking that much time to grow an audience," Uecker said.

But for WTTS, Holtz said, the payoff in a tumultuous radio landscape—where listeners have been lured away first by the iPod and satellite radio and now by myriad online offerings—is well worth it.

"A lot of people feel more comfortable listening to Led Zeppelin or a big country act than something new," Holtz said. "It's like starting a new restaurant in a sea of McDonald's, Wendy's and Burger King's. If you want fast food, that's one thing. If you want a five-course meal, that's us. We just ask people to give us 20 minutes. I think you'll like what you hear."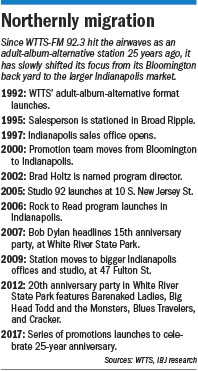 You say you want an evolution

WTTS' road has been long and winding. In many ways, the station has grown up with its listeners.

Its parent company, Bloomington-based Sarkes Tarzian Inc., is named for its founder, an Armenian immigrant who came from an engineering background. He put his first station, WTTS-AM, on the air in 1949.

Tarzian's WTTV-FM (now WTTS-FM 92.3) began broadcasting big-band music in 1960. In the mid-1970s, the station went country and changed its call letters to WGTC. In 1984, WGTC-FM became WTTS-FM and four years later changed its format to album-oriented rock under the Power 92 moniker.

In 1992, WTTS adopted its current format.

The station now broadcasts from Indianapolis and Bloomington, while targeting a central and south-central Indiana audience.

It wasn't always that way. In the early 1990s, WTTS was content competing with WBWB-96.7 and a small handful of Bloomington stations.

But WTTS had, and still has, something its Bloomington competitors—and even many Indianapolis stations—do not.

The late Tarzian was one of the first Indiana broadcasters to accept the Federal Communications Commission's persistent invitations to launch an FM station, which at the time was seen as a risky enterprise. Tarzian's reward for being an early adopter was a frequency with a massive reach: from Lafayette to Seymour and Terre Haute to Richmond.

Today, WTTS is broadcast from one of the state's largest radio transmitter towers, in Trafalgar. Only WFBQ-FM 94.7 can rival WTTS' signal reach.

"On a good day, I can hear the station in Louisville," said Holtz, 37, who became program director in 2002.



We are headed north

That strong signal—twice the size of many of its competitors'—allowed the Bloomington station to spread its wings and head north to more lucrative markets.

About three-fourths of the station's ad revenue now comes from the Indianapolis market, media buyers said. Most listeners, according to WTTS officials, tune in from (in order): Broad Ripple, Fishers, the Castleton area and Carmel. Bloomington is the fifth-largest listening area, followed closely by Greenwood and the southern Indianapolis suburbs, downtown Indian-apolis, Noblesville, Irvington, Brownsburg and Zionsville.

"A lot of people started listening to us when they were in college at IU," Holtz said. "Then when they moved, they took the station with them."

Credit for the idea to migrate north, Holtz said, goes to the late Tom Hunt, the station's general manager in the 1990s, and Geoff Vargo, longtime president of Sarkes Tarzian's radio division. But it didn't happen overnight.

One WTTS salesperson moved to Broad Ripple in 1995. In 1997, WTTS opened an Indianapolis sales office, and the promotions team moved to Indianapolis in 2000.

In 2005, the station moved its Indianapolis hub downtown to 10 S. New Jersey St. and opened a local studio—Studio 92—where live performances could be hosted and shows could be broadcast. In 2009, the station moved to a bigger downtown facility at 407 Fulton St. in historic Lockerbie Square.

WTTS still maintains a studio, corporate headquarters and a sister station, WCGL, in Bloomington, but most of its sales and promotion engine is in Indianapolis.

While the station's main competitors are Clear Channel's WFBQ and WOLT-FM 103.3, as well as Cumulus Media Inc.'s WJJK-FM 104.5 and Entercom Communications Corp.'s WZPL-FM 99.5, it also shares listeners with WFYI-FM 90.1, the market's National Public Radio affiliate, and others.

"If you're in the Indianapolis market, you have to know what they're doing, because … they pull more listeners from more stations than anyone in this market," Uecker said. "[WICR shares] a lot of listeners with WTTS, and we're a smooth jazz station. Their music is eclectic and so are their listeners."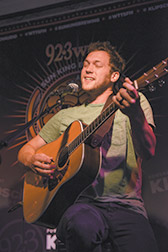 "American Idol" season 11 winner Philip Phillips recently played in WTTS' Studio 92 in downtown Indianapolis. The studio has hosted new and established artists. (IBJ photo/Eric Learned)
Let the music play

The station's success begins and ends with the music it plays, Holtz said.

"We're going after a musically engaged and curious adult audience that has an appreciation and fondness of the past but a real interest in what's new and now," he said.

That approach keeps any fears about a graying audience at bay, Holtz said.

Because WTTS introduces a lot of new music to the market, the average age of its audience is only 40, he said, adding that it's a younger audience average than many of WTTS' competitors.

The station also has a strong track record—especially for a small, independent station—of bringing in big musical acts to play in its studios or at an event.

Dylan played at the station's 15th anniversary event at White River State Park in 2007. Barenaked Ladies, Blues Traveler and Cracker played at the 20th anniversary bash. This month, WTTS is bringing in a rising rock group from Portland known as "Portugal. The Man" to celebrate its 25th anniversary.

"WTTS is a radio station willing to take what some stations may see as a perceived risk in supporting unfamiliar music from developing artists," said Lisa Sonkin, senior vice president for Columbia Records in New York. "The programming team has a strong mission [of] seeking out new talent. They are passionate about it. This has been instrumental in helping them build strong relationships within the music industry."

When WTTS shows faith in up-and-coming performers, they often return the love when they become more well-known, Sonkin said.

For example, Leon Bridges, a rising gospel and soul star, played at a 2015 WTTS event at the Bluebird in Bloomington the day after playing on NBC's "Saturday Night Live."

Bridges "was on the first flight out the next morning to keep his commitment to play at WTTS' holiday concert," Sonkin said. "And it's not just Leon that's showed this kind of commitment to WTTS. It's been Hozier, George Ezra, Adele and John Mayer, to name a few. That's the kind of loyalty this station engenders."

Takin' care of business

That commitment to music—and its relationship with artists—has helped the small station punch above its weight, media buyers said.

The migration north, Holtz said, has coincided with steady, moderate revenue and profit growth.

Two media buyers confirmed WTTS is a consistent top 15 station and often a top 10 station in the age-6-plus and the lucrative 25-to-54 demographic, based on Nielsen Media Research data.

"They have a very stable and loyal audience, with an emphasis on loyal," Promotus Advertising's Bryant said.

The station's reach, he said, is also a big attraction for advertisers.

"There aren't a lot of stations where you can reach Hamilton and Boone counties along with south central Indiana," Bryant said. "That's a big deal for some advertisers. Plus, they're more affordable than some of the bigger corporate stations."

While WTTS can't match the scope of stations like WZPL, which nearly doubled WTTS' audience size in the last Nielsen ratings, Holtz isn't too concerned.

"Our station isn't built around the Nielsen model," he said. "We don't live and die by the numbers."

WTTS—at this point—doesn't even subscribe to the pricey Nielsen service. Though Holtz declined to elaborate why, WTTS dropped the service in 2010 when Nielsen rolled out the portable people meter.

"I'd rather have the right listeners than the most listeners," Holtz said. "Our listeners are college-educated with a high degree of disposable income. We think we reach an audience that is an advertiser's dream come true."

And the measure of an ad campaign's success is not solely number of listeners reached, he said.

The station's list of advertisers includes The Rathskeller, Sun King Brewery, Holder Mattress, The Vogue, Arni's Restaurant, Brothers Floor Covering, Dreyer & Reinbold Automotive and Teacher's Credit Union.

"Our model is set up to help local businesses grow," Holtz said. "We have the testimonials to prove what we're doing works."•