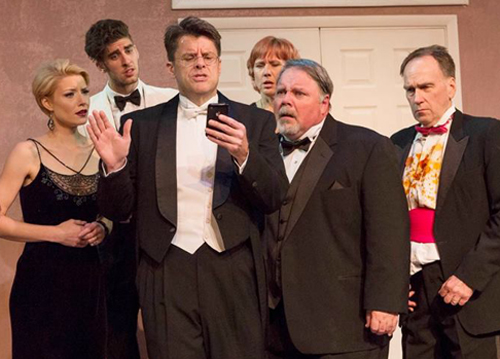 Theatre on the Square, a cultural anchor on downtown's Mass Ave during the district's recent revival, announced Tuesday that it will go on hiatus starting in September to "create a plan for the venue's long-term sustainability" after facing financial and programming challenges.
The theater will be working with Central Indiana Community Foundation and other groups to evaluate and embark on costly building repairs, audience development, marketing, programming and building its fundraising base.
"The conclusion was just reached that Theater on the Square needed to be more sustainable. That was everything from the finances of the theater to the actual building in which we do our work," board president Roger Schmelzer said. "We just really needed to take stock, and it's really hard to take stock when you're in the throes of doing it."
Schmelzer told IBJ the hiatus is planned to run through the end of the calendar year, but he's open to being closed longer if needed.
The two-stage storefront theater, which produces its own season of shows every year in addition to renting space to performers, has had to cancel at least one rental during the hiatus, according to Schmelzer. It hadn't yet scheduled its 2017-18 season.
About $750,000 in repairs have been identified for the theater, Schmelzer said. The group also wants to evaluate potential uses for the building in addition to live theater. For instance, a church once rented the building on Sundays.
The theater's main stage has seating for at least 120. The other stage offers cabaret-style seating for up to 60. 
"You have to have multi-uses," Schmelzer said.
There has been such a focus on the artistic product in recent years that "we were not spending as much time on [audience] outreach beyond our base of people," he said.
The theater also wants to explore paying its performers and providing "more opportunities in that building for performers to get experience."
Currently an all-volunteer organization, TOTS was founded in 1988 in Fountain Square before moving to 627 Massachusetts Ave. in 1993 as the once-dilapidated area began to attract restaurants, retailers and other new investment. Several large-scale residential-and-retail projects have been completed on or near the corridor in the last decade, with more in the planning stages.
Meanwhile, leadership at TOTS has been through an intense period of transition.
The theater lost its founder and longtime artistic director, Ron Spencer, when he retired in 2014. After Spencer left, another executive director, Lori Raffel, was hired and worked at the theater until March.
In addition, the board has totally turned over in the last 18 months, Schmelzer said.
With the influx of development on Massachusetts Avenue, CICF President and CEO Brian Payne noted the importance of preserving the diversity of offerings in that area of the city.
"Restaurants, theaters, art galleries and boutiques—their economic health is interdependent," Payne said in a press release. "Spaces like Mass Ave, where the community can enjoy great food and experience great art and culture, help attract, develop and retain highly-educated, creative, entrepreneurial and community-minded citizens. That is important to us, because it is important to central Indiana."
Dave Lawrence, president and CEO of the Arts Council of Indianapolis, said he believed the hiatus and partnership with CICF were a "smart step for them at this point in their evolution."
"Hopefully it will enhance the stability of Theatre on the Square," Lawrence said.
Schmelzer said the hiatus is about "preserving and enhancing a really important cultural asset in Indianapolis."
"The stakes have been raised in our city," Schmelzer said. "Everybody's excited about that. We want to be on the side of stepping it up."
After finances tightened and two top executives departed, the Indianapolis Opera deployed a similar strategy when it canceled its 2014-2015 season and hired Steven Stolen, former managing director of the Indiana Repertory Theatre, to direct an assessment and stregic-planning effort.
IO eventually shifted its focus to more intimate operas, staged primarily at the Schrott Center at Butler University. Its three-production 2016-17 season included the world premiere of "Happy Birthday, Wanda June," based on the play by Indianapolis native Kurt Vonnegut Jr.
Please enable JavaScript to view this content.