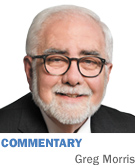 The recent solar eclipse helped bring my interest in astronomy out of mothballs. Dating back to even before my days at the Carmel High School planetarium and astronomy class, I always remember having an interest in space and the great beyond.

The buzz around the Aug. 21 solar eclipse was great fun. Here in Indiana, with approximately 90 percent coverage of the sun, it was a sight to see—not just the eclipse, but all the folks in downtown Indianapolis looking skyward with their protective glasses.

During all the buildup, I discovered a mostly hidden scientific gem just south of Indy in Martinsville. I discovered this amazing place because one of the activities I signed up for at Mickey's Camp this year was heliophysics—the study of the sun. The session was led by Greg McCauley, executive director, CEO and founder of the Link Observatory Space Science Institute. What a "wow" experience that was!

The Link Observatory Space Science Institute provides informal STEM education to middle and high school students focused on NASA missions, astronomy and space exploration. The not-for-profit is transforming STEM education in Indiana to meet the growing need for a well-trained, STEM-educated workforce. The institute is bringing the excitement and inspiration of NASA missions and space exploration to future generations just as the Mercury, Gemini and Apollo programs inspired mine.

Greg McCauley worked in Houston for NASA's mission planning and analysis division for the lunar missions of Apollo 15 and 16, and was a member of the lunar launch team for Apollo 17. Suffice it to say, he is an expert in his field.

The Link Observatory was built from 1937 to 1939 by Dr. Goethe Link, a prominent Indianapolis surgeon and an avid amateur astronomer. It was built entirely in Indianapolis and features a 36-inch reflecting telescope. At the time, only eight observatories in the United States had telescopes of equal or larger size.

Link founded the observatory to aid in the advancement of astronomy in Indiana and in 1948 donated his observatory to Indiana University. For almost 50 years, the Link Observatory was used by graduate students and astronomy faculty members for astronomical research. Today, IU astronomers conduct their research with a remotely controlled telescope at the Kitt Peak National Observatory near Tucson, Arizona, where more than 80 percent of the nights are clear.

IU continues to own and maintain the Link Observatory. Since 1988, retired from scientific research, the observatory has been used for public outreach by the Indiana Astronomical Society. The Space Science Institute started operations in 2012.

In 1962, President John F. Kennedy said in a famous speech:

"We choose to go to the moon in this decade and do the other things, not because they are easy, but because they are hard, because that goal will serve to organize and measure the best of our energies and skills, because that challenge is one that we are willing to accept, one we are unwilling to postpone, and one which we intend to win, and the others, too."

This speech inspired an entire generation to make the technological advancements necessary to achieve almost everything in our society today.

McCauley believes this same type of inspiration will move us out of the STEM crisis. In today's education system, students often miss out on the excitement and inspiration of education. What national leader will challenge the next generation like Kennedy did in 1962? We don't know, but McCauley and his staff aren't waiting around. They're pushing an inspiring educational agenda to as many students as they have funding for.

I've just scratched the surface here. I hope you'll go to www.linkobservatory.org to learn more. And yes, the observatory needs your financial help. At the start of the 2016 school year, more than 10,000 students were involved with the program, and there is enough demand for 100,000 students to participate right now, if sufficient funding were available. It's easy to donate online.

And if you get a chance, be sure to visit the observatory. The night of my visit, I saw a clear image of Saturn, rings and all.

Let's all support STEM education and rediscover our passion for science.•

__________

Morris is publisher of IBJ. His column appears every other week. To comment on this column, send email to gmorris@ibj.com.