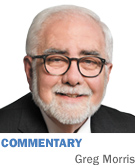 After much anticipation, I watched the almost-two-hour replay of Apple's annual fall new-product introductions. It was a surreal experience.

I was drawn in by the significance of the event being held for the first time in the Steve Jobs Theater on the new Apple Park campus and by Steve Jobs' voice opening the program in a darkened room.

"There's lots of ways to be as a person. And some people express their deep appreciation in different ways, but one of the ways that I believe people express their appreciation to the rest of humanity is to make something wonderful, and put it out there. And you never meet the people, you never shake their hands, you never hear their story or tell yours, but somehow in the act of making something with a great deal of care and love, something's transmitted there."

A noticeably emotional CEO Tim Cook followed and talked about Steve Jobs and the immense impact he had on Cook's life and many others'. "It was only fitting that Steve should open his theater," Cook said, before giving a short video tour of Apple's almost-complete multibillion-dollar corporate campus.

A former "sea of asphalt" has been transformed into 175 acres of greenspace with more than 9,000 trees. The circular building looks like a giant spaceship tucked into the landscape.

I already knew this was a behemoth of a company, but really, I had no idea just how big. There's a reason this company is sitting on more than $250 billion in cash, which is larger than the annual GDP of all but a few countries. Apple's size is so staggering, it's almost beyond comprehension.

The beginning of the program was great theater. And I'm not saying that in a snarky, disrespectful way, but in an admiring way. I was roped in, hanging on every word—and they hadn't even started talking about the product introductions, which is why I tuned in to begin with.

There was no drop-off once the product introductions began. I do love Apple products. I find they provide the most innovative technology for my purposes. It's hard to believe the iPhone is only 10 years old. I've owned a 3g, 4s, 6s and soon will buy an iPhone X. Yes, I'm going to fork over the $999 because I want all the cool features described in the event video and on Apple's website. I predict many others will pay the freight also. The next new model down is the iPhone 8 and it's $699. So, what's an extra $300 for a product you use all day long, every day of the year?

My relationship with Apple hasn't always been a love fest. In early 2016, the headline of one of my columns was, "Apple takes an un-American stand." The topic was Apple's refusal to comply with a court order and FBI request to help retrieve potentially important information from an iPhone recovered from a terrorist who killed many Americans. I'm still hot about this one.

It's also widely believed that Apple has a large amount of that $250 billion in cash stashed off-shore. I understand why, but I don't like it. Maybe we can get some tax reform that helps alleviate this situation.

There are those who think Apple is too big and powerful and is collecting too much personal information. This leads to great concern should Apple decide to use its power nefariously. In fact, there was a movie released earlier this year—"The Circle"—in which a fictional company that looked like an Apple clone was using millions of cameras all over the world to monitor everyone all the time.

I prefer not to buy into this conspiracy theory and just accept the fact that Apple makes the coolest, most technologically advanced and useful products money can buy. As such, it deserves to be one of the world's largest and most successful companies.

The new iPhone X looks amazing. I can't wait to get my hands on one in November.•

__________

Morris is publisher of IBJ. His column appears every other week. To comment on this column, send email to gmorris@ibj.com.