What should Indiana University do about a panel on a historic mural by Thomas Hart Benton that hangs in a classroom building and depicts a Ku Klux Klan rally?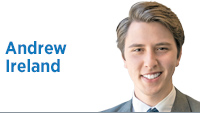 The violent clashes that rocked Char-lottesville have again shed light on deep wounds that divide our nation.
Events fueled by hatred and an ignorant dogma of cultural superiority, these beliefs are manifested by few but darken the hearts of many and find refuge in the most unlikely of places.
As fall marks the start of a new semester at my alma mater, these wounds highlight a teaching moment. Indiana University's Benton murals have been a point of controversy on the Bloomington campus since 1941 when then-IU President Herman Wells had the pieces installed in the IU Auditorium, the IU Theater and Woodburn Hall.
Painted by Thomas Benton for the 1933 Chicago World's Fair, the 22-panel series depicts the social and industrial history of Indiana "from Native American mound builders to the industrialized age." The 10th panel, "Parks, the Circus, the Klan, the Press"—housed in an aged classroom of Woodburn Hall—details the perverse influence of the Ku Klux Klan in Hoosier politics at the end of the 19th century.
Eight decades later, an array of students and alumni are campaigning to remove this section of Benton's mural, arguing it evokes a message of white supremacy. This, while well-meaning and undertaken out of compassion, is ignorant of Benton's purpose and runs counter to the university's mission as an educator.
Benton's piece was quite radical for the time. This gargantuan work shows a scene of Klansmen and a burning cross, upstaged by newsmen working to expose their undue influence on Indiana's government. Juxtaposed to this, at the heart of the panel stands a white nurse caring for a black infant—a moving scene and testament to our common humanity. No doubt, Benton provides this larger image to demonstrate opposition to the supremacist message. The university, for its part, echoes this message with a large display outside the lecture hall explaining Benton's work.
During the creation and initial presentation of the murals, the depiction of the Klan was hotly debated. Opponents argued Indiana should be presented in the best light and political leaders were embarrassed by the association.
Undeterred, Benton included this dark feature of our past as a unique reminder of our sins and a testament to our growth. Instead of skirting the realities of history, Benton labored to show Indiana for what it is, crafting a moving narrative of progress and teaching lessons of history, injustice and compassion.  
The former influence of the Klan in Indiana is an undeniable political reality. The mural serves as a reminder testifying to an unsavory portion of Indiana's history, and its presence helps ensure the events will be not repeated.
There is a compelling argument that students are simply unaware of or misunderstand Benton's message. Because of this, they rightfully find the imagery hostile, repugnant and even threatening. However, arguing for the panel's removal would be counterintuitive—in truth, Benton's legacy is defined by vocal opposition to the Klan for these same reasons.
We simply cannot heal the wounds and division that mar our nation by covering up history, nor should we entertain the notion that imagery misunderstood is imagery without purpose. Benton's work is discomforting, but this is for good cause.
IU at its core is an educator. As messages of hate continue to resonate in our country, the university is right to let Benton's mural be a teaching moment.•
Click here to see all of the latest Forefront columns.
__________
Ireland is a Robel Scholar at Indiana University's Michael S. Maurer School of Law and a digital media consultant. Send comments on this column to ibjedit@ibj.com.
Please enable JavaScript to view this content.