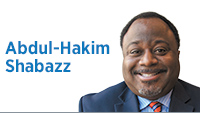 The discussion is heating up once again over the issue of early voting in satellite locations. Secretary of State Connie Lawson and Statehouse Democrats got into it over whether such early voting increases turnout. Common Cause and the Indianapolis Chapter of the NAACP filed a lawsuit earlier this year against the state of Indiana and Marion County over early voting, or the lack thereof.
Despite the best wishes of early-voting proponents, the evidence doesn't prove that it increases voter turnout. And by the way, you already have 28 days before an election to cast a vote at the clerk's office. So if anything, I argue that, by increasing the number of early voting locations, you just rearrange the deck chairs and individuals who would have voted, anyway, just do it earlier or in another location.
The General Accounting Office under the Obama administration released a study showing early voting does not automatically mean more voters will come out. But instead of using the federal government, let's use an example a little closer to home, shall we?
Here's a synopsis of the general-election turnout taken from the Marion County clerk's website.
 
Turnout
Absentee
voting
 
2004
53.6%
8.4%
 
2006
33.2%
6.0%
 
2008
54.7%
24.0%
 
2010
36.6%
10.2%
 
2012
56.0%
16.0%
 
2014
25.0%
9.0%
 
2016
53.0%
18.5%
 
Let's do a comparison of the 2008 and 2016 general elections. I picked those two because Marion County had early, satellite voting in 2008, but not in 2016.
In 2008, more than 380,000 people showed up to vote. About 93,000 voted early, or absentee. The overall turnout was nearly 55 percent.
Fast forward eight years later. The number of people who showed up to vote actually decreased, to slightly more than 370,000, and just under 69,000 voted early. But the turnout wasn't really all that different—about 53 percent.
While there has been a decrease in absentee/early-voting percentages, the total voter turnout has been pretty consistent. Actually, according to the data, while there was no early/satellite voting in 2012, more people showed up to vote than in the year there was early voting.
Satellite voting might make it easier for people to vote, but there's no evidence that it increases participation. If you want to increase voter participation, get better candidates on the ballot. It shouldn't shock anyone that the presidential election year with the lowest percentage of turnout was the year there were two candidates at the top of the ticket that no one, absent hardcore partisans, could stand.
Candidates and issues drive turnout, not early voting. What good does it do voters to have more places to vote if they don't like anyone on the ballot or there are no issues to get them worked up? They might as well mail it in and go about their business. The one benefit to early/satellite voting is, if you don't like either candidate, as was apparent in the last election, you can just cast your vote for the lesser of two evils and then go back to living in the real word and not worry about these clowns until Inauguration Day.
Hmmm, that just might be the best reason for more early-voting opportunities after all.•
Click here to see all of the latest Forefront columns.
__________
Shabazz is an attorney, radio talk show host and political commentator, college professor and stand-up comedian. Send comments to ibjedit@ibj.com.
Please enable JavaScript to view this content.