The residential redevelopment of the sprawling Simon estate on Ditch Road known as Asherwood that local homebuilder Paul Estridge Jr. announced late last year might not happen after all.

Estridge agreed in November to buy the 107-acre property between 96th and 106th streets and proposed building 100 custom homes and converting the 70,000-square-foot Simon mansion into an inn.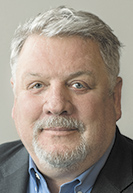 Estridge
But nearly a year later, the project is facing an uphill battle, hung up on covenants that restrict development in the area surrounding Asherwood—covenants Estridge said he was unaware of when he agreed to the purchase.

Getting clearance to move forward would necessitate getting all 88 homeowners covered by the covenants to agree to amendments—an effort Estridge is pursuing.

"We're still hopeful," Estridge said, placing the chances of moving forward at 50-50. "But it's complicated."

Estridge—who is partnering on the project with longtime developer Michael Browning—said financing is not a problem, despite the hefty estimated price tag of $50 million to construct the homes.

The team has yet to purchase the property from Bren Simon, the widow of billionaire real estate developer Mel Simon, who died in 2009. She officially placed the estate on the market in 2014 with an asking price of $25 million.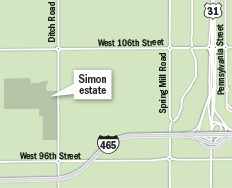 Estridge declined to reveal the sale price for the property but said he and Browning would need to enter into a new contract with Simon if the project were to move forward. The sale hinges on the development's receiving approval from the city of Carmel.

Estridge filed plans in November with the Carmel Plan Commission, but he pulled them before they were slated to be heard by commissioners, a Carmel spokesman said.

"Bren is re-evaluating her options because of the complexity of what is required," Estridge said. "We ran into some significant challenges in our effort to go forward."

An attorney for Bren Simon, DLA Piper partner Marianne Schmitt Hellauer of Baltimore, didn't return phone calls seeking comment on Simon's plans for the property.

The largest obstacle is the covenants governing the property and surrounding land.

The covenants date to 1960, Estridge said, when Eli Lilly and Co. heiress Ruth Lilly and her then-husband, Guernsey Van Riper, owned hundreds of acres in the area. The land was later developed by separate builders as the Deerfield and Summer Lakes additions, directly south of the Simon estate, as well as the estate itself.

The builders of the two communities, in addition to the Simons, were bound by the covenants put in place by Ruth Lilly, Estridge said.

Minimum setbacks and lot sizes referenced in the covenants make it impossible for Estridge and Browning to pursue their "high-end, exclusive" development, Estridge said.

The property would be developed into three housing areas, with a total of 100 homes priced at $800,000 to $2 million. The 70,000-square-foot Simon residence would serve as the centerpiece, and would be known as the Residence Club and Inn.

The covenants also would prohibit the developers from converting the mansion into a club and state that the residence must remain a home, Estridge said.

Built in 1999, it consists of 36 rooms, including seven bedrooms and 24 full or partial baths. The property also includes a 6,000-square-foot guest house, a 7,000-square-foot clubhouse, and a golf course plus its three maintenance buildings that total 20,000 square feet.

Estridge said he so far has gathered signatures from about 90 percent of the homeowners.

"We've received tremendous support from the surrounding residences to amend that covenant, and we're still pursuing getting the rest of the signatures, in anticipation of going forward," he said.

What Estridge is encountering is normal procedure when covenants are in place, said Mike Curry, who operates the north-side Enterprise Title company.

"Covenants give you a burden and a benefit," Curry said. "To the guy who wants a storage shed, it's a burden; to the neighbor who doesn't want to see it, it's a benefit."

The covenants restricting redevelopment of the mansion make it especially difficult for Simon to sell the estate as is, given the scarcity of buyers who could afford such a lavish property.

The estate is not actively listed for sale, said Greg Cooper, an agent at Berkshire Hathaway Home Services Indiana. He listed the former Stephen Hilbert mansion, one of the few homes that changed hands in recent years that could be considered on the same scale as the Simon estate.

"McMansions are more challenging to sell than ever," Cooper said, "and that's a full-blown mansion."

The disparaging McMansion term refers to tract-built luxury homes that began popping up in suburbs in the late 1990s and implies the structures were mass-produced and ugly.

About 40 houses are listed at more than $1 million in the Indianapolis area. Despite the ample supply, Cooper said there's likely demand for the homes Estridge wants to build, since high-end homebuyers often prefer new construction.

Even so, Estridge acknowledges he might have to give up on the project.

"These are so complex," he said of high-end housing projects. "Sometimes they come together and sometimes they don't."

Estridge, a fixture in the area's homebuilding industry, merged his former Estridge Group into Houston-based David Weekley Homes in April 2011 and became the company's Indiana division president.

He left in 2013 to launch Estridge Homes LLC. The company's flagship development is the 275-acre Harmony in Westfield. Once complete, Harmony is expected to include 650 single-family homes ranging in price from $250,000 to $475,000, 250 apartments and 170,000 square feet of retail space.•