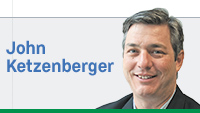 It always was a little awkward entering a polling place during the primary and declaring to the poll judges which ballot I wanted. As a news reporter, I didn't like having to declare my affinity for one party or the other.
For my own peace of mind, and for any of the political party operatives who might have been inclined to inspect my voting record, I generally alternated parties in hopes to throw them off the track of my political leanings.
This left my ballot open to a challenge from one of the partisan poll workers. While we don't register to vote as Republicans or Democrats, the law lets us take the ballot of only one party.
I've always been a scratch voter. The idea of voting a straight ticket seems contrary to the notion of a representative democracy in that I want the most ethical and qualified people to be my proxy no matter their party. And I want that choice in both the primary and general elections.
After yet another minuscule turnout primary election, it's time we make Indiana's primaries fully open to encourage more participation. And we'd better get smart and start using vote centers, which I'll get to in a paragraph or three.
It costs about $1 million to conduct an election in Marion County, more than $20 per vote, since fewer than 50,000 votes were cast May 6. That is about 8 percent of registered voters.
We're apathetic, but we're not stupid. We see the county's slating process, which largely predetermines the outcome in races, so independents figure, "Why bother?" Then we see the council and legislative districts gerrymandered to elect one or the other party's candidate and we understand independence is an illusion.
Finally, we see the nasty advertisements in those rare contested races that leave thinking voters wondering why anyone would want to subject themselves to this nonsense.
All of this is intended to ensure the election of the party's selection, and that's just fine with them. Taxpayers spend a small fortune to do the political parties' dirty work. At least let me pick which primary ballot I want without making me worry I'll get challenged and have wasted my time.
Now, about those vote centers, or consolidated places where voters from any precinct can cast ballots. Election officials in every Indiana county should immediately adopt the vote-center method for casting ballots. It will make it easier for voters to cast ballots and, after initial startup costs, will save every county in the state money, according to a 2010 study by the Indiana Fiscal Policy Institute.
Nine counties just conducted their first election with vote centers, bringing the total to 16 out of the state's 92. We've got a long way to go, but the momentum is encouraging.
Electronic pollbooks are the secret ingredient here, and the Secretary of State's Elections Division has worked hard to develop good databases. This gives counties the ability to instantly record votes and ensure voters don't attempt to cast multiple ballots. With these pollbooks, county election officials can open polls well in advance of Election Day and put them in high-traffic, easy-to-access locations to eliminate lack of convenience as an excuse for not voting.
Maybe things will change more rapidly as party officials look at this year's results and see incumbents defeated by interest groups that likely don't care much about the party's interests. They might realize their interests are served by involving more voters in the process, not fewer.•
__________
Ketzenberger is president of the Indiana Fiscal Policy Institute, a not-for-profit dedicated to non-partisan research into the state's tax policies, and tweets at @JohnKetz. Send comments to ibjedit@ibj.com.
Please enable JavaScript to view this content.