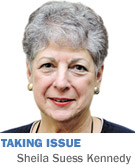 When I was a very new lawyer, an older lawyer in the firm where I worked said something I've never forgotten: There's only one legal question, and that question is, "What do we do?"
That axiom also describes our social and political world. What should we do in the face of mounting evidence that the racism we thought had diminished had merely gone underground?
What should we do about a president whose rhetoric and policies are calculated to feed the bigotries and resentments of those who elected him and further divide an already polarized country?
What do we do in the face of evidence—from Charlottesville to the NFL—that the outcome of the last election has encouraged and empowered the worst elements of the American alt-right—the Klan, the Nazis, the white supremacists and others who spent the preceding eight years seething over the fact that America had a black president?
And what do we do when we see that our federal government is so in thrall to partisanship and special interests that it is simply unable to address the pressing issues we face?
If we are honest, if we look at our recent and not-so-recent history, we'll see that our democratic institutions have been malfunctioning, and our democratic norms eroding, for a long time. Tensions and social cleavages that had been building for decades came to a head in 2016, but they'd been simmering, fed by the Great Recession, the election of an African-American president, the accelerating pace of social and technological change, and the widening gap between the rich and the rest.
In the aftermath of November's election, social scientists told us that most Trump voters were "economically distressed," members of an American heartland who felt ignored and disparaged by so-called "coastal elites." As data emerged, however, it turned out the average Trump voter was better off, economically, than the average Clinton voter. And although rural voters were more likely than urban ones to support Trump, that data also unambiguously showed that voters who displayed "racial resentment" were the voters most likely to support Trump.
Let me be clear: That doesn't mean all Trump voters were racists—although a significant percentage of them clearly were. And it doesn't mean racism is confined to those voters.
Refusing to admit how persistent and consequential racism is, refusing to recognize how many of our political and social attitudes are rooted in disdain for those who don't look like us—those we label "other," makes it difficult, if not impossible, to solve America's multiple, serious problems.
We have millions of people in jobs that don't pay enough to live, greater economic inequality than during the Gilded Age, struggling public schools, and decaying infrastructure. We are the only Western industrialized nation without universal access to health care. Add globalization, climate change, and a loss of trust in our social institutions, especially media and government.
Our national government isn't working. Thanks to low levels of civic literacy, the inordinate influence of money in politics, out-of-control gerrymandering that has only one in 20 Americans living in competitive congressional districts, and other structural problems, America looks more like a plutocracy than a democracy.
If we are going to solve these problems, we simply cannot afford the polarization and tribalism that has re-emerged with such force. It isn't just racism and anti-Semitism. It's anti-immigrant, anti-Muslim, anti-"elitist," anti-science, anti-intellectual. It's anti-other. It's "us" versus whomever we classify as "them."
It's past time to have "the talk."•
__________
Kennedy is a professor of law and public policy at the School of Public and Environmental Affairs at IUPUI. She can be reached at skennedy@ibj.com.
Please enable JavaScript to view this content.