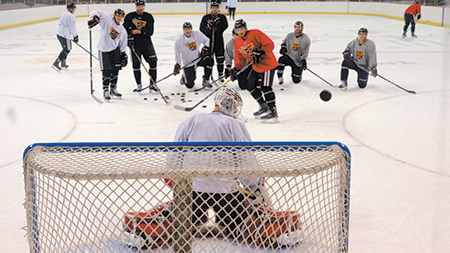 With an improved team and a better schedule—including more Saturday night games (14) than ever—Indy Fuel officials think this could be a watershed season for the minor-league professional hockey team.
Several season-ticket holders told IBJ it had better be.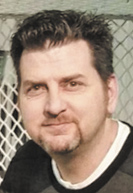 Howard
"We really enjoyed watching this team the first two years, and appreciated the effort the owners were making to build the franchise," said Joe Howard, a 47-year-old Indianapolis resident who has attended every Fuel home game since the team launched in 2014.
"Last year was an embarrassment," Howard said. "Not only was the team losing; the guys weren't even playing hard. After three years, they have to start getting their act together. I've seen season-ticket holders come and go. More recently, I've seen more going."
Days before the team's home opener Oct. 21 at Indiana Farmers Coliseum at the Indiana State Fairgrounds, Fuel CEO Sean Hallett promised a better team—and said the heightened fan excitement is palpable.
Entering its fourth season in the ECHL (formerly the East Coast Hockey League), the Fuel are enjoying an almost 5 percent rise in year-over-year season-ticket sales, group ticket sales are up 10 percent, and sponsorship sales are up nearly 10 percent, Hallett said.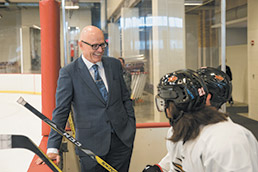 Kar Auction Services CEO and Chairman Jim Hallett is in his fourth season as team co-owner. (IBJ photo/Eric Learned)
With increased marketing and promotions, Hallett projected single-game sales will be up more than 10 percent.
The team hasn't increased ticket prices since its inception, with most tickets costing $14 to $40.
"The feedback we're getting is showing a lot of
excitement from our fans," Hallett said. "From a team-competitiveness and business standpoint, everything is pointing up."
That includes "a significant" sponsorship deal signed this offseason with Honda of Central Indiana, Hallett said. Honda—along with union IBEW—will have its logo emblazoned on the ice and Honda will sponsor the popular Shoot the Puck contest, where Fuel fans will now have a chance to win a Honda.
While attendance declined slightly from a peak of 3,856 in 2015-2016 to 3,591 last season, Hallett is confident it will top 4,000 this year.
The Fort Wayne Komets led the ECHL last year with 7,568 fans per game for 36 home games.
Last year's Fuel attendance, Hallett said, was hurt by the Indy Eleven's post-season run, the Chicago Cubs World Series championship run and the presidential election. That trifecta won't repeat. But Hallett, who owns the Fuel with his father, Kar Auction Services Inc. CEO and Chairman Jim Hallett, is more focused on the factors within his control.
"Goal one is to make the playoffs. We've worked hard all summer to put together a good roster," Sean Hallett said. "We think that's going to make a difference for us at the gate."
While Hallett said he thinks two-thirds of Fuel game attendees come for "a night of hockey and overall entertainment" rather than just to see a winning team, he said "winning is more entertaining and is something that will bring fans back."
"We think having a winning team could bring in another 500 fans per night," Hallett said.
Howard, an avid amateur hockey player who manages medical malpractice litigation for a living, said he doesn't care how often the Fuel win, "but the team has to be competitive and the players have to play hard every night."
Profitable play
A playoff run brings the Fuel an extra bonus. Each home playoff game means another $200,000 in revenue, Hallett said, "with few additional expenses other than the $13,000 weekly player payroll."
The Fuel are one of nine profitable teams in the 27-team ECHL, according to league officials. Much of that can be traced to the naming rights deal the team struck for the fairgrounds coliseum.
The Halletts signed a 10-year contract—with three five-year options—to play in the newly renovated coliseum. They agreed to pay $550,000 annually in rent and another $350,000 each year for the rights to put a sponsor's name on the facility. The Fuel then sold those naming rights to Carmel-based Indiana Farmers Mutual Insurance Co. for $600,000 a year.
Jim Hallett said the naming-rights deal has allowed the Fuel "to be profitable since day one." It's also allowed the team to make investments in amenities like a ribbon board in the coliseum and first-class apparel and other merchandise for fans, as well as more game-day-experience elements, he said.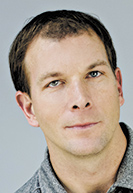 Bell
"The team might be minor league, but the game-day experience is major league," said Rob Bell, a local sports psychologist who has attended several games. "In many ways, it's better than major league. The Fuel and the whole game-day experience is really focused on the fans and that makes it feel more intimate."
Bell recalled a game he attended last year with his 9-year-old daughter and 6-year-old son. The players were required to skate with the fans for an hour after the game.
"The team was in the middle of a losing streak. I'm sure skating with the fans after the game was the last thing they wanted to do," Bell said. "They were very gracious."
Bell noted in particular that Fuel player Zach Miscovich took the time to skate at least one lap individually with each child. And when the family bumped into Miscovich later that day at a restaurant, he remembered the Bell children's names and welcomed them warmly.
Sean Hallett said the team's biggest challenge is getting people to their first game so they can see that Fuel games aren't like the low-budget affairs of on-ice predecessors in Indianapolis. "If we can just get people out to see one game, we know we can win back their business," he said.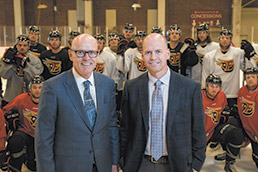 Indy Fuel co-owners Jim Hallett, left, and son Sean Hallett, "worked hard all summer to put together a good roster," Sean said. (IBJ photo/Eric Learned)
Icy roots
Jim Hallett is no newcomer to hockey in Indianapolis. He was part-owner of the Indianapolis Ice of the Central Hockey League from 1999 to 2001.
He and local car dealer Gary Pedigo eventually sold the Ice back to Chicago businessman Horn Chen, who folded the team in 2004. That gave rise to the Indiana Ice, a tier-one amateur junior team, which suspended operations in 2014.
The latest iteration of professional hockey in Indianapolis, Hallett insisted, is different.
"Yes, Indianapolis has had professional hockey since 1938. But until now, no one has really invested in the sport," said Hallett, who grew up playing hockey in Canada and has lived in Indianapolis for more than two decades. He came to the United States to oversee the North American operations of auto-auction powerhouse ADESA Corp.
Part of the Halletts' strategy to build up the Fuel involves youth hockey and ice skating facilities.
In year two of their foray, the duo bought the Forum at Fishers, renamed it the Fuel Tank at Fishers, and spent $400,000 renovating the ice rink. Since then, they've spent more than $5 million more on the facility.
In year three, the Halletts started a not-for-profit junior hockey league, which grew to 540 players last year and has expanded to 800 this hockey season.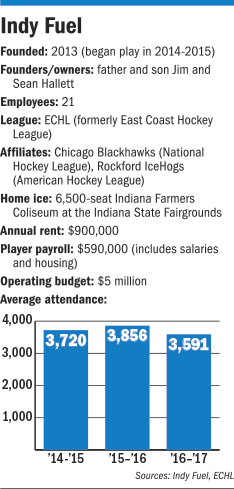 The Halletts also have an option to buy a parcel near the Interstate 65/County Line Road interchange in Johnson County and hope to break ground on an ice-plex next spring with an opening set for August 2019. After that project is complete, Sean Hallett said, he and his father will look to open one or two more ice skating/hockey facilities in central Indiana.
Jump to AHL?
The Fuel, an affiliate of the Chicago Blackhawks, still haven't managed to draw the crowds the Ice did. Six out of nine years during the 1990s, the Ice drew more than 5,000 fans per home game, with the high-water mark coming during the 1996-1997 season when the team averaged 5,722 fans.
Some fans have suggested the Fuel need to move from the ECHL, essentially a AA minor league, to the American Hockey League, which is just one step below the National Hockey League.
"That was one great thing about following the old Indianapolis Ice. … You watched guys who then moved up to the NHL," Howard said. "We haven't seen anyone who has played for the Fuel make it to the NHL."
Sixteen Fuel players have graduated to the AHL in the last four years, and Sean Hallett said it's only a matter of time before some of them jump to the NHL.
The Indianapolis Ice played in the International Hockey League, a AAA minor league, from 1988-1999, and played in the Central Hockey League, a AA minor league, from 1999-2004.
While the Halletts haven't ruled out a future move to the AHL, Sean Hallett isn't convinced that would have a major impact on attendance.
And he noted, a startup AHL franchise fee would cost about $8 million.
"Anything is possible. We want to have the highest possible level of hockey this market will support," Hallett said. "We'll see how the support of hockey in this town grows. Right now, the ECHL is the right place."•
Please enable JavaScript to view this content.