Should needle-exchange programs be part of Indiana's fight against opioid abuse?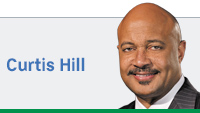 Shooting up heroin with a clean needle instead of a dirty one will reduce your chance of contracting an infectious disease such as HIV or hepatitis.

But using a clean needle does nothing to protect you from dying of an overdose.

Nor does it eliminate other ill effects of drug addiction.

Indiana over the past two years has opened wide its doors to needle-giveaway programs. The individuals promoting this idea undoubtedly are compassionate and well-intentioned.

But needle giveaways have unintended consequences endangering not only addicts but others in communities where these programs exist.
Of the handful of counties that have permitted so-called "needle exchanges," two of them—Lawrence and Madison—already have canceled them after watching what transpired.

"It leaves thousands of needles on the streets, in our parks, and on our street corners and our parking lots and our community. It was just unacceptable," Madison County Prosecutor Rodney Cummings told a news outlet.

Although described as "needle exchanges," these programs do not operate as exchanges at all. No one must trade in used needles in order to receive clean ones. So, dirty needles are littered across neighborhoods where families live and children play.

What about the effects on addicts themselves?

Handing out clean needles encourages substance abusers to shoot up—and in many cases, shoot up more often. More frequent drug use means increased likelihood of overdose and death.

The state first permitted a needle-distribution program in March 2015 in Scott County. The purpose was well-defined: to address a localized disease outbreak. Though successful in slowing the spread of disease, this program also produced less desirable outcomes. Drug users receiving clean needles reported injecting themselves more frequently—from five times a day, on average, to nine times a day. (The Centers for Disease Control, which supports needle handouts, actually asked Indiana officials to delete or change this statistic.)

Besides needles, many kits provided through distribution programs also include condoms, rubber tourniquets and metal cooking spoons with twist ties. Looking ahead, one easily predicts "controlled distribution" of the drugs themselves—an approach already being tried in Europe.

Everyone can appreciate good intentions behind innovative strategies aimed at mitigating devastation caused by drug abuse, but providing items that enable and even encourage exactly the destructive behavior we want to stop is a self-defeating exercise.

There is scant evidence that connections established with addicts through needle programs lead them to greater interest in seeking treatment.

As more Hoosiers die every day from opioid abuse, we are left with the realization that passing out needles does nothing to stop this heartbreaking cycle.

We must teach our friends and family to avoid the trappings of drug dependency and abuse.

We must encourage and, in some cases, demand appropriate care for the addicted.

We must support accountability for those who violate our laws by peddling poison to our neighbors.

In the hands of honest Hoosiers committed to comprehensive solutions, Indiana's drug crisis can become more manageable. Lives hang in the balance.•

__________

Hill is a Republican and the state attorney general. He previously served four terms as the Elkhart County prosecutor. Send comments on this column to ibjedit@ibj.com.