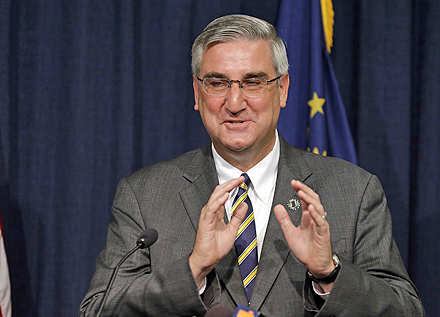 Gov. Eric Holcomb on Wednesday unveiled his 2018 agenda, which will focus on revamping the state's workforce development system and trying to attack the opioid epidemic.
On workforce development, the Indiana Regional Works Councils established under former Gov. Mike Pence will sunset as scheduled in mid-2018, and the dormant Indiana Career Council will lapse. Instead, Holcomb advocated empowering self-selected local and regional groups of businesses, elected officials, education institutions and others to have the "flexibility and funding to design education and workforce training programs that make sense for their economic foundations and employment needs."
Holcomb said there would be "no more stove-pipe approach as we work our way into this," referring to criticisms by some legislative leaders that the workforce development system is convoluted and divided into isolated silos.
"What I continue to hear is we need more of an ability locally to do what's working," Holcomb said. "I think this will be different. I think making sure the funding allocated and the flexibility we'll be giving to locals, to leadership at the ground level, that's going to be the difference. It's turning this thing upside down."
The new system will be implemented in 2019, and it will be overseen by the new Governor's Education to Career Pathway Cabinet, which will be overseen by former La Porte Mayor Blair Milo, the governor's new secretary for career connections and talent. It also will include State Superintendent of Public Instruction Jennifer McCormick, Indiana Commissioner for Higher Education Teresa Lubbers, and new Department of Workforce Development Commissioner Fred Payne, among others.
It could have implications for how state education dollars flow into schools—but how funding flows from state and federal sources into schools and other programs is still being evaluated.
For instance, a local group could decide to use state career and technical education dollars differently, or build programs that serve both high schoolers and adults using a specific pool of money.
"There has been some confusion between works council boards, regional works council boards, state workforce councils, some of the workforce investment boards," Milo said. "So what we're looking to do is eliminate some of that confusion."
But even as they try to streamline workforce efforts, officials acknowledged that some of the bureaucracy has to stay due to federal requirements. And some of the changes may need legislative approval.
On the opioid epidemic, Holcomb wants to strengthen enforcement efforts by establishing a felony charge for drug-induced homicide and a felony murder charge for those who illegally manufacture drugs that result in death.
The administration also said it would require physicians to check a prescription drug monitoring program before issuing first prescriptions for opioids and benzodiazepines, and work with local coroners to improve reporting of drug overdose deaths.
Other initiatives from Holcomb's agenda include:
— Creating a paid parental leave program for state government employees to "support family formation and involved parents."
— Authorizing testing and operation of autonomous vehicles and "creating an environment that attracts research and economic development."
— Supporting the state's tech sector by clarifying the sales tax treatment of software as a service.
— Establishing a single online sign-on for residents as they interact with various government agencies. For instance, someone would have the same login for the Bureau of Motor Vehicles as they would for the Family and Social Services Administration.
— Establishing a working group to develop strategies for managing the state's water resources.
— Loosening licensing requirements for some teachers in the vocational space.
— Working with elementary students to adopt the Say's Firefly as the state insect.
Senate President Pro Tem David Long said in a media release he believed Holcomb's agenda was "aggressive and well-thought-out."
House Speaker Brian Bosma said, "The governor has put forth a bold agenda, and we look forward to working with him on workforce and other critical issues facing our state and finding the best solutions for all Hoosiers."
House Minority Leader Scott Pelath encouraged Holcomb to "restrain his party" come January on contentious issues not related to the agenda.
"In broad principle, House Democrats share many of the same goals," Pelath said. "We all believe in a top-notch workforce, more job training opportunities, and freeing Hoosiers of drug addiction. These concerns are nearly universal, and we look forward to working with the governor to flesh out the details."
Barbara Quandt Underwood, state director of the National Federation of Independent Business, said in a statement that "the governor's commitment to building a skilled and ready workforce is a big deal to small business."
"Our members say they're having a harder and harder time finding qualified applicants, and that makes it harder for them to grow and create more job opportunities," she said.
However, Indiana Democratic Party Chairman John Zody said he wasn't impressed by the workforce plan.
"Statehouse Republicans have been peddling the same empty promises about skilling up the Hoosier workforce for more than a decade, yet their actions prove otherwise" Zody said in a media release.
"The governor likes to cite rankings," Zody said. "Just look at the numbers, past efforts haven't made a dent. Hoosier workers just want a shot at gaining the skills to earn bigger paychecks. If past performance is any indicator, Governor Holcomb's plan won't be that opportunity any more than past Republican efforts were."
The Indiana Chamber of Commerce broadly endorsed Holcomb's proposals.
"We see evidence everyday of Indiana's economic and job accomplishments," said CEO Kevin Brinegar in a media release. "This agenda—particularly clarifying software-as-a-service tax treatment, increased management of our water resources, accelerating efforts on autonomous vehicles and expanding STEM opportunities through increased computer science education—properly looks toward the future and will help ensure those successes continue."
Please enable JavaScript to view this content.