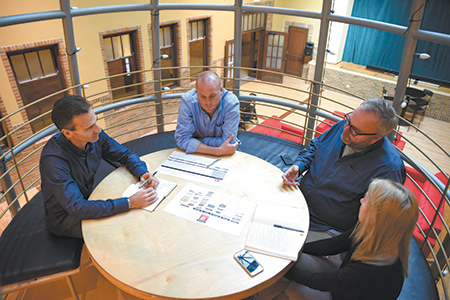 Indianapolis-based advertising agency Young & Laramore this month became the agency of record for Speedway gas stations and convenience stores, a coveted national account that hits a new high in the firm's three-year winning streak.
Since 2015, the agency has signed national deals with Trane/American Standard Heating & Cooling, Louisville Slugger, Pet Supplies Plus and Papa John's. But Young & Laramore President Tom Denari told IBJ that Speedway, a growing Springfield, Ohio-based chain with 2,700 locations so far, could become Young & Laramore's biggest account.
"This is a significant win for us," Denari said.
The agency's hot streak has pushed its capitalized billings from $42 million in 2015 to a projected $60 million this year. With the Speedway account, that number is sure to head up in 2018, Young & Laramore officials said.
Few firms in this market can rival those numbers, with only Bradley and Montgomery reporting $60 million in capitalized billings, according to IBJ research.
Capitalized billings, which includes money for media placements and other pass-through dollars, are a key sign of an agency's health. Though Young & Laramore doesn't divulge its annual revenue, sources told IBJ an agency's revenue is typically one-third to one-fourth of its capitalized billings.
Denari declined to say how much the Speedway account would be worth to his agency, but multiple sources told IBJ it is certainly a six-figure score and could easily develop into a seven-figure revenue producer.
Young & Laramore also does work for Delta Faucet's Brizo brand, Farm Bureau Insurance, Goodwill, KraftMaid, High & Mighty's Hillman brand and Schlage—maker of locks and security equipment.
The agency shouldn't have to add more than "a handful" of employees to its 62-person staff for the Speedway account, Denari said. "We try not to staff up and staff down," he said. "We don't think that's good for anyone. That's why we look for long-term, stable relationships."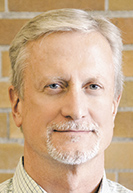 Knapp
One-third of Young & Laramore's employees have been with the agency more than 10 years and two-thirds have worked there at least two years, said Denari, a 28-year employee. Young & Laramore CEO Paul Knapp has been with the firm almost 22 years.
The Speedway deal is a one-year contract, but Denari is confident it will grow into a multi-year relationship.
"I think a long-term relationship is what Speedway is striving for as well," he said.
There's good reason to think the Speedway account will be a big one.
Wholly owned by Marathon Petroleum Co., Speedway spent $15.3 million on marketing and advertising in 2016, according to Kantar Media.
But that could grow considerably. Marathon acquired Hess gas stations and convenience stores in 2014 for $2.6 billion and is in the process of integrating the operation under the Speedway banner. Young & Laramore will be involved in that integration, Denari said.

Young & Laramore and its media-buying arm, Echo Point Media, will be in charge of creating and placing ads and marketing materials for television, radio, online (including social media) and billboards, as well as handling package design and in-store and point-of-purchase displays in 49 markets nationwide.
Young & Laramore's first work on the Speedway account will appear early next year.
As part of the account, the agency is taking a decidedly different approach to market research by sending two-person teams into more than 40 homes.
"We'll be going into homes to talk to people one-on-one, with each visit lasting about an hour," Denari said. "That gives us perspective on what real consumers like and want. It allows our entire team to engage with real people instead of theoretical target audiences."
Denari said the agency's teams will be hunting for the "unspoken truth" during the in-home visits.
"We want to know what's not being articulated, what people are not saying, what they really want," he said.
Speedway officials declined to comment for this article, but Young & Laramore executives believe that Speedway's marketing team and senior management chose Y&L because of the agency's rigorous strategic approach to brand strategy and research, as well as its ability to develop breakthrough creative and efficient national digital, social and traditional media executions. Y&L will work with Speedway to strengthen the brand's position in new markets as well as existing ones.
One of Speedway's top marketing priorities is to drive gas customers into its co-located convenience stores, company officials said in an email.
While it's unclear how many agencies bid for the Speedway job (Young & Laramore wasn't told), it's likely the agency had some powerful competitors.
"When national accounts go up for bid, they draw big fish—big agencies with big reputations. It's a whole different sphere from local work," said Allan Zukerman, managing director of locally based Z Marketing Partners. "This is a good win."
Zukerman, whose firm has worked on accounts for Coca-Cola, Pizza Hut and Steak n Shake, said Speedway's budget "is nice, but not huge" for a national account.
"I'll be curious to see what [Young & Laramore] does for Speedway," Zukerman said. "I think a lot of people in this industry will be."
It's unclear who previously held the Speedway account. Multiple sources said Speedway had a deal with another firm for more than 20 years, but that deal ended when the owner of the firm died and the agency closed. In the year since, Speedway has used multiple agencies to help with advertising and marketing.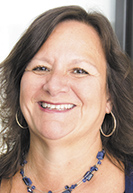 Graham
Cindy Graham, vice president of marketing for Goodwill of Central and Southern Indiana, isn't surprised by Young & Laramore's success.
Young & Laramore took on the local Goodwill account in 1996 and designed a first-of-its-kind television campaign featuring the "Goodwill Guy" that still endures today.
"Along with Portland, Oregon, we were the first Goodwill to use TV ads," Graham said. Y&L has "always been willing to look at things differently to come up with unique and effective solutions."
The Young & Laramore TV spots—which promote Goodwill's retail stores and overall mission—have been so good, Graham said, they are now syndicated to dozens of Goodwill operations nationwide.•
Please enable JavaScript to view this content.