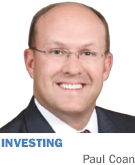 The end of 2017 is fast approaching, and it is a great time to do some financial housekeeping. Planning now to make some strategic saving and investing decisions before Dec. 31 can affect not only your long-term ability to meet your financial goals but also the taxes you'll owe next April.
• Rebalancing. After double-digit gains in every major index this year, it makes sense to reallocate your portfolio back to its original asset-allocation targets. As long as you have a good investment strategy and minimize your cost, you should stop worrying about it and get back to the rest of your life. But this is a small amount of maintenance that helps keep things on track.
• Tax-loss harvesting. Nine years into this bull market, losses might be hard to find within the portfolio, but you will want to take advantage of any that do exist. As mutual funds are set to push out their taxable gains toward the end of the year, you will want to make sure you aren't at the wrong end of a big tax bill come April 2018.
• Contribute to IRAs or Roth IRAs. Depending on your income level, you will want to take advantage of the tax-deferred growth that can be attained by using these tax-sheltered vehicles. Contribution limits for 2017 are $5,500 with a $1,000 catch-up provision for those over 50. Phase-out limits apply to Roth IRA contributions for certain income levels.
• Take inventory of assets: Most people are saving money in various places (401(k)s, bank accounts, personal brokerage accounts, 529 plans, etc.). You'll need to understand what you have in each of those buckets. Consolidate where you can and be sure to understand if each is working to achieve your goals both individually and in tandem for your overall financial plan.
• Pay it forward: There has been a lot of misfortune in the news lately, and a lot of people are hurting. Take some of the great fortune you have enjoyed financially in 2017 and give back to those in need. This can be done through cash, check or credit card. Appreciated assets in a taxable account are usually a better option for charitable donations. Better yet, open a donor-advised fund and make a lasting impact.
• Optimize employee benefits. End of the year is open enrollment season, which means your employer will probably be providing you a big packet of information about your 2018 benefit options. That might sound boring, and it kind of is, but it's also a great opportunity to make sure you grab every last financial incentive available to you.
All the above steps are worth doing on an annual basis. Be sure to schedule a year-end meeting with your financial adviser to review your financial standing, goals, and the implications of current and future economic conditions. Don't forget to tell your adviser about any life events that took place during the year, including marriage, divorce, a new job or business venture, family changes, major purchases and buying or selling of property.
Smart investing is about managing risk and uncertainty to help maximize the potential returns. An annual, year-end review to evaluate your investment strategy can assist you in staying on track for your long-term financial goals.•
__________
Mickey Kim, whose every-other-week column normally appears here, has the week off. Paul Coan is managing member of Raton Wealth.
Please enable JavaScript to view this content.