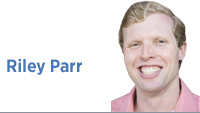 No, the internet is not dying. And dismantling the "net neutrality" rules promulgated by the Obama administration will not lead to widespread despair and famine. Nor, perhaps to the surprise of some, is the underlying conflict a new one.
Rather, it is nothing more than the newest installment of the same basic fundamental tension that threads its way through human history: Who should hold the power?
The first question should be whether government intervention is even warranted. Proponents of the current rules vociferously argue, "Yes!"—based almost exclusively on the idea that going back to the pre-2015 way of doing things might lead to monopolization of the internet. This reasoning ignores that all the current anti-trust laws and regulations currently in place, the purpose of which is to prevent anti-competitiveness, would still apply.
More crucially, though, is why big companies become big to begin with: In the absence of collusion (which, to my knowledge, nobody is arguing in regard to this issue), companies can succeed only by offering better products, better choices or better value—or, heaven forbid, all three.
Another way to put it: It is because of us that businesses succeed. By virtue of purchasing whatever widget a company produces, consumers validate the decision to bring that good or service to market and effectively "vote" for the continued success of that company. Quite the contrary when government gets involved.
Another mistake made by members of the regulate-first-ask-questions-later crowd is akin to taking a picture versus taking a video. Imagine a person using his or her phone, the exceptionally powerful pocket computer virtually impossible to envision at the turn of the millennium, to shoot a two-minute video of a vacation halfway around the world, then uploading it (using ever-increasing internet speeds) for friends back home to stream within seconds (or live-stream). Then imagine a picture that captures a single frame.
Proponents of governmental involvement, here supporters of net neutrality, myopically focus on the picture, intent on the reality that exists at that split-second point in time—and exclude the past, what history tells us actually happens, and tragically likewise refuse to trust their fellow citizens to make decisions moving forward. History tells us the world is complex and requires constant evolving and adaptation. Failure on the part of business to do so means irrelevance.
One problem for proponents of free enterprise, which the net-neutrality debate highlights, is that those who favor government protection have the built-in advantage that it looks as if something is being done right now, sort of like the instant-gratification craving many ascribe to millennials. Of course, nobody takes the time to see if the intended results are actually happening, or worse yet, what negative effects might have instead developed.
Unfortunately, too often, supporters of a more limited government role in the economy provide an inadequate defense. Instead, we use platitudes like, "The free market will take care of it." As a practical matter, that provides few assurances. We would do well to explain that the alternative, giving control to the government, dispossesses citizens of the liberty to make their own choices, to order their life according to their wishes—because it is the sum of individual action that is the invisible hand.
The freedom-through-government-regulation argument has never made much sense. Empowering the ultimate monopoly, influenced by the well-off and connected special interests, to write laws that are then enforced by faceless bureaucrats doesn't sound like any freedom with which I'm familiar.•
Click here for more Forefront columns.
__________
Parr is a student at the Indiana University Robert H. McKinney School of Law in Indianapolis and is treasurer of the Indiana Young Republicans.Send comments to ibjedit@ibj.com.
Please enable JavaScript to view this content.