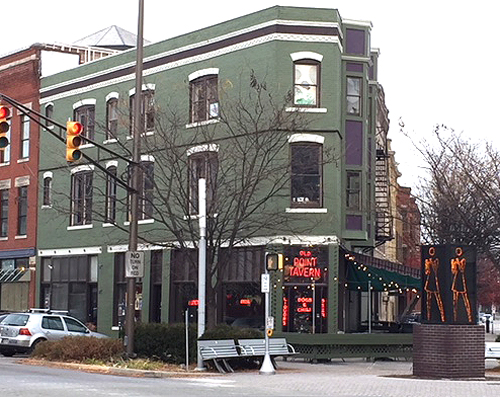 Serial restaurateur Mike Cunningham plans to add to his stable of Massachusetts Avenue eateries by taking over the space that the watering-hole warhorse Old Point Tavern has occupied for more than a century.
Old Point owners Patti and Chip Perrin, who also own the three-story building at 401 Massachusetts Ave. that's occupied by the bar, are finalizing a lease with Cunningham for a restaurant to take the place of their longtime establishment, Cunningham said.
It's unclear when Old Point will close, although a source said it's likely to be in early January.
Reached by phone Monday afternoon, Patti Perrin said she was unable to speak about the closing but would be issuing a press release soon announcing the switch in operations.
Old Point is located on what might be the most high-profile intersection on Massachusetts Avenue—the corner where North Alabama Street converges with East Vermont Street to form a three-way intersection.  
The Perrins have operated Old Point for about 25 years, although the tavern's history extends far beyond that period. Old Point first obtained its liquor license in 1887. That makes it the second-oldest bar operating in Indianapolis, behind only the Slippery Noodle Inn, which began serving in 1850.
Cunningham, owner of Indianapolis-based Cunningham Restaurant Group, has in the last decade opened some of the city's best-reviewed and most popular restaurants. They include Bru Burger (which is directly across Massachusetts Avenue from the Old Point Tavern), Mesh, Livery, Union 50 and Vida—all of which are either on Massachusetts Avenue or within a few blocks.
Aware that the Perrins were seeking to retire, Cunningham began talking to the couple more than a year ago about taking over the space, he said. The Perrins will retain ownership of the historic building.  
"We love the corner; the visibility doesn't get much better than that," Cunningham said. "It's a charming old space. We'll freshen it up, but keep the old charm."
Cunningham said he plans to change the concept "a little bit" but isn't sure yet what that will entail, or whether the name will stay.
He is seeking approval from Indianapolis Historic Preservation Commission staff to vent an exhaust hood out of the building on the Vermont side. The addition would enable him to operate a grill and increase menu offerings.
IHPC staff is set to hear the request on Dec. 19. Because an exhaust hood wouldn't alter the design of the building, the request doesn't need to be heard by commission members.
Old Point's current menu consists of nachos, salads, sandwiches, sausage and chili.
Cunningham said he also has applied for a three-way liquor license to increase the alcohol options to include wine and liquor.
The local restaurateur has been on a tear lately. He will take over the Cerulean space in the downtown Alexander hotel after the swanky eatery closes at the end of the month. His plans call for a "coastal Italian concept" that will be heavy on seafood but will serve steak as well.
No name has been selected yet, Cunningham said, but he's hoping to open in late April or early May.
Cerulean is closing on Dec. 31, owner Caleb France announced Dec. 1.
Please enable JavaScript to view this content.