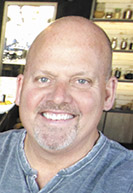 Cunningham
Serial restaurateur Mike Cunningham is taking over the Cerulean space in the downtown Alexander hotel after the swanky eatery closes at the end of the month.
Cunningham, owner of Indianapolis-based Cunningham Restaurant Group, told IBJ on Monday morning that the "coastal Italian concept" will be heavy on seafood but serve steak as well.
No name has been selected yet, Cunningham said, but he's hoping to open in late April or early May.
The Cerulean is closing on Dec. 31, owner Caleb France announced Dec. 1.
Its lease expires on Jan. 1, and, after five years at the location on the southeast side of downtown, France and chef Alan Sternberg have decided to shut its doors.
"Alan and I want to thank our team and diners, who have become part of our extended family, and for the great memories over the past five years," France said in a press release. "We look forward to continuing to serve our guests far into the future."
One of the highest-rated fine-dining establishments in the city, the Asian-inspired Cerulean will maintain normal business hours through December: Monday through Thursday, 5 p.m. to 9p.m.; and Friday and Saturday, 5 p.m. to 10 p.m.
The ingredient-driven, fine-dining establishment opened in 2012 at CityWay, at the northeast corner of Delaware and South streets.
Cunningham Restaurant Group has been responsible for some of the hottest new eateries in Indianapolis over the last decade. Its stylistically diverse downtown portfolio includes Bru Burger, Mesh, The Livery, Union 50 and Vida, all on or near Massachusetts Avenue in downtown's northeast quadrant.
Please enable JavaScript to view this content.