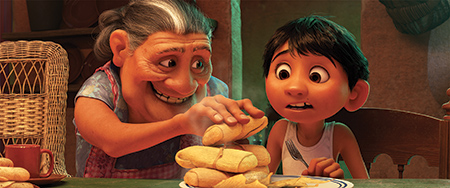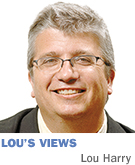 I'm not a fan of polarization, whether in politics or arts and entertainment.
So I want to preface this year's best movies roundup by making it clear that, if a movie isn't on this list, it doesn't mean I hated it. Some movies are just fine. Others are better than that. And so a lot of good movies didn't make my top 10 but are still well worth seeing.
Oddly, most of those on my almost-list—"Detroit," "The Disaster Artist," "Molly's Game," "Professor Marsden and the Wonder Women" and "Darkest Hour"—are based on true stories. Of course, "The Shape of Water" wasn't. 
Those that did make my list reveal a rich range of subjects and styles.
1. "Coco." My favorite film of the year is this animated bit of magic cooked up by the folks at Pixar. Its films are rarely shy about their big hearts. They also have a tendency to stumble in their final acts by going too big. Here, though, the "Coco" creative team never loses sight of the beautiful story they are telling. They combine its heart with wonderfully original characters, glorious animation, sweet laughs, lovely music, a story that matters and an ending that's just right. It's about a boy who loves music, despite a history that has turned the family against it. It's also about a boy who loves his family. And about a culture that celebrates both of those loves.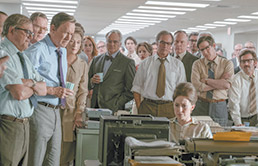 "The Post" (Photo courtesy of Niko Tavernise)
2. "The Post." In what is something of a prequel to "All the President's Men," Steven Spielberg has crafted an intelligent, timely and often thrilling cinematic essay on the importance of a free press in a democratic society. He's also given Meryl Streep her best role in years as Katharine Graham, the owner of The Washington Post, who must wrestle with her own identity and conflicted interests while deciding whether to let her editor (Tom Hanks) publish the Pentagon papers, thus revealing the truths behind the Vietnam War. A very strong supporting cast keeps this from being merely a star vehicle.
3. "Lady Bird." One of the joys of being a movie buff (and isn't just about everyone these days?) is when a film and director seem to come out of nowhere to score big. That's the case here, in a coming-of-age film by Greta Gerwig, best known as a writer/actress (including "Frances Ha" and "Mistress America"). Here, she both wrote and directed, creating a film that heartbreakingly captures the pleasures and pains of growing up. Yeah, that's what they said about John Hughes films, too. But Gerwig avoids cliches and stereotypes while never fearing the universal. "Lady Bird" doesn't pander and doesn't stack the deck by making her lead character exceptional. Instead, she insightfully brings a very specific girl's life to life.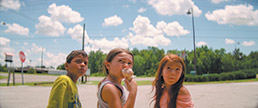 "The Florida Project" (Photo courtesy of epk.tv)
4. "The Florida Project." If you've ever driven to Walt Disney World, you've probably seen the rows of third-tier hotels that exist just outside its massive Florida footprint. Six-year-old Moonee lives in one of those hotels, and Sean Baker's sad/funny film pulls us into her life packed with troublemaking, setbacks, survival and joy. Bonus: Willem Dafoe in his best role in years as something of an adoptive father for the hotel's residents.
5. "War for the Planet of the Apes." Quite simply the best conclusion of the most satisfying trilogy ever filmed. And, yes, I'm including the first set of "Star Wars" movies. I don't care if it required motion-capture technology to pull off, Andy Serkis gives one of the richest performances of the year.
6. "Dunkirk." As I wrote when "Dunkirk" was released, war movies tend to focus on victories or, at least, attempted victories. But how about an epic about retreat? Christopher Nolan's characters, for the most part, are deliberately not memorable. We aren't given back stories about the lives of these soldiers nor much insight into a master plan. We just know that they need to survive long enough to make it back home to England to regroup and fight again. Apart from a high-impact soundtrack from Hans Zimmer and an occasional too-on-point line from Kenneth Branagh, this is a remarkably subtle film whose impact might not hit you completely until long after the credits roll. Alas, it's one I think will be diminished on the small screen because it requires an audience to put down their smartphones and laptops and lose themselves in it.
7. "Get Out." I've pretty much given up on the horror genre, having long ago burned out on who-is-going-to-get-killed-next-and-by-what-sick-means? movies. But then along comes Jordan Peele, with a fresh take—one that maintains its horror cred and scores laughs as well while simultaneously taking a chilling satirical look at racism and marginalization. Elevating it beyond genre, Peele doesn't go after obvious targets, and he pulls strong performances from a uniformly fine cast.
8. "The Big Sick." Boy meets girl. Boy and girl fall in love. Boy and girl break up. Girl goes into coma. No, this is not your typical rom-com. And even if you are tired of watching stand-up comics play stand-up comics, Kumail Nanjiani's "The Big Sick" walks a remarkable tightrope. It earns laughs while never trivializing its core potential-tragedy. And in Holly Hunter and Ray Romano, it's got the best set of parents any movie could want.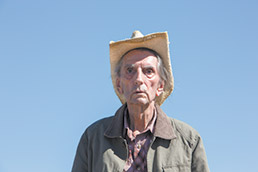 "Lucky" (Photo courtesy of Magnolia Pictures)
9. "Lucky." Ordinary people are also the subject of this tiny film, where very little happens beyond an elderly man getting through his day. Lucky, as he likes to be called, never married, never had children, and spends most of his time watching TV and hanging out in his favorite bar and diner. But his simple life, as the film subtly shows, matters. If there's any justice, Harry Dean Stanton will score an Oscar for this one (although, realistically, it will probably go to Gary Oldman for "Darkest Hour.")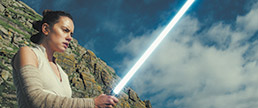 "Star Wars: The Last Jedi" (©2017 Disney•Pixar. All Rights Reserved.)
10. "Star Wars: The Last Jedi." Yes, it works. And I'll avoid spoilers. Suffice it to say that it's better acted than episodes 1-6, far fresher than the excessively unimaginative episode 7, and told with greater clarity than "Rogue One." The latest installment in the series that will outlive us all is a bit battle-excessive but is by far the strongest "Star Wars" flick in a long time. It doesn't go out of its way to introduce boldly designed new worlds or overload on new characters (although I'm a fan of Rose). But it does solidify and grow the new crop introduced in "The Force Awakens" while credibly filling in some backstory. Plus, it allows Mark Hamill and the late Carrie Fisher to actually act—and both step up.
This year I was woefully negligent in catching foreign films and documentaries. However, I can't image many from either category being stronger than "Liyana," which gives a voice to orphans in Swaziland by listening to them, encouraging collaborative storytelling, and then animating the harrowing tale they create. Thanks to the Heartland Film Festival for bringing it here. 
And, of course, there were disappointments.
I don't make a worst-films list because I avoid most that have the whiff of stink on them. Some, though, present with promise and then drop the ball. Among them this year are "Downsizing," which takes a playful premise and some interesting world-building but, oops, forgot to include interesting characters or dramatically compelling situations. There's also "Colossal," perhaps the wackiest premise this year, but one that ran out of ideas halfway through the film. It concerns a down-on-her-luck woman (Anne Hathaway) who discovers that the movement of a giant beast attacking Seoul, South Korea, is somehow connected to her actions. I did say "wacky," didn't I? And then there's "Beatriz at Dinner," which had all the makings of a good, cringe-inducing culture clash but whose writer couldn't pull it out of the corner he had written it into. And don't get me started about the lost opportunity of "Valerian and the City of a Thousand Planets," in which worlds of wonderful creatures are created only to take a backseat to one of the worst leading-male performances in science fiction filmdom (and I'm including Hayden Christensen's "Star Wars" debacles).
As for top performances, I won't follow the Oscars and worry about lead vs. supporting or separate male from female. Instead, the most memorable onscreen work for me came from young Brooklynn Kimberly Prince in "The Florida Project" and 91-year-old Harry Dean Stanton in "Lucky." Always strong Laurie Metcalf and Frances McDormand both delivered in, respectively, "Lady Bird" and "Three Billboards Outside Ebbing, Missouri." Haley Lu Richardson in "Columbus" and Saoirse Ronan in "Lady Bird" both created compelling young women on the verge of adulthood. Aubrey Plaza and Elizabeth Olsen kept the stalker comedy/drama "Ingrid Goes West" from feeling too familiar. Ray Romano and the never-less-than-excellent Holly Hunter gave depth—and unexpected laughs—to "The Big Sick." A wordless Sally Hawkins anchored "The Shape of Water" and also played the title role in "Maudie," with award-worthy performances in both. Daniel Kaluuya led the harrowing ride through "Get Out." Quirks from Salma Hayek kept "Beatriz at Dinner" from falling into predictability. And, once again, one of the most nuanced performances of the year came from a combination of motion-capture technology and actor Andy Serkis, this time in "War for the Planet of the Apes."
Of course, there are still a few potential winners I have yet to see. If I find anything to recommend before the end of the year, I'll add them online at www.ibj.com/arts.•
__________
This column appears weekly. Send information on upcoming arts and entertainment events to lharry@ibj.com.
Please enable JavaScript to view this content.