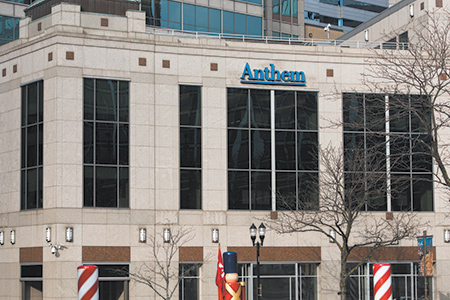 Insurance giant Anthem Inc. plans to move its headquarters from a location on Monument Circle to its operations center on Virginia Avenue after the company decided not to renew a lease that expires at the end of the year.
Anthem confirmed that it will leave the prominent, 213,600-square-foot building at 120 Monument Circle, which Franklin Street Properties purchased in 2011 for $42 million. It did not say when the move would take place.
Currently, about 300 employees work there, including several top executives. They will move to the company's Ben Lytle Center at 220 Virginia Ave.
"Our lease on our Monument Circle Building will expire at the end of the year and we have made the decision not to renew the lease," said a statement sent by an Anthem official.
Anthem's Monument Circle office sits on the former home of the ornate English Hotel & Opera House, which was demolished in 1948 to make way for a J.C. Penney.
The department store received a $30 million redevelopment in the early 1990s to accommodate Anthem. The revamp gave the building a new façade and two rooftop turrets, referencing the former Opera House.
When Franklin Street Properties purchased the building for a rich $196 per square foot from an affiliate of locally based HDG Mansur, Anthem—then known as WellPoint—occupied 90 percent of the office space. Anthem officials did not say Friday how much the company occupies now.
Please enable JavaScript to view this content.