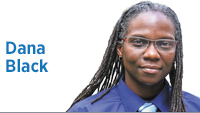 There was quite a bit of skepticism on Jan. 21, 2017. I'm not talking about the inauguration of 45, although I understand why that would be your logical conclusion. There was concern by some—as expressed by Shikha Dalmia in The Week—that the Women's March was "shaping up to be a feel-good exercise in search of a cause." But from my observation, the cause and intent of the march and all the "sister" marches and rallies across the country were, indeed, very clear: Women need to be present and recognize our power.

When we are honest, we know many women stayed home for the 2016 election because they assumed there was no way America, with all its intellect and compassion, would ever elect a boisterous misogynist as president of the United States. Wrong! An election is never won or lost because of simply one reason; the missteps from 2016 have been well-documented. Still, no one saw Donald Trump's election coming—including him.

Many women knew action was needed, and the Women's March was the rallying cry that women need to be in the game. Indy, too, had a march, and at the end of a long list of active, socially conscious and diverse speakers, the message was obvious: To protect what we value most in America, we cannot leave it up to just our menfolk. Inaction and complacency are no longer options.

Now, weeks after the 2018 candidate filing deadline, what do we have here? More women than previously recorded have placed their names on the ballot to represent their communities at all levels of government. According to the Indiana Secretary of State's Office, 126 women (68 Democrats, 58 Republicans) have stepped up and are being heard. And there are that many more at the county levels. That was the point of the Women's March.

What? You thought every woman in the United States of America had just one issue we were marching and rallying around? Please, how could that be when we all come from different geographical, socio-economic, cultural, religious and educational backgrounds? The misconception that there had to be a single issue of focus is exactly the reason more women need to be elected to office and have a say in the legislation that governs us. That is the one area organizers of the march recognized: No matter the issue, no matter the impact on communities, until we have real representation in our government, we may never be heard.

We know the numbers: Only 19.8 percent of the members of the U.S. Congress are women, 23.7 percent of statewide elected officials are women, and 25.3 percent of the members of state legislatures are women. Yet we are 50.8 percent of our population. Added to the lack of real representation, many of our elected leaders refuse to have an adequate number of town halls or discussion groups to hear firsthand the needs of their constituents—you know, the people who actually voted them into office.

I'm not saying men don't have the capability to have compassion for women's issues; after all, it was all men who voted for and ratified the 19th Amendment. But conversations are being silenced because women's voices and power are being muted. The good news is that it appears, after the 2018 midterm election, more conversations will be had, but with less testosterone.•

Click here for more Forefront columns.

____________

Black is deputy chairwoman for engagement for the Indiana Democratic Party and a former candidate for the Indiana House. Send comments to ibjedit@ibj.com.