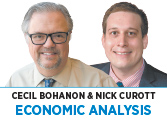 Our Legislature is finally lifting the ban on Sunday alcohol sales. The new law could take effect in early March. This will benefit consumers while having little effect on overall retail sales. A recent poll found that 65 percent of Hoosiers favor Sunday sales. An even more popular bill—supported by 70 percent of voters—would allow grocery and convenience stores to sell cold beer. But it was shot down. So what gives?
Consider this: Most Hoosiers have wanted Sunday sales for decades. Why are unpopular regulations passed in the first place? And why are they so persistent? Three words: special interest politics.
Blue laws date to the end of Prohibition in 1933. Their biggest champion at the time? Bootleggers, of course. The repeal of Prohibition was putting them out of business, but Sunday bans offered them the prospect of survival by enabling them to sell alcohol illegally one day a week. So they lobbied legislatures like mad.
But the support of bootleggers was not enough to carry the day. That's where the Baptists came in. They crusaded for banning Sunday sales for moral reasons. A coalition of bootleggers and Baptists was bizarre, but it was a winning political partnership. Politicians took bootleggers' contributions behind closed doors while claiming publicly that Sunday bans were in the public interest. So Indiana got blue laws.
Although religious support for the Sunday ban has long since waned, the ban persists. Why? Because the liquor-store lobby blocked reforms. Permitting Sunday sales means liquor stores lose business to retailers and grocery stores. So they lobbied, contributing $650,000 to state politicians from 2011 to 2016, including $90,000 to Sen. Ron Alting, chairman of the Senate Public Policy Committee, which must pass alcohol-related bills before they can move to the floor.
What changed? Big-box retailers and convenience stores started pushing for the right to sell cold beer, and growing public support threatened to make it possible. So the liquor stores, fearful of losing their cold-beer monopoly, made a deal with big-box retailers. Liquor stores would support Sunday sales if the big-box retailers would switch their position and oppose the expansion of cold-beer sales. This shifting political coalition secured Sunday sales while still preventing anyone but liquor stores from selling cold beer. Never mind that consumers can't buy cold beer at the same time they do their other shopping. Oh, well. That's politics as usual.•
Bohanon and Curott are professors of economics at Ball State University. Send comments to ibjedit@ibj.com.
 
Please enable JavaScript to view this content.