Top Honoree: Physician
Dr. Krista Brucker
Eskenazi Health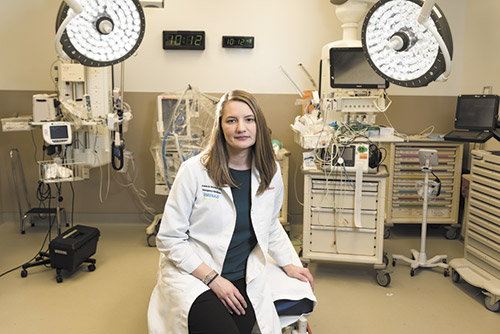 Dr. Krista Brucker oversees Eskenazi Health's Project POINT program, which seeks to stem the tide of opioid abuse.
After graduating from DePauw University in 2004, Krista Brucker did menial jobs in a health clinic in Honduras, where she became passionate about health care equality for people worldwide. But her mission today as a physician is hyper-local: rescuing the opioid abusers who crowd the Eskenazi Health emergency department every day.
Brucker took the lead in starting Eskenazi Health's Project POINT program in 2015 and has been doing daily combat with Indianapolis' opioid crisis ever since. POINT—which stands for Planned Outreach, Intervention, Naloxone and Treatment—is Eskenazi's holistic response to an epidemic whose numbers seem out of control. Marion County first responders administered naloxone, the medication used to reverse opioid overdose, 2,100 times in 2017, an almost fourfold increase from 565 in 2011.
"There's a lot of news about it, but it's hard to adequately describe the scope of the problem. It's day after day," said Brucker, 35, who graduated from Harvard Medical School and completed her residency in emergency medicine at Northwestern University in Chicago.
She started Project POINT just one year after coming to Indianapolis to teach at the Indiana University School of Medicine and work in Eskenazi's ER.
"It's not anything I ever thought I would be doing," she said. "I came to work in global health. And this just popped up." Brucker is the top honoree in the Health Care Heroes physician category for her role in battling the abuse of opioids, a category of drugs that includes heroin.
The initial response to the crisis was to train first responders to administer naloxone, known commercially as Narcan. Those who had overdosed were then transported to the ER, stabilized and released. But it quickly became apparent that wasn't enough.
"The first responders were telling us, 'We bring them to the hospital and you let them go,'" said Brucker, who brainstormed with colleagues about how Eskenazi could do better.
The solution was to provide those who had overdosed with "value added" services aimed at helping them avoid another overdose while also rebuilding their lives. The program was started with a pilot grant from Drug Free Marion County. Additional funding from the Richard M. Fairbanks Foundation allowed Project POINT to hire two recovery coaches and a program coordinator.
"I realized how great the potential for change is," Brucker said. "We have all this evidence about what works, but we weren't doing it. There's something really rewarding about taking care of these patients—people on the brink of death who get their lives together and get jobs and become good parents. It's very rewarding to see that."
The key, Brucker said, is to intervene immediately after a patient has been revived. Patients are interviewed to gain insights into what's contributing to their addiction, tested for hepatitis C and HIV, connected to an addiction treatment center, and sent home with a naloxone kit and trained in how to use it.
"Without the leadership of Dr. Brucker and Project POINT, those who suffer a heroin overdose would not receive the important follow-up care they need. Many of them would fall through the cracks and die," said Dr. Daniel Rusyniak, medical director for the Indiana Poison Center at Indiana University Health.
Project POINT, which now has a staff of four and a consulting psychiatrist, saw 390 overdose patients in the ER in 2017 and has an active caseload of about 70 right now, Brucker said. Indicative of its holistic approach to treatment, the program provided more than 200 bus passes and arranged more than 100 rides to appointments from April to October of last year.
To advance Project POINT in 2018, Brucker wants to improve its interactions with the criminal justice and child protective services systems. "Patients get trapped in these overlapping systems that don't communicate very well with one another," she said.
She'd also like to do a better job of recruiting former patients to help with recovery coaching. "People in long-term recovery are a huge untapped resource," she said. "They know what the struggle is and they have the credibility to motivate people to do what they need to do to get better."
One of the challenges overdose patients face is Indiana's shortage of high-quality treatment options, Brucker said. "If you came to the ER tonight with an accidental overdose, it would be hard to find a place for you to get treatment."
Many treatment options are "abstinence only," meaning they don't allow methadone, a drug that reduces withdrawal symptoms for addicts. Among the ones that do allow methadone is Midtown Adult Addiction, the biggest acceptor of Project POINT referrals, but Midtown doesn't have any inpatient beds.•
Please enable JavaScript to view this content.