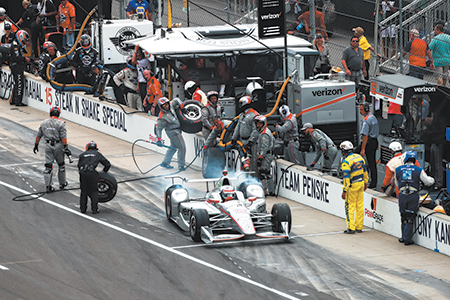 The IndyCar Series has a lot riding on the upcoming season, as officials of the open-wheel racing league search for both a title sponsor and television partner for 2019.
IndyCar kicks off its 17-race 2018 season March 11 in Florida with the Firestone Grand Prix of St. Petersburg. Hopes within the series are high that it can land a future broadcast agreement in the next month or so and a title sponsor before the season concludes in September.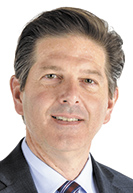 O'Donnell
"The team here has really worked hard to make this a growth sport, one with momentum, and we've succeeded in that," said C.J. O'Donnell, the series' chief marketing officer. "We feel like we've done what we can to make these negotiations favorable. This is a big year for IndyCar."
The series is seeking a title sponsor to replace Verizon, which signed a five-year deal in 2014 worth $10 million annually­—$5 million in cash and $5 million to advertise and promote the partnership, according to sources familiar with the deal.
IndyCar officials declined to reveal what they're seeking from a new sponsor, but O'Donnell expects the figure to be "much more" than what Verizon is paying now. Discussions so far have produced two "seriously interested parties," he said.
An ideal IndyCar sponsorship would be in the range of what NASCAR is getting from its title sponsor, Monster Energy, which pays $20 million in cash annually, according to multiple reports.
That's down from NASCAR's deal with its previous sponsor, Sprint, which paid at least $30 million annually. The decline helps to illustrate the growing difficulty racing series are having in luring companies willing to pay big bucks for sponsorships.
Even established race teams such as Chip Ganassi Racing are struggling to find sponsors, as advertising dollars become more fragmented, said Derek Daly, a former driver and longtime racing analyst for WISH-TV Channel 8.
"Getting sponsorships for racing, in general, has become more difficult," Daly said. "The difficulty is convincing a sponsor that [IndyCar is] strong enough now to invest in."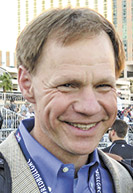 Frost
Tim Frost, president of a Chicago-based motorsports marketing consultancy, doubts IndyCar will have a problem replacing Verizon, but at what price?
"At this time, as evidenced in other series of racing, people are coming in," Frost said, "but they might not be coming in at the same level."
Since 2013, when Mark Miles came aboard as CEO of Hulman & Co., which oversees the IndyCar Series and Indianapolis Motor Speedway, IndyCar has made strides toward improving its performance.
Television ratings have climbed 38 percent in the past four years, said Rod Davis, chief revenue officer for both IndyCar and the IMS, and at least seven racetracks in 2017 reported year-over-year attendance growth. The series doesn't divulge specific attendance figures.
IndyCar officials also say the series is attracting more teams and generating more buzz on its social media platforms. It also has added the Grand Prix of Portland to the schedule.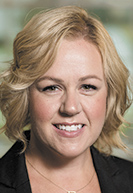 Huffman
The four new teams entering the series this year are: Carlin (Max Chilton and Charlie Kimball); Harding Racing (Gabby Chavez); Juncos Racing (Kyle Kaiser and Rene Binder); and—joining forces—Schmidt Peterson Motorsports and Michael Shank Racing (James Hinchcliffe, Jack Harvey and Robert Wickens).
Not all teams will run every race. But among the more interesting storylines will be the introduction of a universal aerodynamic body kit that puts Chevrolet and Honda motors in the same body.
"It looks great, but how will it race?" wondered Ashlee Huffman, president of CSM Sport & Entertainment.
Zionsville-based CSM, formerly Just Marketing International, represents Verizon, which will remain invested in the series through its sponsorship of Team Penske, Huffman said. Verizon's decision to give up its series sponsorship was "a matter of changing direction," she said.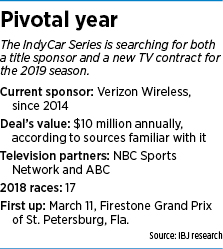 Huffman lauded the partnership between IndyCar and Verizon as a "true collaborative relationship," but said both Verizon and CSM haven't "loved" the television package in recent years.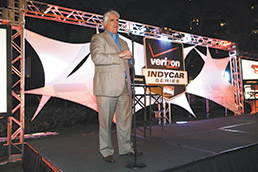 Hulman and Co. President and CEO Mark Miles spoke at the March 2014 launch party in St. Petersburg, Florida, that celebrated the IndyCar partnership with then-new title sponsor Verizon. (Photo courtesy of Indianapolis Motor Speedway)
ABC and NBC Sports Network both televise races. This season, ABC has five, including the hallmark Indianapolis 500, and NBCSN has 12. ABC is in the final year of a six-year renewal, and NBCSN is in the 10th and final year of a deal that dates to its predecessor Versus network.
With the next television deal, IndyCar officials are aiming to sign a single partner to broadcast the entire season, IndyCar's O'Donnell said. Both traditional broadcasters as well as non-traditional, digital-based platforms have shown interest.
"Now, we switch three times between [the two] broadcast partners," he said. "It just doesn't work particularly well for anybody."
ABC once again will air the Indianapolis 500—the most famous race in all of motorsports.
The rating for last year's race was 3.4, according to Nielsen Media Research. That means 3.75 million households tuned in, with average viewership at 5.5 million people. It was the most-viewed sporting event of the weekend but the lowest-rated Indianapolis 500 since ABC began start-to-finish coverage of the race in 1986.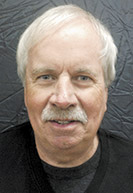 Miller
Even so, the Indianapolis 500 remains the series' biggest draw, said Robin Miller, a longtime Indianapolis-based motorsports journalist, who now covers racing for Racer Magazine and NBCSN.
"You've got the big caveat that's the Indy 500," Miller said. "That's what they can dangle."
A strong television package can help lure a big sponsor, which is why IndyCar officials want to nail down a broadcast agreement quickly.
But the series also needs to market itself better, said Miller, who wagered that Scott Dixon, one of the series' more accomplished drivers, can walk down the street without anyone recognizing him.
While Dixon is a New Zealander, rising American drivers such as Josef Newgarden and Graham Rahal need to be brought to the forefront of marketing efforts, much like Al Unser, Rick Mears, Mario Andretti and A.J. Foyt were back in the day, former driver Daly said.
"I think it's the best racing in the world, but the best racing in the world isn't a reason to watch television anymore," Daly said. "It's driven by human-drama stories."•
Please enable JavaScript to view this content.