Should schools have armed staff on campus to protect students?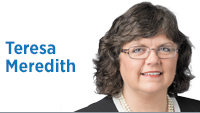 If there's one place educators and kids should feel safe in America, it's our schools. Our kids are demanding it through marches, protests and political action. As educators, it's our duty to foster a safe learning environment for all kids, but that won't be achieved by arming teachers.

We could debate the efficacy of restricting gun ownership, improving and enforcing background checks, and banning semi-automatic weapons. And while access to guns remains a critical step to reducing gun violence, it's not the only step we need to take to prevent school shootings. It's an unfortunate fact that a significant number of school shootings are committed by students. We must ask ourselves, why?

Why are students turning to violence? Why are educators not able to offer interventions? Why do students no longer feel safe in school?

Educators have to do more with less. Public education funding has taken a beating over the last decade—the Great Recession hit state budgets while state legislatures implemented tax caps and new per-pupil funding formulas, and divvied public education funding to include charter, voucher and virtual schools.

All of which meant less for public schools and fewer resources to address and support students. Many districts in Indiana have held referenda to fund school counselors, reduce class sizes, and attract and retain highly qualified teachers.
Investing in teachers, counselors, anti-bullying programs, trauma-informed care and developmentally age-appropriate coping strategies and skills is the best step we can take to make an impact on students' lives. With more resources, we can offer a nurturing education environment.

Guns in classrooms and in the hands of teachers is antithetical to establishing a teacher-student relationship built on trust and support. Not only are teachers already asked to do too much, they are now being asked to respond to active shooter incidents. According to the Brookings Institute, "professional police officers hit their intended targets less than 20 percent of the time in training situations of an active shooter." Now, what if the shooter is a current or former student? Teachers should not be asked to turn a gun on a child.

There's no evidence that more guns in schools would create a safer environment. The National Association for School Resource Officers, a professional organization that represents and trains school-based law enforcement, strongly recommends that only career law enforcement officers carry guns in schools. While they acknowledge that some schools might allow teachers to carry firearms, they warn that—in an active shooter situation—those teachers might be mistaken for the assailant.

Teachers are not law enforcement and should not be asked to take on that role.

Arming teachers is an example of too little, too late. The National Association of School Psychologists confirms the investment should be in supports for intervention programs to meet the needs of students' mental health and well-being.

It's time to arm teachers with resources, not guns.•


Click here for more Forefront columns.

__________

Meredith is president of the Indiana State Teachers Association and has taught for more than 20 years in Indiana schools. Send comments on this column to ibjedit@ibj.com.