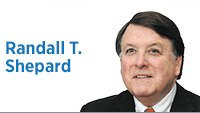 The financial-news reporters have been on high alert as some of the nation's corporate Leviathans engage in buy-and-sell discussions.

Will Viacom agree to be purchased by Disney? They used to be one company until a split in 2006. The passing years seem to have created a yearning for togetherness.

If you weren't watching that drama, you could follow the possibility that Disney will buy Sky News. It would help Rupert Murdoch in his bid to buy British broadcaster Sky Plc.

These activities involving multiple international billionaires are intriguing to watch, but it's a story closer to home that has prompted me to think about corporate mergers and Indiana.

Twice in the last year, national and local sources have reported that Evansville-based Vectren has been engaged in discussions about a potential sale. Vectren has assets of half a billion dollars and thousands of employees providing gas and electric service and energy consulting in Indiana and Ohio and elsewhere in the country. It is the product of a 2000 merger between Southern Indiana Gas & Electric and Indiana Gas Co.

The ongoing serious speculation concerning Vectren's future has led me to think about the extraordinary role of Indiana's publicly held corporations and just how we should think about who has an interest in their future.

We don't often enough pause to consider the scale of these businesses. There are at least 50 public companies based in our state whose national and international reach is followed by analysts and investors. Their economic and civic impact on Indiana is enormous.

There are names like Anthem, Lilly and Cummins. We read and hear about their work and their impact regularly. Scores of others also matter a lot, like Allison, Wabash National, Celadon, Vera Bradley and Kimball, to mention just a few. From Gary to Elkhart to Evansville, these businesses are central to our economy.

In part because these companies are so successful, they draw attention from across the region and across the country from other corporations where the leadership regularly asks itself about M&A. Could we be more successful if we bought all or part of one of these Indiana companies? Are there efficiencies or market opportunities that might arise as the result of a merger?

In the course of such discussions, it's highly ordinary and appropriate to ask: "What will best build our shareholder value?" Directors and CEOs ask that question whether they are possible buyers or sellers.

To be sure, the legal ownership that rests with a company's shareholders puts those owners at the center of any examination about buying or selling. Still, other stakeholders hold important, legitimate interests in a company's future.

That includes the hundreds or thousands of employees—and their families—who can be dramatically affected by decisions about mergers and acquisitions. Or, the customers who rely on these companies as providers of everything from pianos to checking accounts to aircraft engines.

The people who supply raw or finished materials to these companies can also be affected. And finally, the communities that have been home to these businesses, often actual economic partners, have bona-fide interests at stake.

On multiple grounds, Indiana is a superb place to create and sustain jobs for citizens from so many walks of life.

I like to think of Indiana as also a place where those who make decisions about the future of those jobs will consider and weigh both shareholder value and the interests of multiple other stakeholders who stand to be affected.•


Click here for more Forefront columns.

__________

Shepard, formerly Indiana chief justice, now serves as senior judge and teaches law. Send comments to ibjedit@ibj.com.