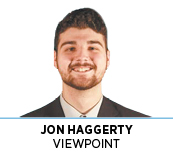 "As America regains its strength, this opportunity must be extended to all citizens. That is why this year we will embark on reforming our prisons to help former inmates who have served their time get a second chance."
Former President Barack Obama? Guess again.
These words from President Donald Trump's State of the Union Address made headlines when a man who fashioned himself as the "law and order" candidate promised to help ex-offenders. Even Trump, who has a penchant for "tough on crime" rhetoric, recognizes the necessity of reintegrating formerly incarcerated individuals who are re-entering society.
In Indiana, both Democrats and Republicans in the Legislature have acknowledged one of the key barriers to re-entry for those who have served time: finding a job. House Bill 1245, championed in the House by Reps. Dale DeVon, Heath VanNatter and Robert Morris, and in the Senate by Sens. Philip Boots, Liz Brown, Victoria Spartz and David Niezgodski, took aim at burdensome regulations ex-offenders face from occupational licensing boards.
Roughly 5 percent of jobs required a government-granted license in the 1950s. That number now stands at 30 percent. These licensing requirements fall particularly hard on people who have left prison—nationally, there are about 30,000 licensing restrictions on those with criminal records. Thousands of these restrictions come in the form of blanket bans, which allow ex-offenders to be denied a license simply because they have a felony or misdemeanor on their record. Even worse, vague "moral turpitude" and "good character" provisions give licensing boards wide discretion to deny ex-offenders the ability to seek employment.
That roughly one-third of American adults have a criminal record only compounds the problem. And while individuals with certain criminal backgrounds probably should not be allowed to work in some professions, many people with records do not pose a danger to the public. More than 95 percent of arrests are for nonviolent, nonsexual crimes. Moreover, nonviolent ex-offenders who live crime-free for three to four years are no more likely to commit a crime than the average person.
The upshot is that many of the licensing restrictions might be making communities less safe. An Arizona State University study found that states with the most-burdensome licensing requirements for ex-offenders experienced a 9 percent increase in recidivism rates, while states with the least-burdensome requirements saw a decrease in recidivism rates of over 4 percent. The explanation is not particularly complicated: Having a stable job renders a life of crime less appealing and restores a sense of normalcy and dignity to the lives of people returning to society. Continuing to punish them for debts they have already paid only increases the chances they will resort to criminality.
This reality prompted Indiana legislators to replace "tough on crime" policies with "smart on crime" ones. The provisions of HB 1245 require state and local governments to explicitly list disqualifying crimes and require that licensing boards deny licenses only to those whose offenses directly relate to the nature of the job for which they are applying.
Hoosiers might not want somebody previously convicted of a white-collar crime to work in investment banking, but it's probably safe for that person to arrange flowers. The bill, which Gov. Eric Holcomb recently signed into law, also limits a board's ability to disqualify applicants for nonviolent and nonsexual crimes committed more than five years ago.
Licensing reform will be difficult. Licensing boards are often composed of incumbent business interests who would prefer to limit competition. Promisingly, legislators across the country are taking notice, and reforms like the ones in Indiana represent a much-needed step in the right direction.•
__________
Jon Haggerty is a justice policy analyst at R Street Institute, a Washington, D.C.-based public-policy firm.
Please enable JavaScript to view this content.