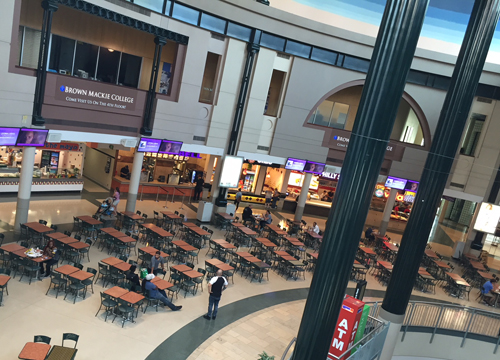 Purdue Polytechnic High School of Indianapolis plans to move into the fourth floor of Circle Centre for the 2018-2019 school year, mall landlord Simon Property Group announced Monday.
The school is one of six new tenants set to move into the mall by the end of summer, Simon said. The others include three restaurants—Chin Sushi House, Seoul Fresh and Thai Sweet House—along with a Home Grown Indiana store and Execuwell/Excellwell, a psychology and coaching practice for business professionals.
Purdue Polytechnic and about 300 students are expected occupy a 25,690-square-foot space that was formerly used by Brown Mackie College. 
"We're excited about it," said Purdue Polytechnic's Head of School, Scott Bess.
Circle Centre will likely be a one-year home for Purdue Polytechnic, which has a longer-range plan to move into the former P.R. Mallory factory building in the 3000 block of East Washington Street. 
The long-vacant building is being renovated, and work is expected to be complete by July of 2019, IBJ reported last month. 
Purdue Polytechnic, which opened in August 2017 with 150 freshman students, is currently housed in the Union 525 building on South Meridian Street. 
The school would have been happy to stay at Union 525, Bess said, but the building won't be big enough for very long. Enrollment will grow by 150 students each of the next few years as current students advance and new freshman classes enroll.
Purdue Polytechnic will be the second high school to occupy Circle Centre. Simon Youth Academy, a partnership between the Simon Youth Foundation and Indianapolis Public Schools, opened a campus on the mall's fourth floor in 2015. The Simon Youth Foundation has 30 such schools across the country, which are designed for at-risk students and primarily located inside Simon mall properties.
Other new tenants
Chin Sushi House will be located on the third-floor concourse of the mall, in the space formerly occupied by Teavana. The expected opening date is May 20.
Seoul Fresh, which features a Korean-Mexican fusion menu, will take a spot in the mall's food court, which is set to be turned into what the mall calls a "dining pavilion" as part of a multimillion-dollar upgrade that Simon announced in February. The mall lists an expected opening date of May 11 on its website.
Thai Sweet House, which also will occupy space in the food court, sells treats made of rolled ice cream. The process involves pouring liquid ice cream onto an ice cold surface, mixing it with other ingredients and rolling the frozen concoction into shapes. Thai Sweet, which already has a location in Greenwood Park Mall, plans to open May 11.
Avon-based consultancy Execuwell and its performance-coaching arm, Excellwell, have leased a 1,200-square-foot space on the first floor of the mall, on the south side of the property near Harry & Izzy's restaurant. 
"As a grassroots, Indiana-based organization, I am overjoyed with the opportunity to open my flagship office in the heart of downtown Indianapolis," Execuwell LLC President and CEO Robert Hoffman said in a written statement. 
Home Grown Indiana plans to open this spring on the second floor of the mall. The store sells clothing, jewelry, home goods, bath items and gifts made in Indiana. It will be the second location for the retailer, which opened its first store last year at Hamilton Town Center. 
The new tenants will help fill in some of the gaps at Circle Centre, which has seen a number of recent closures.
Departures over the past few months have included Teavana, Godiva Chocolatier, Andrews Jewelers, Nestle Toll House Cafe and food court tenants Walking Waffle Co. and SoupShop.
The mall's lone remaining retail anchor, Carson's, is in the midst of a going-out-of-business sale.
 
Please enable JavaScript to view this content.