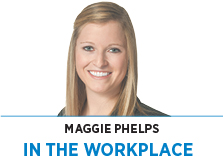 Day after day, I crossed the parking lot in front of our flat, passed the same two men at the corner cafe, found my way under the bridge, and from there walked the straight shot to the center of town. Every day, about six times a day, I followed this path to and from class in Spain. The 30-minute walk seemed like hours, made longer by the locals, who walked so slowly.
I spent about half of my semester in Spain zooming past people on the sidewalk, in a hurry to get to the next of my day's plans and annoyed by everyone's disregard for time. Then, one day … I just slowed down.
It seems obvious enough, but it took me months to figure it out. My brain was wired to make the most of every single second of every day. After all, my time was fleeting in Spain and I didn't want to miss a thing I had planned.
It turns out, when I slowed down, I experienced more—some things that would never have made my plan for the day. Like connection.
I wrote my last column about how busy we are and how we create our own busyness. We are in a constant battle of idleness and action, and it's difficult to find an equilibrium. In our haste, we not only fall victim to our time, we often blow past the people around us and blow past the opportunity for real connection.
When I slowed down in Spain, I listened to people more intently. My Spanish improved. I took time to sit with my host mom and watch her telenovela. Our relationship strengthened. I saw the details of people's faces as I passed them on the sidewalk. I felt more connected to the town, the language, and the people around me. And they engaged with me differently as a result.
I look around now and I see so many of us speeding through our work days. The same way I scurried down the streets in Spain, I realize now how many times I have sped past a receptionist, colleague or boss. Sure, I might have offered a simple comment about the traffic or the weather, but for fear of losing a few minutes at my desk, I missed out on an opportunity to connect with someone else. So, I am intentionally slowing down.
In every case recently, when I've taken the time to listen and get to know someone beyond the usual stale pleasantries, I have been surprised by something that person shared with me. It's something that didn't fit the picture I had created in my mind about who this person was.
It's human nature for us to make assumptions about the people around us and fill in the unknown gaps of their identity ourselves. We do it unknowingly; we box them into our own definition of who they are. I've chosen to take more intentional action and allow people to shape their own identities in my eyes. Here are a few of the ways I am trying to connect with people more meaningfully.
First, I'm trying new pickup lines, pursuing my genuine curiosity about the people around me. I start with something other than, "How are you?" Something specific I remember about them or something important to them like, "How was your daughter's soccer game last week?"
Second, I am trying to share something about myself when someone asks me how I am, something other than the typical, "I'm good, and you?" I tried a new introduction in a development session a few weeks ago when we were asked to prepare an elevator pitch. It was a real version of me that went beyond my name and job title, and the response to it was comfortingly positive. It opened doors of connection I otherwise wouldn't have had.
Finally, and most important, I am challenging myself on my listening skills. How often do you find yourself thinking of the next thing you're going to say while someone else is talking? You can ask someone the most original question in the world, but if you don't listen to the response, you've lost the opportunity to truly engage.
Try these three strategies for connecting if you, like me, strive for more meaningful connection. We can connect intentionally, or we can blow past the opportunities—that is our choice. We can't slow down and take the time for everyone, of course, but when we take a few minutes a day to genuinely look someone in the eyes and listen to that person's words and connect, we're doing more for ourselves than we would be in responding to an email or checking the notifications on our phone.
We create an opportunity to learn more about others, and about ourselves.•
__________
Phelps is leadership initiatives manager at United Way of Central Indiana.
 
Please enable JavaScript to view this content.