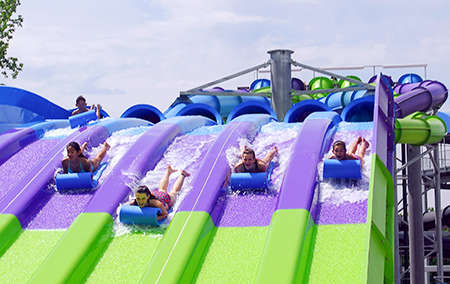 Of course, we want folks from elsewhere to visit central Indiana (and spend as much as possible while here). A big part of the economy depends on it.
But cultural tourism works both ways. Throughout the state, event planners, attraction programmers, restaurateurs, tourism commissions and many more—from small towns to not-quite-as-big-as-Indy cities—are working hard to bring you into their worlds.
How do they propose to do that?
The answer varies from town to town. Here's a rundown of what's new or recent in Indiana tourism.
Bryant
With a tasting bar made from an old bowling lane, Thursday night trivia battles and wine slushies sharing menu space with traditional bottles, The Tipsy Glass Winery emphasizes fun over wine-world snobbery. Owner Audrey Muhlenkamp was inspired to open the place after six of seven wines she entered into the Indy International Wine Competition earned medals, including a gold. She found a creative home a half mile from where she grew up, in what until recently was Bearcreek Farms Country Resort.
Cambridge City
Golliher Farms, known for the dry-aged beef it supplies to Wayne County restaurants including The Cordial Cork and Kitchen at the Loft, will open its own Farm Store in May. There, the public can pick up fresh meat and produce as well as locally sourced honey, maple syrup, bread and cheese.
Columbus
In 2020, skateboarding becomes an Olympic sport. All the more reason to start practicing now. Columbus Skateboard Park, which opened in 1999, gets a major overhaul, transitioning from wood to concrete with a design by pro skateboarder/landscape architect Janne Saario.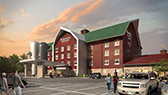 Fair Oaks Farms Fairfield Inn & Suites (Rendering courtesy of Fair Oaks Farms)
Crown Point
Deep River Waterpark last year added Kraken, a six-lane slide racer. The park will be open for business on Memorial Day weekend. The slide is more than 40 feet tall and has two zero-gravity moments.
Fair Oaks
The big news at Fair Oaks Farms, the agritourism kingpin along Interstate 65, is the construction of a Fairfield Inn & Suites. But this won't be any old chain motel. The barn-shaped structure includes eight Silo Suites. Alas, you'll have to wait until 2019 to check in.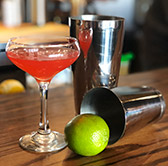 Three Rivers Distillery (Photo courtesy of Three Rivers Distillery)
Fort Wayne
Northeastern Indiana's first artisan distillery, Three Rivers Distillery, includes a tasting room that opens up to an outdoor area with a view of downtown. Drink options include Three Rivers Coffee Liqueur, concocted in partnership with Fort Wayne's Utopian Coffee Co.; and the small-batch Pilot Series, which pays tribute to armed-forces veterans.
French Lick
There's more to do outside the gambling halls as French Lick Resort adds mixology and wine and paint choices to its events lineup. There's also a new exhibition hall under construction for a planned opening later in 2018. French Lick Scenic Railway is adding two first-class cars as well as a dining option.
Jasper
The historic Astra Theatre opened in 1936 but closed in 2002. After lying dormant for 13 years, it was purchased in late 2015 by The Next Act, which has orchestrated a series of fundraisers to restore the city treasure. At last, it reopened in mid-April and is booking concerts and other performances, including a May 12 show from East Nashville, Tennessee's Smooth Hound Smith.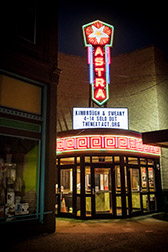 Astra Theatre (Photo courtesy of The Next Act)
Kokomo
Residents and visitors bounce a bit higher in Kokomo thanks to the 10,000 square feet of trampoline space at the new Gravity Trampoline Park in Markland Mall. It also includes five climbing walls, with one transparent so you can scale it face-to-face with your co-climbers.
Martinsville
Thanks to a joint project between the city and Artesian Group LLC to rehab 20 buildings on the courthouse square, a dramatic transformation is brewing in Martinsville. Bicentennial Park will add public art and a performance venue for summer concerts. There's a new bookstore, Fables & Fairy Tales, as well as new restaurants Holy Smoke Hog Roast Co. and 21 North Eatery & Cellar. And the popular breakfast spot The Waffle Whitch has uprooted to a downtown location on North Main Street.
Nashville
The quaint tourist townwelcomes some newcomer eateries including downtown's Bird's Nest Cafe (How do Sweet Potato Waffles sound?) and Brown Bike Cafe (tableside s'mores, folks), as well as the just-outside-of-downtown drinkery, Hard Truth Hills. Nearby Gnaw Bone is home to the new Sugar Creek Barbeque Co. There's also a new visitors' center to point you in the direction of Brown County's pleasures.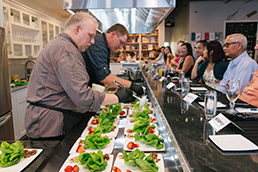 Mesa (Photo courtesy of Jose Morones Vergara)
New Albany
Dining gets chatty at Mesa, a new collaborative kitchen showcasing local chefs who gab with customers while offering live demonstrations and preparing a multi-course meal. Also adding to the New Albany choices is Vinyl, a cocktail lounge where the music comes from an old-school turntable and customers can request entire album sides. For seafood lovers, there's Hull & High Water. And Donum Dei brewery has added a distilling operation. On the retail side, at The Glass Gypsy, visitors can bring their own glass or choose from recycled glass pieces to craft their own creations.
Porter
Don't expect the same-old-same-oldvendors at the Outdoor Adventure Festival, a second-time Indiana Dunes-area event. Instead, the October festival will highlight geocaching, birding, photography and orienteering. You don't have to be a hardcore outdoorsperson, though. A range of events will be available for would-be rangers from beginner to expert, including programming for families and those with limited mobility.
Portland
Jay County Fairgrounds adds, for the first time, the Midwest Diesel Truck, BBQ & Vintage Camper Rally (that's all one event) to its summer lineup. It's set to take place over the June 22-24 weekend.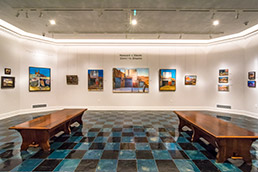 Richmond Art Museum (Photo courtesy of WayNet.org)
Richmond
Visitors can see what a $1.7 million upgrade has done to the Richmond Art Museum, finished in time for its 120th anniversary. Afterward, there's the recently opened Cordial Cork Wine Bar & Restaurant and, coming this summer, 5 Arch Brewing Co.
Rising Sun
Ohio County Tourism presents the first Rising Sun Blues & BBQ festival in June along Main Street. In addition to the music and food, festivities include a hillbilly fashion show. Over at Rising Sun Casino Resort, live theater is being added to the programming, kicking off with a production of the musical version of "A Christmas Story" in November.
South Bend
Rum Village Park is the location for the latest Edge Adventures climbing, balancing, swinging and ziplining aerial park.
Waverly
Old Town Waverly Park's White River Greenway two-mile paved trail is now open. Blacksmithing, tinsmithing and other old-school crafts are demonstrated at the trailhead.
Whiting
The long-awaited—at least, by halftime fans—National Mascot Hall of Fame is set to open sometime later in 2018. The attractions will include the Fureshmen Orientation Theatre, the Department of Phuzzical Education and, well, you get the idea. Recent inductees to the Hall of Fame, which was founded by the original Phillie Phanatic, include Tommy Hawk of the Chicago Blackhawks, Benny the Bull from the Chicago Bulls, and Sluggerrr from the Kansas City Royals. Also in Whiting, Whihala Beach added a Whoa Zone floating aquatic park last year on Lake Michigan.
Multiple locations
Indiana Foodways Alliance has offered two more "trails" to culinary maps, both beverage-focused. The Spirited Brews Trail explores handcrafted beer, spirits and hard-cider crafters, including Angola's 6 Autumns Food & Spirits and Mad Anthony Tap Room in Auburn. Meanwhile, the Soda-licious Trail features similarly homespun non-alcoholic drinks from Southside B&K in Peru to ZwanzigZ Pizza & Brewing in Columbus.•
Please enable JavaScript to view this content.