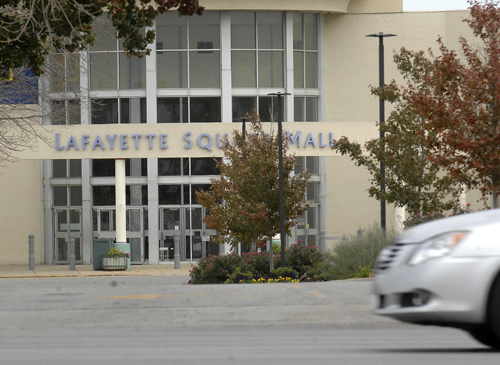 Lafayette Square Mall on the city's northwest side began to struggle even before consumers began flocking to online shopping outlets and its big retail draws departed.
Anchors Sears and Macy's left in 2008 and 2009, leaving gaping holes in the 1.2-million-square-foot shopping center that remain unfilled today. In the decade since, national brand-name retailers that occupied the mall's core have mostly been replaced by second-tier shops, as the retailing landscape continues to shift online.
With the challenges confronting brick-and-mortar retail, organizers of an annual university real estate challenge selected Lafayette Square as the focus of this year's state competition, which launched in February.
A team of students from the University of Indianapolis on April 19 captured the win, for its proposal to demolish Lafayette Square and redevelop the site for light-industrial use.
The UIndy students won a $5,000 scholarship from the Opus Foundation and bested teams from Ball State University, Butler University, Indiana State University and IUPUI. The Opus Foundation is the philanthropic arm of Minneapolis-based industrial developer The Opus Group.
Contest materials made it clear to students just how badly Lafayette Square is struggling.
"Discount and independent businesses fill much of the occupied space, with a considerable number of vacant storefronts," the outline said. "The mall's outlots are also mostly unoccupied. Along with the vast, empty parking spaces, they contribute to a sense that the mall is deserted."
New York-based Ashkenazy Acquisition Corp. purchased the mall from Simon Property Group Inc. in December 2007. Calls from IBJ to Ashkenazy seeking comment on UIndy's proposal were not returned.
Eric Harvey, program director for UIndy's master's of professional studies in real estate development, is unsure whether Ashkenazy knew that Lafayette Square was the subject of a contest.
Whether the company seriously would consider UIndy's proposal to redevelop the property for light-industrial use is another matter.
"We're just a bunch of kids playing around with their property," Harvey said.
Even so, UIndy's 40-page proposal is quite detailed, breaking down cap rates and investment returns if Ashkenazy were to sell the property or partner on a redevelopment project.
"A sale provides AAC the opportunity to divest an asset that is struggling, does not fit their luxury portfolio, and can receive positive returns upon exit," UIndy's proposal said.
The UIndy team estimates the sale price of Lafayette Square at roughly $15 million–$11.8 million for the mall, $2 million to buyout existing tenant leases and $1.2 million for the Sears store.
Sears Holdings Corp. owns several of its stores and is selling off 16 of them—including the one at Castleton Square mall—to generate cash for the financially struggling retailer.
The redevelopment of the mall property presents an opportunity to build more than 1 million square feet of urban industrial space at a time when the local industrial market boasts a vacancy rate of just 5.2 percent, according to UIndy's proposal.
Development at the site would occur in two phases, with the first including four 175,000-square-foot buildings primarily located on the south half of the property. Additional land would be available for a second phase based upon market demand, UIndy's team said.
"Redeveloping the once booming shopping center into an industrial park will strip away the uncertainty surrounding the property, increase occupancy at nearby retail centers and encourage future investment in the area," the proposal said.
Lafayette Square was developed in 1968 by Edward J. DeBartolo Sr. and was the first enclosed mall in the metropolitan area. DeBartolo Realty Group merged in 1996 with Simon, which owned Lafayette Square until the 2007 sale to Ashkenazy.
Today, only two of five anchor spaces are occupied, by Burlington Coat Factory and Shopper's World.
The annual college real estate competition started in 2012 and is known as the NAIOP & ULI University Challenge. NAIOP is a commercial real estate development association and ULI is the Urban Land Institute.
Harvey at UIndy said he hopes the competition next year can attract teams from the University of Notre Dame as well as Indiana and Purdue universities.
Please enable JavaScript to view this content.