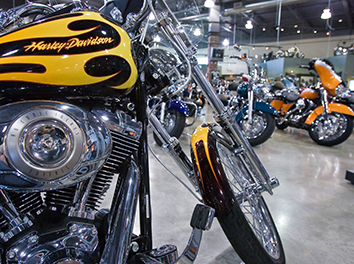 The so-called Shelbyville site Harley-Davidson is considering for a new assembly plant actually isn't in Shelbyville,
but rather in an unincorporated portion of Shelby County near the Marion County line. And the iconic motorcycle maker believes
the plant could draw an estimated 100,000 visitors a year.
Those are just two details emerging from visits to
the site last month by officials of the Milwaukee-based company, which is considering sites in Kentucky and Tennessee as well
as central Indiana.
Dan Theobald, executive director of Shelby County Development Corp., said the site is at
the first Interstate 74 interchange in Shelby County southeast of Indianapolis. The 100-acre tract is in the southwest quadrant
of the interchange.
During the recent housing boom, the site was considered for entry-level housing until
a swarm of angry neighbors persuaded county officials to ax the project. It since has been rezoned for industrial use.
The factory would be a magnet for enthusiasts who want to see their motorcycles built or who simply drop by for a
visit. The anticipated traffic is three times the number of gamers who gather downtown for the annual Gen Con convention and
about the same as the crowd anticipated for the 2012 Super Bowl. However, the Harley traffic would be dispersed throughout
the year.
Harley-Davidson "will make it very attractive," Theobald said. "It would be a show
house."
Telephone calls to the company to comment on its site search were not returned. Harley-Davidson
is not expected to announce a decision until late this year.
Company officials said in May they are considering
abandoning an aging complex in York, Penn., a rural area north of Baltimore, to cut costs. The officials have said they prefer
to keep the operation in York, which has 2,300 employees making Touring and Softail motorcycle models. Pennsylvania officials
are fighting to keep the jobs by refining incentives.
However, the company also has scouted a site at Shelbyville,
Ky., several miles east of Louisville, and a location at Murfreesboro, Tenn., south of Nashville.
Kansas City,
where Harley has operated an assembly plant for a decade, was taken out of consideration despite availability of vacant adjacent
land, the Kansas City Star reported last week.
Company representatives visited the Shelby County location three
times during a three-week stretch in August. An initial team scouted the site, and then a separate team arrived to discuss
incentives, and finally an engineering team took a closer look at the property. Gov. Mitch Daniels was scheduled to visit
with company officials for 15 minutes during one of the visits, but stayed for 45 minutes to answer questions, Theobald said.
Rain prevented Daniels, who isn't shy about his affinity for the Harley-Davidson motorcycles he owns, from
riding to the meeting. The roughly 600,000-square-foot plant would open in 2011 or 2012 and employ 1,000. The site is large
enough to accommodate a facility twice the size, Theobald said. Moreover, a similar-sized tract in Marion County adjoins the
site, although part of it lies in a flood plain.
The Shelby County location is served by a 15-inch water main,
and county officials are considering building a wastewater treatment plant to accommodate Harley-Davidson. Half the plant's
capacity of 300,000 gallons a day would be absorbed by the plant. The remainder would meet demand from anticipated commercial
development.
Theobald refused to handicap odds of his site receiving the nod, but described the competition as
stiff. "It's a toss-up," he said. "Wait and see what happens."
Larry Gigerich,
an economic development consultant in Carmel, said he thinks Pennsylvania has the inside track. Harley would have difficulty
financing a brand new operation in the depressed state of the economy, Gigerich said. Harley-Davidson also has equipment and
trained workers at the current site. Still, competition for the jobs will escalate into a slugfest, Gigerich predicted.
Kentucky and Tennessee are "extremely aggressive" in offering incentives for new manufacturing projects,
he said. As a result, he said, Indiana, Kentucky and Tennessee likely will bid about $40 million, or about $40,000 per job.
If Kentucky and Tennessee were not involved, incentives might amount to only about $25 million, Gigerich said.
Pennsylvania Gov. Ed Rendell is preparing an incentive package expected to be valued at about $15 million.
The
plant would create an entirely new angle to tourism in the Indianapolis area, said Don Welsh, CEO of the Indiana Convention
& Visitors Association. When told of the potential for 100,000 visitors, Welsh said, "Wow," and then added,
"I would not argue with that number.
"The power of the Harley-Davidson brand from a marketing standpoint—they're
almost undisputed."
Some of the visitors would be local people, he said. But others would arrive from out
of town and stay in hotels and eat restaurants. Making the prospect even juicier, Harley riders tend to be affluent, Welsh
said.
Theobald said the national attention has given Shelby County an unexpected shot in the arm. Companies suddenly
are contacting him, prospecting for locations. The conditions feel familiar, said Theobald, a former Shelbyville mayor.
In 1985, Shelbyville landed a total of 1,100 jobs from Ryobi Die Casting Inc. and PK after Mitsubishi passed over the city
and located a new auto assembly plant in Bloomington, Ill. The Japanese companies were attracted to Shelbyville because they
figured Mitsubishi, also a Japanese manufacturer, had done thorough due diligence on the area.
Please enable JavaScript to view this content.