A North Carolina-based developer received approval more than a year ago to demolish a vacant building in the historic Chatham Arch neighborhood to make way for a mix of homes, condominiums and retail space.
Today, the one-story building at 850 N. East St. still stands—without any construction occurring on the site.
That's because a neighbor who lives adjacent to the property is attempting to stop the project and has taken his fight up the judicial chain, to the Indiana Court of Appeals, in what can be a long and expensive process.
What's occurring in Chatham Arch is happening in other parts of the city, as well, as neighbors opposed to big real estate projects are refusing to acquiesce and instead are mounting court challenges in hopes of stopping developments already approved by the city.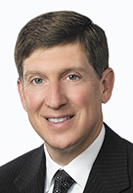 Reis
"It appears that more individual neighbors are taking a stand and are willing to devote quite a bit of financial resources to fight off these projects," said Paul Reis, chairman of Krieg DeVault LLP's real estate practice.
In Lockerbie Square, about a half-mile south of the Chatham Arch property that's caught up in court, a group of neighbors sued to halt a $15 million apartment and retail project called Block 20, planned for a parking lot next to The Athenaeum. A panel of appellate court judges early this month ruled in favor of the developer of the project, Daniel Jacobs.
South of Broad Ripple, Indianapolis-based Milhaus Development LLC is building a $23 million apartment and retail project on College Avenue, near Kessler Boulevard, after neighbors in Meridian-Kessler last summer failed to persuade a Marion Superior Court judge to overturn zoning variances granted by the city's Metropolitan Development Commission.
Meanwhile, residents of the Driftwood Hills neighborhood, near East 86th Street and Keystone Avenue, hope they'll be more successful in their court fight to stop a retail and office project from locally based Keystone Realty Group.
The four court challenges, all occurring within the past 18 months, suggest neighbors across Indianapolis are embracing a more activist stance.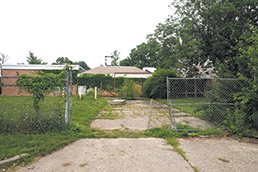 A former day care at 850 N. East St. still stands as a Chatham Arch neighbor battles a North Carolina developer in court over his plans for 55 condos in two four-story buildings on the site.
"What I think is happening is, people seem to be more focused on neighborhoods than they were not that long ago," said Russell Sipes, an attorney representing the Driftwood Hills residents. "There seems to be a changing attitude."
Driftwood Hills residents hired Sipes after the City-County Council in March reversed a decision by the MDC rejecting Keystone Realty's request to rezone 5.8 acres of the 16-acre site just west of The Fashion Mall and across from the Ironworks apartment and retail building.
The council's reversal allowed Keystone to move forward with its plans to build a two-story office and retail project at the south end of the property.
Since purchasing the property nearly seven years ago, Keystone said, it has engaged in "countless" conversations with the Nora-Northside Community Council, Nora Alliance, and Driftwood Hills Neighborhood Association.
"Those conversations led to over 30 iterations before settling on a site plan that was desirable for both Keystone and the Nora community," Keystone Realty said in an emailed statement. "We are committed to creating and developing a dynamic mixed-use project that will benefit the city and the surrounding Nora neighborhoods."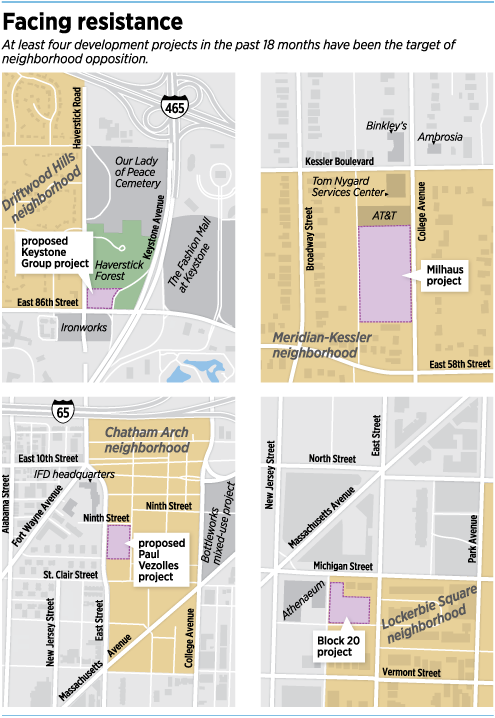 The association, however, is girding for battle.
To finance its court fight, it has raised $20,000—half from residents and the other half from the Indiana Forest Alliance.
"Our original goal was $10,000, and we've surpassed that," said Stacey Clark, a Driftwood Hills resident. "We've been pleasantly surprised."
Neighbors want to save the forest where Keystone wants to build. They also are concerned about the additional traffic the commercial activity would bring to the high-traffic intersection of 86th and Keystone.
Keystone has committed to saving certain trees, and planting new ones, but Driftwood Hills is also prepared to take its argument to the Indiana Court of Appeals, if necessary.
"We're ready for that," Clark said.
The Chatham Arch case already in front of the appellate court pits neighborhood resident David Pflugh against the Indianapolis Historic Preservation Commission and developer Paul Vezolles.
IHPC in May 2017 granted approval to Vezolles to demolish the building on the East Street property and build 55 condominiums in two four-story buildings along East Street south of Ninth Street, along with seven single-family homes and four townhouses on the east side of the block facing North Park Avenue.
The development would encompass an entire city block and bring 2,400 square feet of retail space to the neighborhood.
Vezolles and his lawyer, Jeffrey Stemerick at Taft Stettinius & Hollister LLP, declined to comment on Pflugh's appeal. But an appellate brief filed in May by Stemerick and the city's Office of Corporation Counsel shines a light on the arguments of the case.
Pflugh, a lawyer, first argued in Marion Superior Court that his property rights would be prejudiced "by introduction of commercial use into a residential neighborhood, including the core of the historic neighborhood."
But Judge Heather Welch said in her ruling that he had not demonstrated the type of grievance or harm required to show he has been "aggrieved."
Pflugh said in an email that he thinks IHPC has violated both local ordinances and state law in approving certain projects. He also said the city has taken the position that the area's historic preservation plans are merely arbitrary guidelines, which developers can ignore as they wish.
"The city has thus created an unacceptable level of uncertainty for those residents who have invested in the recovery of downtown Indianapolis," he said. "As a result, some residents are choosing to leave, while others like myself are choosing to fight for the integrity of their historic neighborhoods."
The brief from Stemerick and the city's corporation counsel, however, paints Pflugh's argument as nothing more than a stall tactic.
"The purpose of this appeal is to attempt to delay the project long enough to derail it," they said. "Pflugh hopes to accomplish procedurally what he cannot attain substantively."
More broadly, Stemerick and the city argue that the General Assembly has entrusted the IHPC to be the guardian of historic preservation in the Chatham Arch neighborhood.
"It should be trusted to fulfill that role without every resident permitted to second guess it through 'concerned citizen' litigation," they said in the brief.•
Please enable JavaScript to view this content.