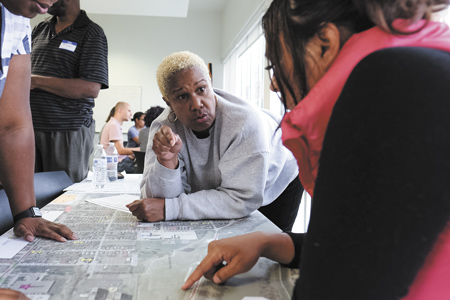 In Martindale-Brightwood, community leaders like Gina Fears see the development, the investment, the money spilling out from downtown, coming their way.
They see trendy restaurants like Tinker Street and Festiva on East 16th Street. The acclaimed Fall Creek Place housing redevelopment that stretches above East 22nd Street west of the Monon Trail.
For now, East 25th Street is still theirs. For good or ill.

The street that runs through the Martindale-Brightwood neighborhood contains some sore spots, including rundown businesses, worn streets and houses that have seen better days. But it has assets, too: an abundance of churches, Frederick Douglass Park, a relatively new community center called 37 Place that's transformed the former Indianapolis Public Schools No. 37 into a hub of activity for toddlers and seniors alike.
And neighborhood leaders have a vision for something greater: gateways that welcome drivers and pedestrians, beautified and enhanced storefronts, improved roads, and development—like a new library—that brings improved services, some of which are already underway on and near 25th Street.
But they also fear that outside developers and investors will show up one day with the goal of "improving" the neighborhood, of gentrifying the area.
Gentification. It's a term that for some signifies progress but for others means replacing the residents there now with higher-income whites and replacing the buildings with condos and modern homes.
"I'm distrustful that this area will be used and misused for someone else's gain," Fears said. "Gentrification really happens. It could happen here."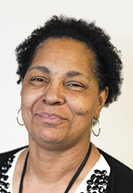 Fears
That's not what the people of Martindale-Brightwood have in mind. They want redevelopment to help current residents live better lives.
"There's such strong possibilities, I can feel them in my gut," said Fears, a neighborhood engagement director. And neighbors can see those possibilities starting to bud.
There will finally be a free-standing library branch near one end of the more-than-two-mile stretch of 25th Street—from the Monon Trail to Sherman Drive—that residents have been targeting for improvements. The $5.9 million branch is set to open in fall 2019—replacing the current, tiny branch in a strip mall, thanks to the resolution of property-acquisition conflicts with nearby landowners.
And the Edna Martin Christian Center just broke ground on a "leadership and legacy center," nearby on Ralston Avenue, which Director Tysha Sellers says will help expand jobs in the area, provide a bigger preschool, and create more opportunities for social enterprise.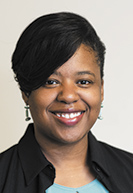 Sellers
A $1.7 million project to resurface 25th Street from Central Avenue to Keystone Avenue will begin this year. Improvements are also underway on the section of 25th Street from Keystone to Sherman.
But neighbors aren't satisfied. They want improved storefronts. More local businesses. To reconnect to Station Street, which once was the heartbeat of the neighborhood.
"How do we link all of that to give a picture of an area that is up and coming?" Sellers said. "People are now looking at really putting some investment of their time and collective resources and making this a focus point."
'Standing alongside them'
But the prospect of transforming a neighborhood like Martindale-Brightwood is complicated. About 75 percent of the population in the neighborhood's ZIP code of 46218 is black and about 40 percent live in poverty, the highest rate in Marion County.
Neighborhood leaders say they want outside investment that helps their neighbors—especially the retired, aging homeowners who have lived there for decades.
"We can't just leave this pocket here," Fears said. "We're going to have to do something. Is it going to be something for outsiders or something for the individuals that actually live here?
"It is about empowering individuals to create their own renaissance, not doing it for them, not doing it to them, but standing alongside them. That's what this area needs, the empowerment."
So Fears and a group of fellow community leaders, through groups called MOVE and One Voice Martindale-Brightwood, say they're not waiting for outside investment. They need a grocery store. They need renovation of their housing stock to help senior residents. They need small businesses.
They're doing it on their own, hoping to solidify the vision before it eclipses them. The group is meeting regularly, trying to ensure the neighbors' plans for 25th Street—developed with help from Ball State University graduate students in architecture—and the surrounding area come to fruition.
"This is an area that is not content with their plight or their blight," Fears said. "It's going to happen. If no giant development funder says, 'We're going to give you millions for this,' it's going to happen, because this area is used to working with what they have. They'll scale it back and it will still happen."
'Form our own story'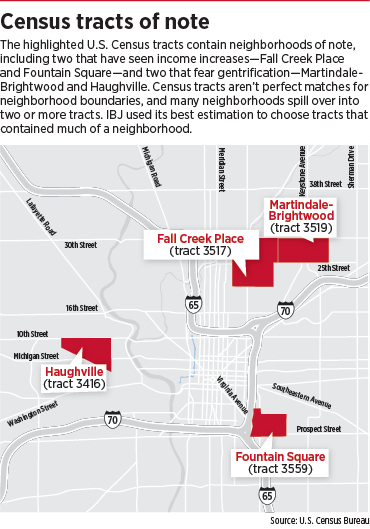 The tension between a desire for investment and an inherent distrust of it is occurring across Indianapolis.
On the near-west side, leaders in the Haughville neighborhood are facing similar questions. The census tract that contains the biggest part of Haughville has lost more than half its population since 1970. Inflation-adjusted average family income has fallen more than $20,000 since that time.
Resident Toya Crain, who works at the Veterans Administration and leads neighborhood group Haughville Strong in her spare time, said she wants investments to help the neighborhood improve. But she is wary of gentrification.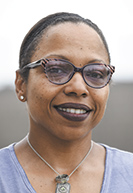 Crain
Crain, who is originally from Chicago, helped restart the dormant neighborhood group after moving to Haughville a few years ago. She said she was "in the neighborhood driving around, seeing something different in my head than what I was seeing with my eyes."
Crain said she and the Haughville Strong members see the potential in Haughville:
They want cleaner streets and alleyways, beautified landscaping.
They want to foster more small businesses to open—and to help existing residents learn about the businesses and resources that are already there.
They want more support for Christamore House, a neighborhood institution since the early 1900s that started as a settlement house for immigrants and now provides early-childhood education, after-school care, senior programming and workforce assistance for residents.
For instance, Pitt Thompson, director of Christamore House, said the after-school program costs $35 per week—not much, but out of reach for some disadvantaged residents. If the community were more involved, Christamore House could send more kids to the program, Thompson said, helping parents who work or children who need extra support.
"We like to offer the kind of programs that the community richly needs and deserves," Thompson said. "We could probably provide more of those services if we had more resources to do that."
But Crain is also skeptical about outsiders capitalizing on the growth surrounding IUPUI, about a mile east, coming in to the neighborhood to make it their own.
Crain said her goal is to "help to beautify where we live so we can form our own story, form our own label, instead of allowing everyone else to dictate who we are."
"We need to get organized," she said. "Good enough is not good enough anymore. If we're waiting on everybody else to come and fix it for us, we're going to be waiting."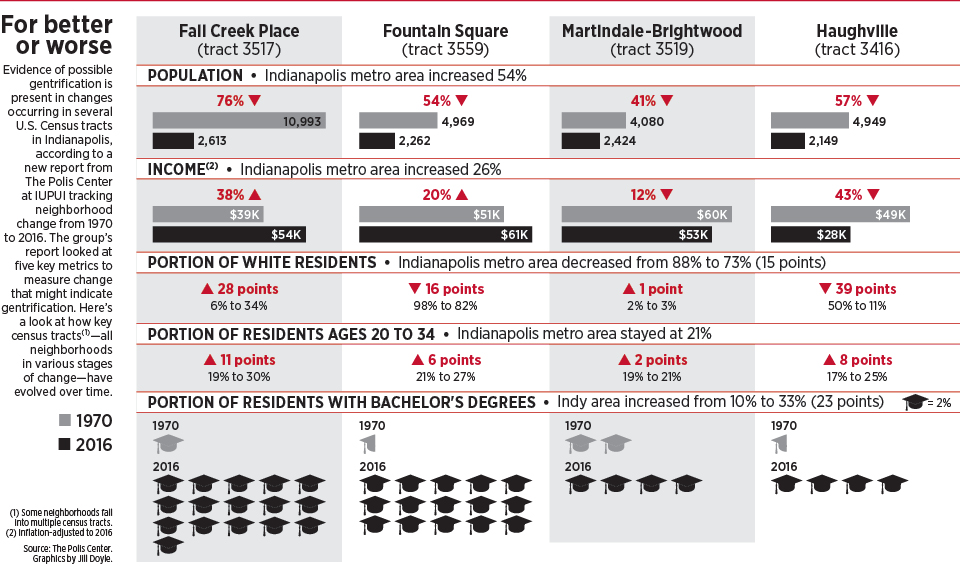 Not 'another Fountain Square'
With the near-west side's inclusion in Great Places 2020—a community development project headed by the Local Initiatives Support Corp. of Indianapolis—and her belief that "investors are buying up property and sitting on it," Crain said the area is primed for redevelopment.
Her neighborhood group wants to partner with the larger community to improve, she said, but "we're not looking to form partnerships with people who are interested in getting rid of us as soon as they have an opportunity."
"We cannot allow another Fountain Square," Crain said. "These seniors, they can't take it. I just feel they deserve more than that."
Though Fountain Square is undoubtedly a success from the perspective of young downtown dwellers, developers and the real estate community, some people in neighborhoods like Haughville say it smacks of gentrification.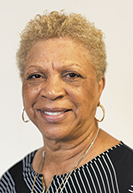 Smith
The term can be perceived as positive or negative. Merriam-Webster defines gentrification as "the process of renewal and rebuilding accompanying the influx of middle-class or affluent people into deteriorating areas that often displaces poorer residents."
It's the displacement that concerns the people who live in the neighborhoods now.
Research analyst Matt Nowlin, who works for the IUPUI Polis Center, said the data indicates that gentrification has occurred in places like Fountain Square and other near-downtown neighborhoods such as Mapleton-Fall Creek.
But it might not be obvious to some if they don't peel back a few layers. Nowlin and a team released a report this month showing neighborhood change across Indianapolis that tried to give a clearer picture. But defining gentrification is hard even for researchers.
"Sometimes it seems like you get a new coffee shop or a wine bar and that means gentrification," Nowlin said. "A neighborhood like Fountain Square doesn't really stand out when you look [only] at things like poverty and median income.
"But when you look at how many folks have bachelor's degrees, how many residents are young adults, you can start to see the changes in the numbers that might explain the anecdotal story," he said.
For the census tract where most of Fountain Square falls, population has dropped by over half since 1970, and the percentage of white residents has dropped 16 percentage points.
But inflation-adjusted average family income is up $10,000, to $61,000, over 1970; the percentage of residents age 20 to 34 is up 6 percentage points, to 27 percent; and the percentage of residents with bachelor's degrees has jumped from 1 percent to 30 percent.
Nowlin said people need to understand that gentrification is "not necessarily an improvement," especially because there are often racial implications. Although Fountain Square's white population has dropped, the opposite often happens in redeveloped neighborhoods.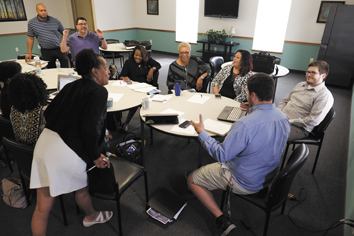 Martindale-Brightwood neighborhood group MOVE is working with Ball State University students to further their development plans for East 25th Street.(IBJ photo/Eric Learned)
Judging a gentrified neighborhood as improved might wrongly indicate that "a neighborhood was somehow getting better because it was getting whiter," Nowlin said.
A gentrified neighborhood "may look more attractive," he said. "There could be a lower vacancy rate or more houses, and that could be seen as an improvement, but to other folks, it may seem like the neighborhood they knew is gone or the culture just doesn't fit in to the culture they were used to."
'Anchor residents'
The makeup of neighborhoods can change drastically even in side-by-side census tracts.
The tract that contains part of Martindale-Brightwood has seen its population drop by about half since 1970. It's seen inflation-adjusted average family income drop $7,000, and the percentage of white residents, young residents and those with bachelor's degrees stay relatively stable.
But just to the west is a census tract that contains the Fall Creek Place redevelopment. While the population there has also dropped significantly since 1970, income has ticked up $15,000, the percentage of white residents has increased 28 percentage points, the percentage of young people is up 11 points, and the percentage of those with bachelor's degrees has shot up 30 percentage points.
Paul Smith, president of Southeast Neighborhood Development Inc., said the classic take on gentrification is "a neighborhood that changes dramatically as a result of investment by folks who are relatively new to the neighborhood, to the detriment of folks who are already living there."
About One City, Worlds Apart
This is the third story in an occasional series examining the growing gap between the affluent and poor in Indianapolis and ways to address the problem. Read the first two stories
here
.
"Gentrification is happening all over the city," Smith said. "It happened in the Old North Side. It's happening in Fountain Square. It's going to happen whether you like it or not."
The question, he said, is, "What do you do to help the folks who are going to be affected by the negative side?"
Josephine Rogers Smith, who runs the Martindale-Brightwood Community Development Corp., said "gentrification has not been a friendly term when it comes to redevelopment in primarily black communities, mainly because of the way it's handled.
"African-Americans have either been priced out, taxed out or just put out," Rogers Smith said, "and we have not had an opportunity or the resources sometimes to buy into the new idea or the new neighborhood."
She said her group has been trying to persuade the Legislature to pass a law that would allow residents to be grandfathered into their property taxes to avoid big spikes when gentrification happens, but the move hasn't gained traction.
"We really need to start thinking long and hard about what could be put in place to help our residents avoid some of those pitfalls of paying higher taxes," she said.
Paul Smith agreed that "anchor residents," as he called them, should be grandfathered into paying lower property taxes so they can remain in the neighborhood—something he said "without question" the Legislature should take action on.
"It's the right thing to do," he said.
'Sweat equity'
The line is often fine when it comes to what development might be acceptable to a community and what will sow seeds of distrust.
Fears, of Martindale-Brightwood, said the determining factor is inclusion.
"It's not the biggest deal if somebody has their name on a building," Fears said. "But did we get to put sweat equity into it?"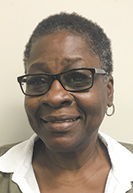 Barrett
Julie Barrett, workforce development specialist for the Martindale-Brightwood CDC, said the area needs partners that would "really get to know us, know the struggle, and be deep with us."
"It's not going to happen overnight," Barrett said. "You're not going to get no vast return."
Even building the free-standing library branch—an asset residents have wanted for years—was not without controversy as the Indianapolis Public Library battled with existing landowners to try to acquire the desired site.
Now that the problems are ironed out, Branch Manager Rhonda Oliver said the community has been "very vocal about what they see as the needs of the community for this library."
"It's no longer that we're having institutions telling us how things are going to be and what the services are," Oliver said. "It's the institution responding to what the neighborhood has deemed most important. I've worked all over the system. People in Brightwood really understand the value of the library in their community.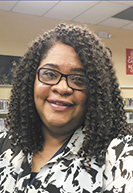 Oliver
"Brightwood doesn't need a handout," she said. "What we need are people who want to see this area grow and thrive."
One example of neighborhood improvement that residents have embraced is retired Eli Lilly and Co. chemist Aster Bekele's effort to help connect seniors and youth through urban gardening and farming.
For 14 years, since her retirement from Lilly, Bekele has run the Felege Hiywot Center, an urban farm that has transformed once-blighted property in Martindale-Brightwood.
With volunteers, she renovated the property's historic homes that had fallen into disrepair.
Now, 30 students are working in the garden, farming, composting soil, tending to bees, cooking, eating fresh food, and mentoring one another.
Bekele said her program is an example of an ongoing effort in a struggling area that outside partners could help expand and stand alongside.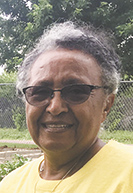 Bekele
"There are so many buildings that need fixing," she said. "We can fill them up. We got plenty of programs, plenty of expansion we can do.
"We need resources, support and also some businesses [to help]. Help us to keep expanding."
Bekele's ultimate goal is to infuse more hope into Martindale-Brightwood.
When she came to the neighborhood decades ago after moving from Ethiopia to pursue her education and a career, she said the neighborhood appeared downtrodden, but for a different reason than most see.
"When I came, I said, 'I don't know if you are poor,'" Bekele said. "It looks like you lost hope. There is a difference. Losing hope is that much more terrible. When people have reached that point, it requires a lot more patience to get them out of it.
"There is so much pride here. Right now, the crime and everything else is overshadowing it. There is so much treasure."•
Please enable JavaScript to view this content.