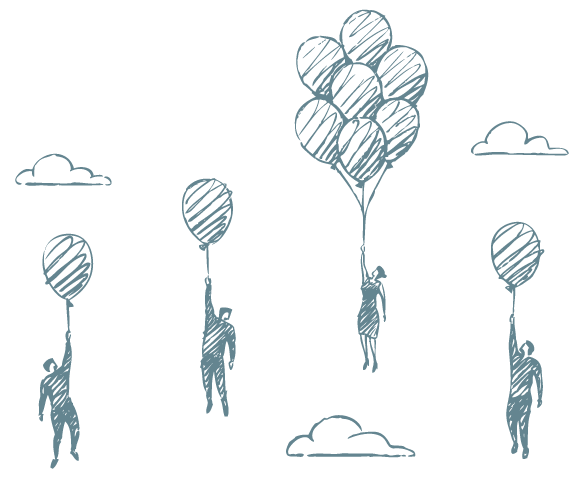 For a company to make the Fast 25, it helps to have a strong leader. But what does that mean?
Chris Byers, CEO of Formstack, said it's three things: having a strong vision, building the right team, and ensuring that the company has the money to get the job done.
"Vision sounds like a big word," he said, "but often it's as simple as, 'Where are we trying to go five years from now? How would you describe that? What does success look like five years from now?' Then, in bringing on the right team, you've got to have good-skill people who can think in the way that your culture thinks.
"And then you have to make sure there's enough money in the bank. If there is, you're going to be able to move faster than most other companies."
So that's one definition. IBJ asked some of the other Fast 25 leaders what they think makes a strong leader. Here's what they said:
Linda Sullivan
president and CEO, Administrative Strategies LLC
"Being open and honest with everyone. I'm a lifelong learner, and I like the folks around me to be always learning. Help people learn and improve and do better. Everyone wants to do a good job and they want to feel like they're doing something rewarding. A good leader helps them do that so they can realize their dreams."
Eric Garrett
president, The Garrett Cos.
"A strong leader empowers his people to make decisions and to operate and function independently—not someone who micromanages every move, but someone who hires people who can do the job and believes in them enough to get the job done. You can step in later and help if there's a problem—that's a key component of leadership. If somebody has a problem, they should be able to bring that problem to you."
Bill Bates
principal, Gemco Constructors LLC
"A strong leader creates a trusting environment so that people want to come to work. My job is to make this the best place to work that I can. I'm a big believer in the servant-leader philosophy. One of the things I say constantly is, 'I'm not asking for perfection. What I'm asking for—what I expect—is continuous improvement. Be willing to admit when things are wrong. If something's not working, you tell me it's not working. We will figure out a way to make it better. Be humble and willing to listen. Let people know why you're doing what you're doing. I want everyone to want to work here. If everybody wants to work for Gemco, everything else on our list of problems and challenges goes away."
Alison Murphy
CEO, William Roam
"Knowing that you can't do it all and having a great team. A fun environment that makes it easy to have fun at work and come up with great ideas."
Brad Benbow
CEO, Joseph David Advertising
"A good leader cares about the team and is someone who's empowering, not dictating. It's somebody who has enormous empathy for the struggle. They've lived the struggle, so they can appreciate their team's struggle on behalf of the clients. Great leaders shouldn't be fist-pounders, accusers or demanders. Their team knows they're in it with them and they appreciate the team commitment. They demonstrate more and they talk less."
Kyle Bach
CEO, The Annex Group LLC
"Inspiring your team is a characteristic I emulated within our organization, and understanding your purpose and having clear motivation and emotion behind your purpose. At the end of the day, we get to impact people's lives. Yes, we build buildings and develop real estate, but the reason we do that is to impact people's lives. Have an emotional attachment to the purpose behind what you're doing."
Josh Owens
CEO, SupplyKick LLC
"The ability to listen to what your team members are telling you about what they want to achieve and finding a way to help them achieve it within the company. For me, that has meant moving people into new departments that I wouldn't have anticipated they would have been interested in, letting them run after projects I only half-thought would have been successful. I can't tell you the number of times I've been surprised by what we've been able to accomplish. When you think of your job as leader, it's to partner with your team members and help them be the best version of what they can be."
Kevin Gearhart
president, Rehab Medical
"Being able to assess situations and what's needed and being able to act on that. Working hard and make sure that you drive everything through as much as you can and not quitting is just critical in leadership."

Michael Kelly
CEO, DeveloperTown
"Someone who's going to be knowledgeable yet humble. They don't have to be the loudest voice in the room, they don't have to be the one who gets all the attention, they don't have to take credit for the idea. They're going to give their team enough rope. They're going to say, 'We're going to do this thing; here are the resources you have available. Go figure it out.' Make sure they have what they need to make things successful, but allow them to own the solution and own the way that something is going to happen. It's my job as leader to provide you support to get things done."
John Stitz
co-founder and principal, enVista
"Someone who can set the vision for the company and the tone for the company in terms of how we go about our business, how we interact with our clients and how we come up with the services that we're going to offer to solve our clients' business needs. For us, it's about solving our clients' problems, and so, from a leadership perspective, it's setting the vision for the company and putting the execution plan in place and managing to that plan."•
Check out more of IBJ's ranking of Indy's fastest-growing companies.
Please enable JavaScript to view this content.