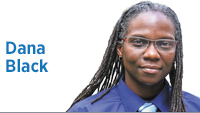 According to State Auditor Tera Klutz, Indiana ended the current fiscal year with a surplus of nearly $1.8 billion. Some of you might read this and think, "Wow! That's great!" But actually, it is a complete and total travesty.
Didn't we just have a gas tax hike for the second consecutive year? Didn't I just read there are ongoing discussions about adding toll roads to highways in Indiana already paid for with tax dollars? When was the last time we looked at our electrical grid?
Gov. Holcomb, why keep raising the cost of living on Hoosiers when our wages are stagnant and yet we sit on a $1.8 billion surplus?
That is our money; we Hoosiers created that surplus.
The evidence is quite clear: The Indiana Republican Party has a stranglehold on both houses of the General Assembly and the governor's mansion. They are in complete control and yet we can plainly see they have not been using our money in a way that best supports the citizens of Indiana.
Did you forget that money is ours and you actually work for the people of Indiana? Your main job is to look out for us!
Just this year, lawmakers had to make up a $22 million Indiana public school funding gap. I know I'm not an accountant, but if we have a $1.8 billion surplus, why would there be a school funding gap? Why do we continually ask public school systems to cut budgets, cut programs, cut transportation, when we have money in the coffer to cover some of those expenses? Do the legislators and leaders of our state not think the children of Indiana are worthy of tapping into that surplus? This is the future of our state we are talking about here.
We all know about our teacher shortage in Indiana. One of the biggest reasons for that shortage is the fact that teachers in Indiana—when you consider inflation—are making 16 percent less than they did two decades ago. I'm not an accountant, but couldn't we use some of that $1.8 billion to boost teacher pay, which could help recruit and maintain high-quality teachers in Indiana?
The Department of Child Services is being overwhelmed like never before because of the opioid crisis. Children are in need of quality foster care while their biological parents are working through their problems. As of December 2017, a foster parent received $20.53 per day for children up to 4 years old, $22.29 per day for children ages 5-13, and $25.72 per day for children ages 14-18.
Less than $30 a day to feed, clothe and house a child doesn't seem like enough to cover all the expenses that come with being a parent—foster or otherwise. I'm not an accountant, but with a $1.8 billion surplus, couldn't we offer foster parents a bit more to cover expenses?
Don't tell me about fiscal responsibility when our house is crumbling down around us. For goodness sake, the quality of life in Indiana is ranked 48th in the nation. There ain't but 50 states.
Nobody is saying we need to spend the entire surplus; yes, we do need a rainy day fund. But in towns across Indiana, school districts are being underfunded and closing, teachers are struggling to make ends meet, and DCS is still struggling to care for Indiana children. How much more rain do you need?
Indiana gives corporations breaks at every turn. It is past time for the leaders in Indiana to start caring for the people of Indiana and give us a break.•
Click here for more Forefront columns.
__________
Black is deputy chairwoman for engagement for the Indiana Democratic Party and a former candidate for the Indiana House. Send comments to ibjedit@ibj.com.
Please enable JavaScript to view this content.