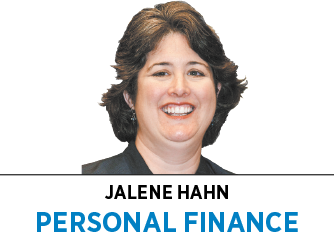 This recent headline in Forbes caught my attention: "Price of College Increasing Almost 8 Times Faster Than Wages." Other headlines focus on the student-debt crisis.
A third of Americans have a college degree; they earn 56 percent more than those without a college degree. That helps explain another trend: More high school graduates are starting college. But four out of 10 will drop out without receiving a degree, making it more difficult to pay off student debt. Funding a college education is an investment and, as with any investment, there should be a positive return.
Finding the most cost-effective option for each student requires becoming an informed consumer, setting realistic expectations, and questioning traditional paths. PayScale.com released a study of the worst-paying college majors in 2017. Cooks, clergy and child care specialists came out on the bottom. Also coming out on the bottom were art and theater majors. An informed consumer understands that, if you major in one of these subjects, chances are you might find it difficult to repay student loans.
In Indiana, the average cost (tuition, room and board, books, supplies and fees) to attend an in-state college is roughly $22,000 this year. Four-year, private schools average closer to $40,000 a year. To meet these rising costs, more families are turning to student loans to pay for college, leaving 68 percent of graduating students with an average student loan debt of $28,000 to $39,000.
That level of debt might be manageable, depending on the value of your education, but while the cost of college continues to rise, real wages continue to be flat. From 1987 to 2016, the inflation-adjusted entry-level salaries for college graduates rose 2.3 percent, from $49,406 to $50,556. In the same period, the average price of an undergraduate degree increased $63,973, from $39,643 to $103,616, or roughly 161 percent. The disconnect between the rising cost of a college education and flat wages reinforces the concept of return on investment when deciding where to go to school and how much debt to assume.
I've worked with many families who are deciding how to balance saving for retirement with providing an education for their children. Each child is a distinct individual, and the choices families make reflect that difference. Some families work with a "college coach" to help students understand their strengths, interests, possible career options and what schools might be a good fit.
Other families opt to have their student start at a local community college while living at home. If students don't have a clear path to follow when it's time to start college, taking a year or two off to work, travel, volunteer or pursue internships can give them life experience and focus. Other families recognize that there are high-paying careers—such as plumbers, electricians and radiology technicians—that don't require a four-year college education.
I have a son who just graduated from Purdue University with a degree in mechanical engineering and a younger son studying writing for film and television at Emerson College in Boston. He worked with a coach who helped steer him there based on his interests. Even with scholarships, Emerson is more expensive than Purdue. And as he starts his sophomore year, he's facing both tuition and room-and-board increases of 4 percent to 5 percent.
He is also very aware of potential career possibilities and has thought of back-up careers. I know he will be fine because he is learning to write and tell stories, and telling a great story well is a marketable skill. But it helps that he's aware of the risks and rewards of his chosen field. Everyone should be so informed.•
__________
Hahn is a certified financial planner with WWA Planning and Investments. She can be reached at 812-379-1120 or jalene@wwafp.com.
Please enable JavaScript to view this content.