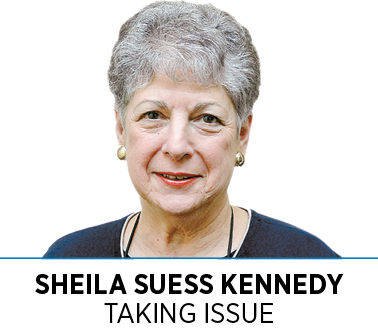 One reason Americans have so much trouble talking about public policy—or crafting reasonable legislation—is that we have a cultural bias toward "either-or" analyses. Things are either black or white, good or evil. Shades of gray, nuance and moderation are suspect.
We can see this in arguments about "socialism." Hysterical right-wingers equate any effort at government provision with communist totalitarianism, and hysterical left-wingers want to abolish markets and capitalism. Meanwhile, virtually all democratic countries—including the United States—have mixed economies. We have found it efficient to "socialize" police and fire protection, the building of roads and parks, and numerous other parts of our economy.
The issue of regulation triggers similarly dishonest rhetoric. The issue isn't regulation or no regulation—it's the necessity and appropriateness of particular regulatory efforts. That's why the Trump administration's wholesale attack on environmental rules is so pernicious.
The continuing coverage of Flint, Michigan's unsafe water generally includes a recitation of the effects of lead poisoning, and they aren't pretty. They also aren't reversible; if a child ingests lead through the water, as in Flint, or from the flaking of old paint in rundown houses, or from areas of contaminated ground (we have a number in Indianapolis' poorer precincts), the damage to that child's intellectual functioning is life-long and significant. (I should note that the nation's largest source of industrial lead pollution is 20 miles down the Lake Michigan shore from Chicago in Indiana.)
Pollution is the poster child for why regulation is an essential function of government. As numerous economists have pointed out, absent regulation, it will always be cheaper to pollute the air that others breathe or the water that others drink than to dispose of the waste from your manufacturing process in a manner that doesn't harm others.
Pollution means the market is getting incomplete information about the actual cost of the product in question. When some of the costs of production are "offloaded" onto the people damaged by the pollution, those costs aren't reflected in the price of the goods, and non-polluters are put at a competitive disadvantage.
Are some regulations onerous and unnecessarily broad? Sure. Are others inadequate? Absolutely. Regulatory activity by its very nature must be carefully calibrated. Ideally, rules governing commercial enterprises should be only as restrictive as necessary to the achievement of the desired result. The need for and adequacy of any particular regulation will always be what lawyers like to call "fact-sensitive." Issuing a wholesale assault on "regulations" writ large makes no more sense than advocating the elimination of "laws" because some laws are over-broad or unnecessary.
One of the most frustrating elements of our current impoverished and dishonest political discourse is the over-simplification of issues that are complex and/or nuanced. Too much of our public debate is conducted via bumper-sticker slogans and easy, inaccurate generalizations. When it comes to protecting the environment, those formulations are not only inaccurate, they are dangerously misleading.
Most Americans want the air they breathe to be clean, the water they drink to be safe, the playground soil to be free of harmful contaminants. It would be wonderful if we could rely upon the ethics of manufacturers to ensure the safety of our environment, but we can't. We have no choice but to rely upon the government to promulgate and enforce rules against despoiling our air and water.
Watching Trump's EPA play "footsie" with favored corporate polluters while refusing to discharge its most basic responsibility—to safeguard the environment—is infuriating.•
__________
Kennedy is a professor of law and public policy at the School of Public and Environmental Affairs at IUPUI.
Please enable JavaScript to view this content.