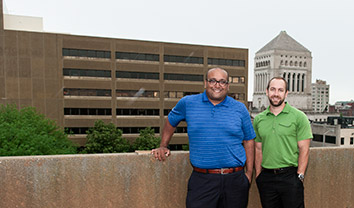 A San Francisco-based firm has purchased a downtown office project with a prominent Meridian Street address from a local developer who bought it in 2014 and whipped it into shape.
Naya USA Investment and Management paid approximately $37 million for the 334,500-square-foot complex that includes 500 N. Meridian St. and 550 N. Meridian St., according to seller Ambrose Property Group Inc.
The buildings were part of a package of properties in the immediate area that locally based Ambrose acquired in June 2014 for $12.5 million. Its plan was to rehab the office space and find new tenants for what at the time was a mostly vacant complex.
Ambrose told IBJ in 2014 that it planned to invest another $12 million in the renovation. In the end, Ambrose invested about $20 million in the project, a company representative told IBJ on Monday.
The deal includes a 1,000-space parking garage at 509 N. Illinois St. and a surface lot at 502 N. Illinois St. that were part of Ambrose's original acquisition.
Ambrose was represented in the deal by representatives of real estate brokerage Cushman & Wakefield: Managing Director Jon R. Owens, Executive Director Jeff Castell and Executive Director Michael Hanrahan.
The complex is now completely full with tenants, according to Cushman. They include Hall Render, Centene/Managed Health Services, Blue & Co. and the Indiana Hospital Association.
The complex fell on hard times after Seattle-based insurance giant Safeco Corp. left in 2009 as part of its acquisition by Boston-based Liberty Mutual.
American States Insurance occupied the complex for decades before Safeco bought the company in 1997. Safeco had 580 employees there when Liberty Mutual acquired it in 2008 and opted to consolidate the Safeco office with two existing Liberty Mutual properties along 96th Street and Interstate 465.
Safeco's departure marked the end of an era for an insurance operation founded more than 100 years ago on the same block. Brothers Edward and Dudley Gallahue started what would become American States Insurance in rented space in the early 1900s.
A group of Michigan investors bought the complex in 2006 and defaulted on its $42 million loan in 2011 following Safeco's departure. Ambrose bought the building out of receivership.
Please enable JavaScript to view this content.