Should Indiana's quota system for alcohol permits be amended so it's easier for cities to add restaurants that sell alcohol?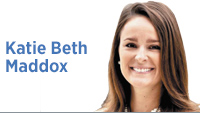 Over the last five years, Indiana and Indianapolis' culinary scene have been in the spotlight. Our restaurants have earned Indy titles like America's Most Underrated Food City by Conde Nast Traveler, and one of America's Favorite Food Cities by Food & Wine. In addition, Eater just named Martha Hoover Empire Builder of the Year.
It is no secret that the hospitality industry is a key ingredient in the quality-of-place recipe all communities seek when looking to grow. Almost every week, you hear about restaurant openings and about how this industry is investing in the community by bringing new life to an old building or filling a hole within a neighborhood.
However, what you do not hear is what comes into consideration when these entrepreneurs begin to scope out new opportunities to expand business or start fresh. Whether they decide to renovate or build from the ground up, determining where to do so can depend on the availability of an alcohol permit.
Owners can acquire these permits a few different ways, but most common is bidding on a permit at an Alcohol and Tobacco Commission auction or via the secondary market. Alcohol permits for restaurants can be hard to come by and the cost can skyrocket depending on demand.
This means a new restaurant could come into the market and purchase a permit for $1,000 from the state, if available, or win one at an auction for $20,000 to $200,000 or more.
In 2016, the Indiana Restaurant and Lodging Association worked with the General Assembly on legislation that enacted a solution to encourage restaurant development without harming current permit values. This solution was essentially designed for growing communities like Carmel, Fishers, Lebanon, Westfield and others.
These permits were created within economic development districts in those communities outside of quota restrictions and established a minimum cost. The Legislature has also created permits for economic development districts, historic districts, riverfront districts, motorsports investment districts, railway redevelopment districts, and the list goes on.
At the end of the day, restaurants are small businesses that create jobs and fuel local economies across our state. Restaurants are important to the quality of life in a community for residents, and tourists alike, and are a driving force in Indiana's economy, employing more than 10 percent of the state's workforce.
Restaurants provide opportunities for socialization, entertainment, sustenance and jobs—which is why our industry is always seeking to enhance a community's quality of place. Before we jump at the opportunity to add more permits, it is important to weigh the economic impact this will have on established restaurants that have invested in these communities and what can be done to ensure that growth is not stifled by regulations and laws.•
__________
Maddox is director of government affairs for the Indiana Restaurant & Lodging Association. Send comments to [email protected]
Please enable JavaScript to view this content.