On a given day, upwards of 1,350 workers file into a mammoth building with architectural flourishes like arched ceilings
that resemble the innards of an aircraft fuselage.
The former United Airlines repair base now employs about as
many as when the airline abandoned it six years ago.
But turbulent times in commercial aviation, and uncertainty
surrounding another tenant that's helped fill United's void, could set back attempts to redevelop what in the
early 1990s was touted as one of the nation's biggest economic development projects.
Aircraft repair giant
AAR Corp., the largest tenant of what is now known as the Indianapolis Maintenance Center, has seen business slow here. Though
AAR's overall aircraft maintenance revenue was higher at its facilities across the country, "sales were lower
at our Indianapolis … facility, reflecting reduced demand as a result of airline capacity reductions," the Chicago
company said in its most recent annual report.
United and FedEx both pulled from service aircraft types that
were fixed at AAR's local facility. FedEx, for example, retired its Boeing 727s.
AAR has nearly 700 employees
here working in 786,410 square feet of hangars and shops. Southwest Airlines is the primary customer.
But as
recently as April of last year, AAR had nearly 1,000 people working here and lamented that it couldn't fill positions
fast enough.
AAR's new vice president and general manager at IMC, Danny Martinez, chalked up the current
environment to the cyclical nature of the industry, compounded by the severe recession.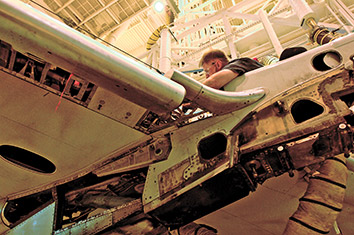 Kirk Hilton of AAR Corp. works on
the wing of a plane. AAR arrived in 2004 and counts Southwest Airlines as its primary customer in Indianapolis. (IBJ Photo/Robin
Jerstad)
Still, AAR occupies seven of 10 bays on which it has leasing options.
"We have room to
grow and we like that," Martinez said.
AAR has a knack for enduring the ups and downs of the airline industry.
But the situation facing IMC's second-largest tenant—the 450-employee PrecisionRx mail-order pharmacy operated
by Indianapolis-based WellPoint Inc.—may become a victim of a changing corporate strategy.
Hundreds
of jobs on bubble
In April, WellPoint agreed to sell NextRx, its pharmacy benefits management unit that
includes PrecisionRx, to St. Louis based-Express Scripts, for $4.7 billion.
Though Express Scripts will provide
pharmacy benefits services for WellPoint, it has not said whether it will retain the high-tech Indianapolis pharmacy. Express
Scripts executives said previously they were evaluating their operations around the country.
When the Indianapolis
operation was introduced three years ago, officials said it could eventually employ 900.
The PrecisionRx pharmacy
here has a number of advantages, said WellPoint spokeswoman Lori McLaughlin. For example, "we're just around the
corner from the FedEx regional sorting facility and within a few hours' drive of UPS' sorting facility in Louisville,"
she said.
Thanks mostly to AAR and WellPoint, 67 percent of IMC is leased, with an additional 28 percent under
option by the five lessees—effectively giving it a vacancy rate of just 5 percent, said Sus

an Sullivan,
spokeswoman for the Indianapolis Airport Authority.
That's despite the loss last
April of tenant Indianapolis Diversified Machining, which ran a machine shop at the base. It went out
of business, costing about 50 jobs.
"This is a first-rate facility that is one of
the best in the industry," Sullivan said.
But what about the possibility Express Scripts
could jettison the pharmacy here?
"The Indianapolis Airport Authority isn't
concerned that current lease holders at the IMC are considering relocating to another facility,"
Sullivan said.
"We are currently in discussions with three current tenants, including
AAR, about expansions of their operations. The facility is competitive. Its lease terms and incentives
are financially attractive to existing and prospective tenants."
She added that the
airport authority is "less engaged in recruiting new tenants and more engaged in discussions with
existing tenants and business partners."
Diverse tenant base

The third-largest
tenant at IMC is Indianapolis-based Republic Airways. Its Chautauqua Airlines subsidiary has two hangars at IMC, totaling
172,469 square feet.
According to airport records, Chautauqua employs 220 at the base, although a company spokesman
said the number today is about 150.
It's unclear whether the Indianapolis facility could gain from Republic's
acquisition of Denver-based Frontier Airlines and Milwaukee-based Midwest Airlines.
Earlier this month, Republic
CEO Bryan Bedford told The Journal Sentinel, of Milwaukee, that the company is considering shifting from Denver 150
heavy maintenance jobs and 100 additional jobs from Denver to either Milwaukee or Indianapolis.
In the meantime,
AAR is trying to stoke business. Martinez said the local AAR facility recently landed some work from Continental Airlines.
It's installing winglets on the airline's Boeing 757s to improve their fuel efficiency.
Besides
its smaller tenants—Schenker Logistics and European cargo carrier Cargolux—IMC also houses about 70 other employees
who work for six contractors supporting the base.
Though now roughly back to employment levels just before United's
pullout, the facility is far from the potential 6,300 jobs United envisioned when it announced in 1990 it would build the
base.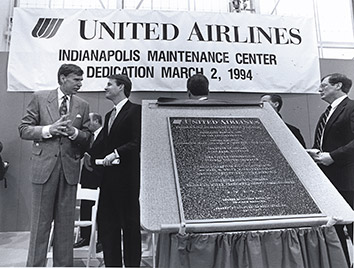 Former Gov. Evan Bayh, second from left, was among dignitaries on hand when the much-anticipated United Airlines
maintenance center opened. (IBJ File Photo)
It was the subject of an incentives war among several cities and touted
as one of the nation's top economic development projects at the time.
State and local leaders pledged
$300 million in taxpayer incentives for United, a deal-gone-bad that later caused state leaders to tie subsequent incentives
to achieving job-creation thresholds.
The airport authority issued $220.7 million in special facility revenue
bonds toward construction, of which $172.1 million was outstanding at the end of last year.
The authority places
revenue it collects from the base rentals into a trust fund on behalf of United bondholders. Money in that trust is also used
to pay IMC's maintenance costs.
The authority has made a number of grants and rent credits to assist tenants
with startup costs and other expenses. As of last December, the authority had provided IMC tenants $6 million in grants and
$3.9 million in rental credits.
AAR, for example, has received more than $500,000 in grants related to the activation
of hangars at the base.
Records are hard to come by, but during United's glory days, it is believed to
have employed as many as 3,000 people at IMC.
Please enable JavaScript to view this content.