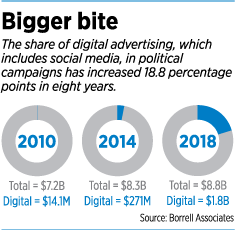 Democrat Liz Watson has launched more than 25 Facebook advertisements since May in her campaign for Indiana's 9th Congressional District seat in the U.S. House.
Each ad cost less than $100 and generated thousands of impressions, which represent the times a Facebook user saw the ad.
That's a pretty good value compared with television, where commercials can cost hundreds of thousands of dollars and have limited ability to target specific demographics and engage with voters.
So, like Watson, candidates running at all levels of government have turned to cheaper and potentially more effective social media ads to reach voters.
Watson's opponent, Republican incumbent Rep. Trey Hollingsworth, has paid for more than 30 ads on Facebook and four on Google since May.
Across Indiana, at least 24 candidates for state and federal offices have paid for ads on Facebook since May, according to Facebook's new political ad archive. A handful of those campaigns have also paid to promote posts on Twitter or advertise through Google.
These digital ads can provide troves of data about who saw the ad and who interacted with it.
Plus, social media is increasingly where people spend their time.
"If you can market more elegantly without a lot of waste, that's the holy grail in the advertising world," said Steve Passwaiter, vice president and general manager of politics at Kantar Media.
In 2018, nearly $1.8 billion is expected to be spent on digital and online political ads, according to Williamsburg, Virginia-based media research firm Borrell Associates. That's 20 percent of what campaigns and committees are expected to spend on political advertising.
Borrell estimates about 60 percent of every digital ad dollar goes toward social networks, including Facebook, Twitter, YouTube, Snapchat and Instagram.
In 2014—the last midterm election—digital advertising accounted for only $271 million, which represented 3.3 percent of total political ad spending, according to Borrell.
And even that was a significant increase from 2010, when only $14.1 million was spent on online advertisements, which represented 0.2 percent of all ad spending.
"You just get bigger bang for your buck through digital advertising," said Brandon Evans, president of Marion County Young Democrats and digital marketing strategist at Pattern89. "It is equally as powerful and more accessible than traditional advertising."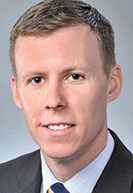 O'Brien
Can't be ignored
Political experts say social media advertising is a necessary part of any campaign now, even as they acknowledge that TV ads still get the most attention and can't be dismissed yet.
"People are changing the way they get information, so campaigns have to follow that," said Mike O'Brien, who served as campaign manager for Republican Gov. Eric Holcomb in 2016. "Digital was a good option for us. We probably didn't do as much as we should have."
Cam Savage, consultant and strategist for Republican U.S. Sen. Todd Young in 2016, said that Young's campaign probably put more resources into digital advertising than any other campaign that year, with a third of the overall ad budget spent online.
"As campaigns became more data-driven, it became easier to say, 'I'm reaching the right people and I know how much it costs to reach them,'" Savage said. "It became an easier investment to make."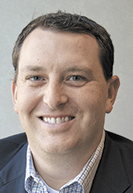 Savage
Young's campaign placed a majority of its online ads on Facebook, YouTube and Google, but also used Snapchat filters at events and experimented with Instagram.
"My personal view is, I'm agnostic about it," Savage said. "I want to find the best and cheapest way to reach someone. It doesn't matter to me."
For many campaigns, Facebook seems to be the best advertising option right now. Evans said that's because it's the most trafficked, and Facebook's ad platform is the easiest to use—for now. It's also the platform where people are used to taking action after seeing a post, such as making a donation or signing an online petition.
"This stuff is going to keep changing, but right now, Facebook is the big dog, without question," Savage said.
Pros and cons
A big benefit to advertising on social media is the ability to customize nearly every detail. That allows candidates to target a narrow group of voters.
For example, Democrat Naomi Bechtold, who is running for Indiana House District 24, has an ad on Facebook that targets young women. The ad, which started running Sept. 16, focuses on a young female entrepreneur Bechtold met at the Zionsville Farmers Market. The ad campaign cost less than $100, and 60 percent of those she reached were women ages 18-24.
"You can really target [social media ads] in a way that's probably more effective," O'Brien said.
Democratic U.S. Sen. Joe Donnelly and his opponent, Republican Mike Braun, typically spend six figures on TV ad campaigns—which must air in eight media markets to blanket the state.
In comparison, Donnelly's most expensive Facebook ad in September cost only $1,000 to $5,000 and attracted 100,000 to 200,000 impressions. (Facebook's ad archive does not provide specific figures.) The ad, which promoted right-to-try legislation that allows terminally ill patients to seek drug treatments that have not been fully approved by regulators, ran Aug. 22 to Sept. 2.
Braun's most expensive Facebook ad in September also cost $1,000 to $5,000 and led to 100,000 to 200,000 impressions. It included a video titled "Joe Donnelly is Bad for Indiana." It started running Sept. 4 and was still active as of Sept. 18.
Evans said the cost of a social media ad can be calculated in a few different ways, but is usually based on either how many views it receives or how many clicks it generates.
The low cost can make social media ads especially attractive to campaigns with smaller budgets, but that doesn't necessarily mean they're easier for low-budget candidates to manage.
Evans said creating an effective ad on social media means having good content, knowing how long and when to run it, selecting the right platform, and targeting the right users.
"That's kind of the challenging part," Evans said. "There's all of these attributes or factors that go into a successful ad."
Another problem on social media is getting people to pay attention to the ads.
O'Brien said scrolling through Facebook and seeing a five-second video clip is much less impactful than a 30-second spot in the middle of the nightly news. That means campaigns have to push digital ads out more often than traditional ads.
"You can't just do a little bit of digital and have an impact," he said.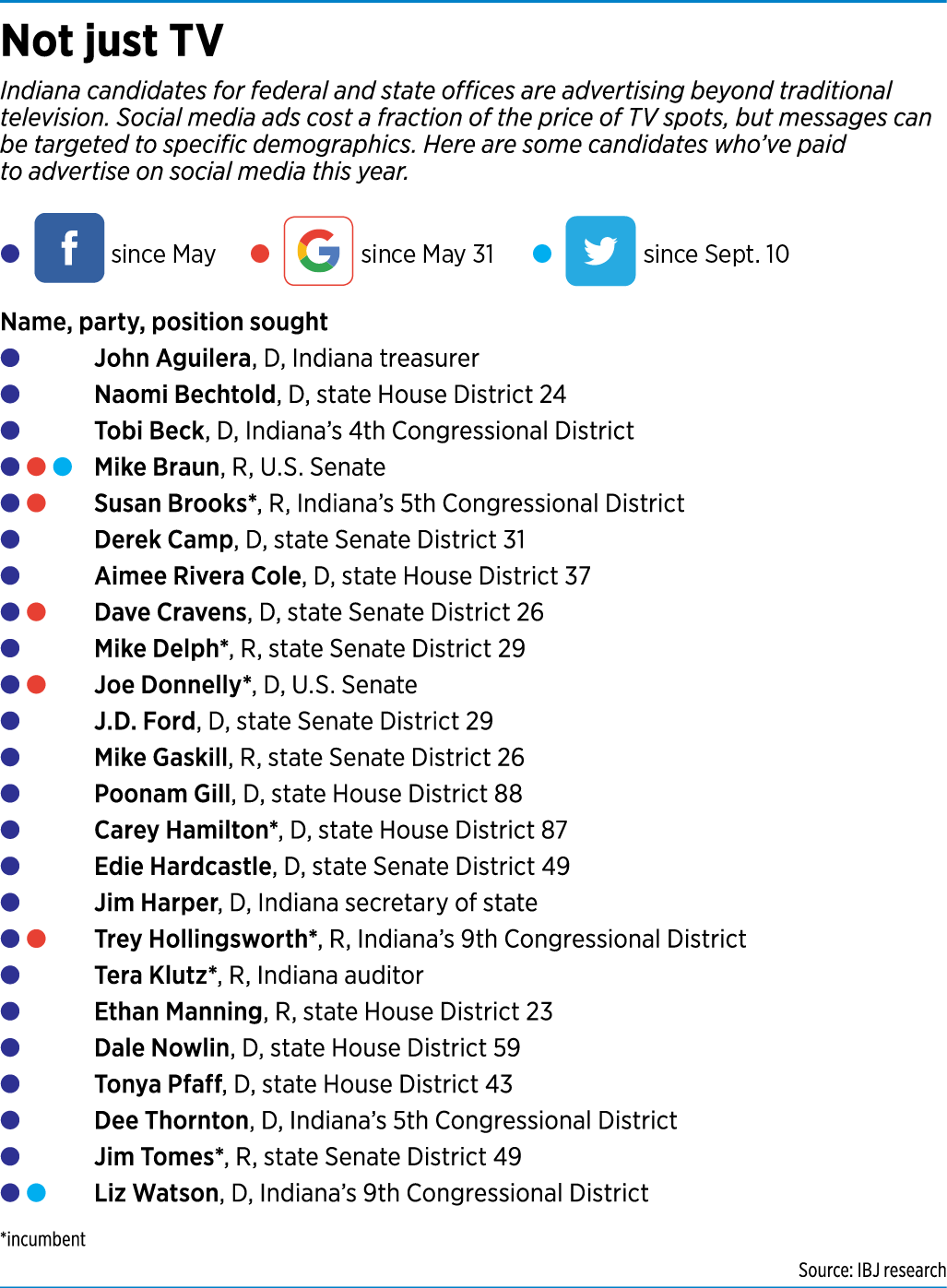 'Trial and error'
Determining whether an ad was successful on social media depends on the goal.
If the goal is to deliver a message to as many people as possible, the number of views matters. But if the goal is to get people to donate or sign up to volunteer, the number of clicks (and resulting action) matters more than impressions.
"I do think it depends on what you're trying to do," Evans said. "So it changes from ad to ad."
That means there's no standard length of time for ads to run nor a standard cost of an ad campaign.
"We did a lot of trial and error," Savage said.
This year, Indiana candidates have paid for ads that have been active only a few days, while other ads have continued for weeks.
Democrat J.D. Ford, who is running for state Senate in District 29 against Republican incumbent Sen. Mike Delph, recently ran a Facebook ad for only three days. The ad, which cost less than $100 and garnered 5,000 to 10,000 impressions, promoted Ford's first TV ad.
Delph launched a Facebook ad Sept. 10 that was still listed as active more than a week later and cost $500-$999. The ad, which promoted Delph as "a proud husband and father, an Army Reservist, and a local leader," had 10,000 to 50,000 impressions, as of Sept. 18.
And new ads are constantly rolling out. For example, Braun launched 21 ads on Facebook on Sept. 17.
"It's going to be great for the creative types, because we're going to have to create more ads," said Passwaiter, of Kantar Media.
Even though advertising on social media is becoming more attractive, television ads still dominate the budget for candidates with enough funding.
That's because older adults, typically the biggest group of voters, still tune into TV. Those individuals are also less likely to be on social media platforms.
O'Brien said social media "hasn't diminished how critical TV is."
But Evans said social media keeps expanding, including for older adults. Also, as that generation ages out, and millennials grow older, political experts predict a day when TV will no longer be the major campaign platform.
"Consumption habits are changing," Savage said.
Passwaiter said non-political advertisers have been making this transition for a while, but the political world might be slower to adapt because of the age of the voting population.
That doesn't necessarily mean ads in the future will all be on Facebook or Twitter, though. It will just depend on where voters are spending most of their time and how easy it is to reach them through those platforms.
"What we're finding is, there are going to be more places to put [ads] as we go forward," Passwaiter said.•
Please enable JavaScript to view this content.