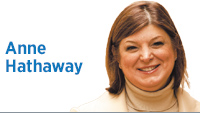 Like much of the Midwest, Indiana is known for its thriving agricultural economy. Approximately 83 percent of the state's land is devoted to farms and forests. The state ranks fifth in the nation in corn production; its 60,000 farms also produce soybeans, hogs, biofuels, tomatoes, watermelons and eggs, among other commodities.
Yet thousands of Hoosiers don't have access to fresh, healthy food.
These residents live in what are known as food deserts, or communities in which at least 500 people and/or 33 percent of the population reside more than one mile from a supermarket or large grocery store (10 miles in a rural area).
My family has operated a small grocery store for several years in a rural community and one thing I have come to realize is that it's not that these individuals don't want to eat fresh fruits and vegetables. It's that they often can't find them.
In Indianapolis, as many as one out of every five residents lives in a food desert. That number might be on the rise after several grocery stores recently closed across the city. Elderly and low-income residents without reliable transportation are particularly affected by this lack of access.
But the problem isn't isolated to urban areas. A 2009 study found that 26 of Indiana's 92 counties had at least one food desert. According to the U.S. Department of Agriculture, the state has more than 100 food deserts. Many individuals living in food deserts are also food-insecure, meaning they might not know where their next meal will come from.
Improving access to fresh and healthy food is a good first step to addressing the growing weight problem in Indiana, a state where one out of every three adults is considered obese. According to the Alliance for a Healthier Indiana, obesity—which can lead to stroke, hypertension, Type 2 diabetes, heart disease and other ailments—costs Indiana $11.9 billion in increased health care costs, lower productivity and other related impacts.
The Indiana General Assembly has been considering ways to turn food deserts into food oases. Bills have been introduced that would find ways to improve the distribution of fresh and nutritious food, as well as education on food preparation and nutrition in food deserts. Other policymakers have proposed providing loans to businesses that agree to sell fresh produce and other healthy items to residents living in food deserts.
Other possible solutions include improved public transportation, public-private partnerships with food banks and farmer's markets, and expanded community programs that teach Hoosiers how to prepare healthy meals. Indianapolis recently launched the Food in Transit program, which allows visitors at the Julia M. Carson Transit Center to purchase fresh fruits and vegetables every Friday afternoon. The program runs through Oct. 26 and will return in the spring.
Whatever the solution, it is not acceptable that, in a state whose fertile land can feed and fuel the world, some Hoosiers lack access to nutritious food at an affordable price. Our state's residents deserve to live full, healthy lives, and that starts with basic nutrition. By addressing food deserts and providing Hoosiers with healthy food choices, we'll move one step closer to helping our state live up to its full potential.•
Click here for more Forefront columns.
__________
Hathaway is president and CEO of Hathaway Strategies, chairwoman of the Julian Center board and former chief of staff of the Republican National Committee. Send comments to ibjedit@ibj.com.
Please enable JavaScript to view this content.