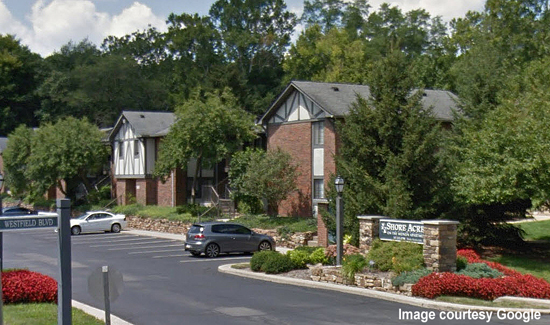 A long-standing apartment complex on the Monon Trail just north of Broad Ripple is planning to expand onto two acres of residential property next door.
Indianapolis-based apartment developer and manager Barrett & Stokely Inc. has received the go-ahead from city officials to build another 48 units for its Shore Acres complex at 70th Street and Westfield Boulevard.
The complex was built in 1970 and contains 105 units in three main buildings. Barrett & Stokely has a tract of land under contract directly to the south to build a fourth building that would be three stories tall.
The addition of the fourth building would beef up Shore Acres to 153 units with 201 parking spaces.
The land is owned by the family of Dr. Edward S. Wingenroth, an optometrist who practiced in Indianapolis for his entire career before dying at age 90 in 2016. The property includes a house built in 1926 that could be moved to a new location if an appropriate site is found within a few months..
Construction of the Shore Acres expansion potentially could begin in spring 2019, according to Alex Stokely, vice president of Barrett & Stokely.
"I think that with the size of the expansion and tying it into a property that has been very successful, we're confident that it will be well-received," Stokely said.
The new building would for the most part feature one- and two-bedroom units. The one-bedroom apartments would rent for $1,100 to $1,200 per month, while the two-bedroom units would lease for $1,400 to $1,500.
Stokely said he did not yet have an estimate for the cost of the project.
On Wednesday, the city's Metropolitan Development Commission approved Barrett & Stokely's request to rezone the land and for a variance of development standards.
Barrett & Stokely received support for the expansion from the Nora-Northside Community Council Inc. and the Broad Ripple Village Association.
After the developer received input on its original plans for the new building from nearby residents, the architectural feel evolved from Shore Acres' current design to a more distinguished look with significantly more brick, said Michael Rabinowitch, an attorney who represented Barrett & Stokely at Wednesday's hearing. The firm also shifted its plans to preserve more trees on the site.
Shore Acres will maintain its single entrance on Westfield Boulevard, Rabinowitch said. But the expansion will have its own access point for the Monon Trail, which is located immediately to the west.
The home on the Wingenroth land was constructed in the Dutch Colonial Revival style and is considered to be architecturally and historically significant enough to be listed on the National Register of Historic Places, according to Mark Dollase, vice president of preservation services for Indiana Landmarks.
Dollase arranged to take a tour of the home when he became aware of the Shore Acres project and worked out an agreement with Barrett & Stokely that would allow removal of the house to a new site if a suitable location could be found within a few months.
One potential roadblock for relocating the house is that it could be so heavy that nearby bridges might not bear the load. So Landmarks hopes to secure a nearby location.
"It's not going to be easy, but we think it's worth a try," Dollase said.
Meanwhile, Broad Ripple is in the midst of an apartment boom. In 2017, Browning Investments Inc. began leasing The Coil, a $37 million, 151-unit project it built at the intersection of College Avenue and the Central Canal. Todd Morris is nearing completion of a six-story, 87-unit development at 6311 Westfield Blvd. called River House Broad Ripple.
Carmel-based J.C. Hart Co. began leasing about nine months ago for its 108-unit Park 66 Flats project at the northwest corner of East 66th and Ferguson streets. And it is within days of commencing construction of a 128-unit complex on the former Rogers Pool property at 63rd Street and Westfield Boulevard, according to President John C. Hart.
And Zinkan & Barker Development Co. recently began clearing a narrow site in the 1400 block of Broad Ripple Avenue where it's planning a $10 million project with close to three dozen units and street-level retail space.
Hart told IBJ on Monday that he was not concerned about an oversupply of apartments in the area, as the big projects have opened in stages and created interest in what he called "mid-rise urban" living.
He also drew a distinction between the developments talking place in the heart of Broad Ripple and Shore Acres, which he considered more suburban in style.
Shore Acres "has been incredibly successful for many years," Hart said.
"I'm sure Barrett and Stokely will be able to offer rents at a somewhat lower level than the projects in the heart of Broad Ripple," he said, noting that it wouldn't need to build an accompanying parking structure. "I think we'll all find our market."
Please enable JavaScript to view this content.