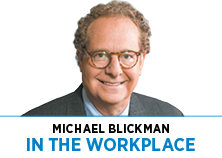 You remember these famous words from "Network" (coming to Broadway this fall with Bryan Cranston as Howard Beale): "I'm as mad as hell, and I'm not going to take this anymore!" This same feeling has taken root on Twitter, Facebook and other social-media platforms. We are all subjected to unending boasting, jabbing, shouting, complaining and just utter nonsense on social media.
I'm taking a long-overdue break from my Twitter feed. What used to be the best launching pad into the current thinking of the brightest writers, doctors, scientists and political analysts (and sometimes, even politicians) has now become a banal and boring collection of self-serving drivel. The identities of the culprits responsible for this devolution don't matter, but to quote Captain Renault from "Casablanca": "Major Strasser's been shot. Round up the usual suspects."
What does this have to do with the workplace and the law? A problem I increasingly talk to clients about is that the regression in public discourse has resulted in employees modeling similar boorish behavior at work. Employees feel more emboldened than ever to use social media to make disparaging comments about co-workers, their employers and even their customers. Many would never dare to make these statements openly. Instead, they hide behind the perceived safety of the internet.
Unfortunately, these comments are often made public and become incredibly divisive in the workplace. They often reach a point in which tempers get the better of employees who then act out at work, sometimes violently. When customers read these negative messages about a company from its employees, no amount of marketing dollars can overcome the reputational damage.
There is a legal trap employers must be aware of before taking action against employees due to their social-media activity. That is the right of employees to engage in "protected concerted activity" under the National Labor Relations Act. That law permits employees to act together to try to improve their pay and working conditions.
This right is enforced by the National Labor Relations Board and that agency enforces the law against all companies, whether or not an employer's employees are represented by a union. Enforcement means the NLRB (and the courts on appeal) may reverse an employer's adverse action against an employee for engaging in what the agency determines to be protected concerted activity.
How far has the NLRB gone in interpreting what is and is not protected concerted activity? In one case, the federal agency ordered reinstatement and back pay for an employee who was fired during the course of a union campaign for calling his boss a "nasty M**** F***er," adding "F*** his mother and his entire F***ing family."
The NLRB decided these comments were entitled to protection because the company had never previously terminated anyone for using profanity. Also, this post was made on the employee's private Facebook account during his work break. The agency also found this post was excusable because it was impulsive and reflective of the concern employees had about being treated disrespectfully by management.
The NLRB is revisiting many of the rulings that have been problematic for employers over the last several years. It is difficult to predict whether the agency will change the rules and recognize there are vicious comments that are beyond the pale and not entitled to the law's protection. In the meantime, while employers should remain aware of this potential trap, they should be sure to consistently enforce their harassment and conduct policies.
Even more important is for an employer to demonstrate it has no tolerance for words or behavior that cross the line of human decency. It doesn't matter that our nation's leaders, political pundits and others cross the line every week. You don't have to tolerate that behavior from your employees and you should not ignore it. Just be sure to talk to your employment lawyer so you can evaluate the risks of taking action.
After weighing those risks, and thinking about the culture you are trying to create, you can then make the right decision for your organization.•
__________
Blickman is a partner in the Employment and Immigration Group of Ice Miller LLP.
 
Please enable JavaScript to view this content.