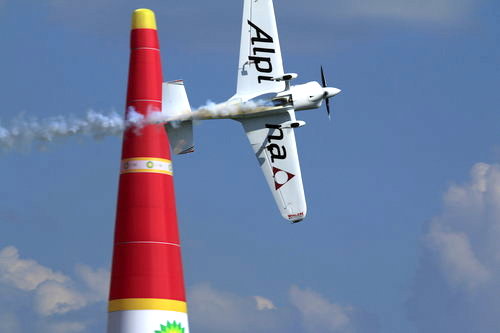 The Red Bull Air Race drew about 40,500 spectators to the Indianapolis Motor Speedway on Saturday and Sunday—a strong enough crowd that IMS officials would like to see a return of the event in future years.
Attendance for this year's event, which completed the third year of a three-year contract, was down only slightly from a year ago, when it drew about 40,750 weekend attendees. The race drew about 65,000 in its inaugural year in Indianapolis in 2016.
Alex Damron, director of communications at Indianapolis Motor Speedway, said IMS officials were happy with the attendance figure and the type of crowd the event brings to the venue. He said there was a lot of walk-up business on Sunday and an abundance of parents with their children in attendance.
"We were happy with the attendance," he said. "We were even happier that everybody seemed to be having a good time. We get a lot of positive feedback fror this event."
Michael Goulian became the first American pilot to win over home soil since 2008 by winning Sunday's race. The victory vaulted him to the top of the Red Bull Air Race World Championship standings.
Damron said IMS officials will be interested in renewing the contract because the "mutual brand benefit" for both parties is "really strong." He said the event creates a lot of energy and a "youthful vibe" that is good for the venue.
"Both sides really love the partnership," he said.
Please enable JavaScript to view this content.