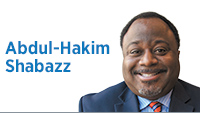 Indiana farmers have enough to worry about these days: the impact of changing climates on their crops, a shortage of labor, lack of broadband in rural areas, the effect of the opioid crisis, etc. So the last thing they need as they get ready to harvest their crops is the uncertainty created by President Trump's trade war.
Farming was already a risky business, but the Trump administration has made agriculture an even riskier pursuit by using farmers as pawns in his trade negotiations.
Those in favor of trade wars (who usually have no clue) say they ultimately lead to freer trade, particularly with China. But in this case, it seems the president is trying to punish China by picking fights with some of our closest allies, including Canada, Mexico, Japan and the European Union.
The losers in this fight are America's manufacturers, farmers and ranchers, and American consumers, who have already started to see the impact of the Trump administration's trade war in the form of higher prices on groceries, clothes and everyday household items.
For those of you who are unaware of this, U.S. agricultural products are typically hit hard by retaliatory tariffs, meaning farmers are among the first to feel the effects of trade wars. In Indiana, agriculture currently supports more than 870,000 jobs and $37 billion in wages. The jobs and livelihoods of Hoosier farmers, agribusiness professionals, factory workers, truck drivers, food service workers, and food manufacturers are not currency with which to gamble in a game of chicken with China.
To offset the losses of farmers hurt by retaliatory tariffs—farmers who already faced challenges such as rising input costs, falling prices for corn and soybeans, and oversupply—the Trump administration announced in July that it was offering $12 billion in aid. That offer is the economic equivalent of the kids who murder their parents and then seek sympathy from the court because they are orphans. In other words, this problem would not exist had it not been for their actions and now they want everyone else's patience and understanding.
There are other ways to reverse the damage caused by the Trump administration's tariffs. Instead of escalating his tit-for-tat trade war, Trump should put his negotiating skills to work and focus on opening new markets for U.S. goods.
Also, the administration must work with Mexico and Canada to modernize NAFTA. Canada and Mexico rank among the top three agricultural export markets for 37 states, including Indiana, and free trade protects the livelihood of hard-working folks across the country.
All actions, including the imposition of tariffs, have consequences. Indiana depends on the agriculture industry, and its exports, to prop up our economy. If we remain on our current path, Indiana's economy could face catastrophic losses brought about by the president's harmful trade policies.
But refocused efforts and renegotiated terms could significantly help our state and the agriculture industry as a whole. It's not only the right and smart thing to do, but anyone who has an actual clue as to how trade works would also agree it's the best course of action.
The only gains from a trade war are higher prices, economic uncertainty and misery, much like real war. That's why smart people try to avoid trade wars at all cost and conduct them only when it's absolutely necessary and there is no other alternative.•
Click here for more Forefront columns.
__________
Shabazz is an attorney, radio talk show host and political commentator, college professor and stand-up comedian. Send comments to ibjedit@ibj.com.
Please enable JavaScript to view this content.